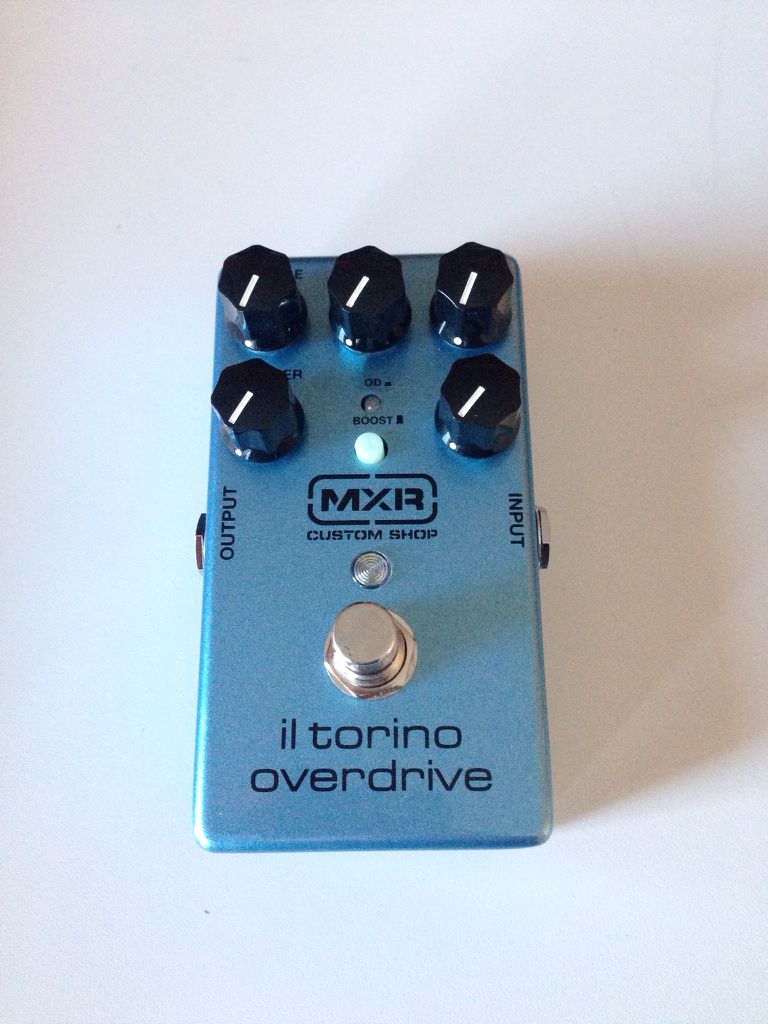 I've been playing guitar in the studio lately and have been curious about trying out more pedals to increase my sonic palette of guitar sounds. I was very happy to hear that I'd be able to review Jim Dunlop's latest offering, the new il Torino Overdrive pedal from their MXR Custom Shop. To find out if this little blue pedal would really be worthwhile for guitarists, I put the il Torino to the test.
A Bit of Background
The il Torino was designed by Carlo Sorasio, Italy's premier boutique amp and pedal builder. It uses MOSFET technology to re-create the gain structure of classic tube preamps. The il Torino was intended to do a couple things well; provide touch response saturation and natural sounding compression. I'm inclined to like equipment that's designed with a definite purpose in mind, and has a set of simple, clear controls on it. I had a feeling I'd like the il Torino from the start.
On the Surface
The il Torino is a small pedal that delivers big sound. It comes housed in a cute blue metal chassis and on the front panel you'll find a three-band EQ, a master volume knob and a gain knob. There's an OD and Boost switch that toggles between the two modes of the il Torino and a footswitch that allows you to toggle the pedal on and off. On either side of the il Torino, there's an Input and an Output for 1/4" cables.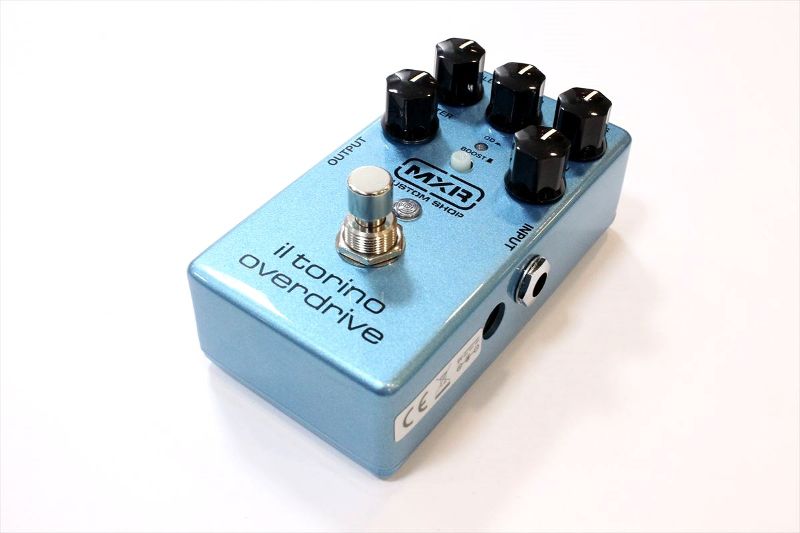 On the Sound
The Il Torino's Boost mode provides a clean tone with natural compression. This tone would be perfect for pop recording, or a rock band who has a few softer tunes in their repertoire. OD Mode offers a slightly more in-your-face jacked-up tube amp sound. While it wasn't quite as aggressive as I expected, I was actually pleasantly surprised by the tone, and the overdrive can be easily adjusted by turning the gain knob. I thought the OD Mode had a slightly retro sound to it; this type of sound would definitely be useful to pop and rock guitarists who are searching for unique sonics for their sessions and live stage shows. It was easy to sculpt the sounds in both modes by using the flexible three-band EQ.
If you're new to creating tones with pedals, the manual provides a few very helpful settings for those who would like a starting block for sound design. I tried all of the sample settings in the manual (which had fun Italian names, like 'Al Fresco' and 'Tutto E Bene') and they all sounded quite cool!
Power, Please
The il Torino is powered by either a 9-volt battery (you'll have to remove the back of the unit to insert the battery) or by a traditional AC power cable that's sold separately.
Cute but Sturdy Build
Overall, I was very impressed with the quality of the design and the il Torino's tones. The pedal comes in a small but sturdy MXR box, and all of the switches and jacks on it are very high quality. This makes the il Torino a perfect partner for the road, small enough to easily fit into your gig bag or pedal board, and tough enough to withstand the rigours of touring and live shows.
The il Torino is a great choice for those who are looking for a pedal that offers the ability to quickly switch from a more classic, clean tube amp sound to a more in-your-face aggressive sound. Its has high-quality construction, and its controls allow you to accurately the shape the saturated sounds. Small, sturdy, and good looking to boot, this would be a worthy addition to a guitar player's arsenal. Now I'm starting to become curious about what other musical creations Italy might have to offer...
Price: $119.00 USD

Pros: Creates the sound of classic tube preamps. Offers touch responsive overdrive and compression. Three-band EQ. Easily toggle between OD/Boost mode for sonic variety.
Cons: I do wish the OD mode offered even more overdrive, but I think that's just my personal taste. That being said, this pedal might inspire guitarists to write new material with the sounds it does have the ability to create!