JamUp from Positive Grid is a guitar amp and effects simulator app for iOS devices that also provides a range of features for jamming and practicing. It comes in two versions, JamUp Pro (at $19.99/£13.99) and JamUp Lite which is free. The Pro version, on test here, comes with six virtual amp types resembling Fender's Blackface Twin and Bassman, the Vox AC30, Marshall Plexi and JCM 800 and the Mesa Boogie Dual Rectifier, rendered using Positive Grid's MESH modelling technology.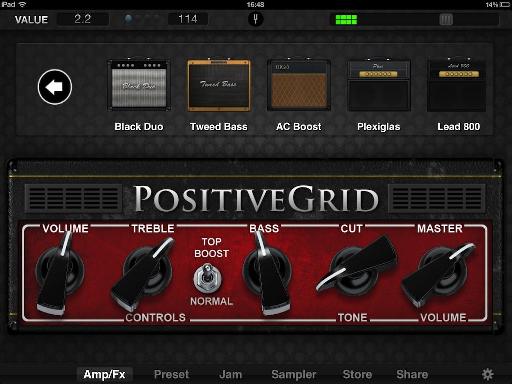 One of six amps available in the Pro version.
The Lite version just offers the AC30. The Pro version gives you twelve effects modelled on well-known stomp boxes and classic rack-based effects such as the Boss OD-2 and MXR Dyna-Comp, where the Lite version has only two effects to choose from.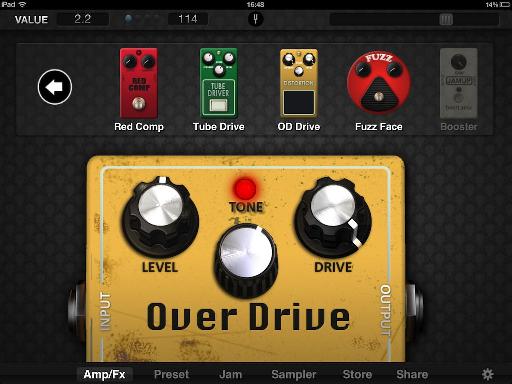 Effect graphics copied from my personal collection.
Choosing Sounds
You can combine one amp up to six effects to create your sound. Adding an effect into the signal chain is achieved by dragging it down or up to remove it, and the order of effects and amps can be changed by dragging each one left or right. I have to say I found the method of choosing an amp or effect slightly non-intuitive. My first instinct was to swipe horizontally on an amp (or effect) expecting a '