Stutter Edit is a great new plug-in that has been release by iZotope, and created by musician, composer and virtuoso, BT. I am a big BT fan and have been for 7 years because of how he continually pushes the boundaries of both music and technology.
Prior to the release of this plug in, one of the only way to make stutter edits was through a very time-consuming technique - manually cutting and slicing up audio regions, then applying numerous processing techniques, all in an attempt to get the great "stutter" effect. BT's Stutter Edit plug-in automates this process, allowing you to stutter and process the audio in real-time.
Stutter Edit uses a live sampling engine that allows you to manipulate the audio in real-time. As per the iZotope website, Stutter Edit, "slices the audio into small fragments and sequences the pieces into rhythmic effects." It really is a crazy, creative, and most of all, FUN plug-in to use, with unreal audio processing capabilities.
01 - Stutter Edit in a Nutshell
Stutter Edit is not just another beat-mashing plug-in. It has beat mashing technologies, but also includes morphing effects, which build upon the stutter effects, allowing you to manipulate the audio. This was not possible in real time before. It is a combination of both an audio effect and a MIDI instrument.
You build up your presets, called Stutter Gestures. These are assigned to a MIDI key (or even your computer keyboard, which makes it quite nice when you are on the move and you don't wish to cart around a MIDI controller. The plug-in/effect/ instrument also includes quite a collection of processing effects. It has gates, pan functions, distortions, delays and filter to add to the rhythmic effects. Your pitch and modulation wheels also come in handy on your controller. The pitch wheel acts as a low and high cut filter, and the modulation wheel allows you to manually alter the timing of effects that are setup in Stutter Edit. It may sound complicated, but trust me, this plug-in makes it so easy to get stuck into your music and stutter away.
An interesting addition to the plug-in is the Generator module. iZotope describes it as a "module that creates custom noise sweeps that can be triggered along with stutter effects to build tension and create dynamics." It definitely adds tension and dynamics. I love using it to create builds between different tracks in my Ableton sets. The beauty of these generators is that you can have a simple loop playing and, with the combination of the stutter edit tools and the Generator module, turn that loop into an amazing evolving track by simply pressing a few MIDI keys and fiddling with the modulation and pitch wheels.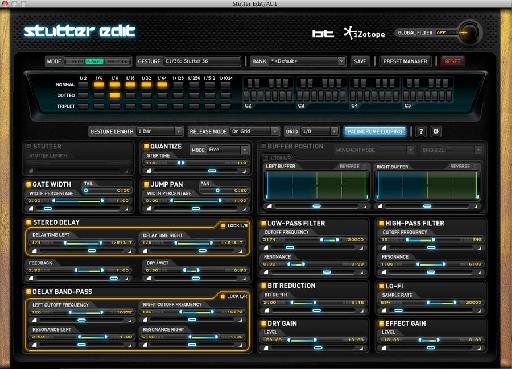 Here is a screenshot of what this amazing plugin looks like. It is packaged with so many goodies. Stereo delay, band-pass filters, bit reduction, quantize settings etc....
02 - Where to Get It
A full working 10-day demo can be downloaded from the iZotope website. But once you have started using it, you will want to buy it straight away. I have never had so much fun with a plug-in. Normally you will use a plug-in to get a sound/effect that you are after, then move on with your track. But with Stutter Edit you manipulate the audio in real-time and get results that would normally take hours, if not days. It really allows you to get results quickly without losing sight of where you were going with your track.
03 - How it works
Stutter Edit works differently than other audio effect plug-ins. It requires MIDI input from your host to trigger its effects. This can be done in Ableton and Logic. The other supported hosts are listed on the iZotope support page.
The plug-in manual shows you how to set it up in your respective DAW.
04 - Madness! I tell you.
You can get mad results with Stutter Edit in a couple of minutes. I pulled a loop into Ableton and started messing around with Stutter Edit with its default patch.
Here is the original loop:
And here is the loop I created with Stutter Edit in less than 2 minutes:
This would normally haven taken me hours to get the same results and I would have used a mountain of audio manipulation plug-ins and tools. Then I would've bounced these results down and done further nitty-gritty, minute editing to the imported audio region to get the results I wanted. In the process I would have lost track of where I was trying to go with the track and probably not had nearly as much fun.
05 - How to use it in a creative Context
Stutter Edit can definitely be used in a creative context. You can use stutter edit on your loops to spice them up and add interesting techniques. The presets are amazing and will allow you to get quick results without slowing down or hindering the creative process.
This tool is not only great for beats and loops, it can also be used on any instrument or audio. It can really freshen up a track and take it to places you didn't think were possible. You could use it on a vocal and make it blend/morph into some other form of sound with the generator modules, and then use the stutter edit module to stutter the vocal back to its original. Stutter Edit also syncs perfectly with your host, so that while you are adding all these edits, when you release the MIDI key, it will go right back to the original form of the audio or instrument.
06 - How to Use it Live
Stutter Edit and Ableton is an amazing combination for a live environment. You can add Stutter Edit to individual channels (like on your loop and vocals) or you can simply add it to your master output. It works seamlessly in a live context and allows you to quickly add clever edits to your DJ-ing or remix work. It feels more like an instrument then an effect, so it gets you right into the music, plus you look less like a button pusher behind a laptop thanks to Stutter Edit.
06 - Other Ways for Stutter effects
If you wish to learn other ways to manually stutter up your tracks, take a look at Rounik Sethi's tutorials:
http://www.macprovideo.com/hub/logic-pro/creating-glitch-style-stutter-edits-logic
http://www.macprovideo.com/hub/logic-pro/creating-glitch-style-stutter-fx-logic-part-2
http://www.macprovideo.com/hub/cubase/creating-bt-inspired-glitch-edits-part-3
Enjoy creating weird and wonderful effects on your tracks and check out the sound design tutorials for Ableton Live while you're at it!