iZotope have recently revamped their multiband distortion plug-in Trash in the form of Trash 2. Trash had been laying dormant for a while with no major updates for a number of years. Trash 2 however sees a major overhaul for this plugin and it's now even more powerful than ever.
The thing about Trash is that besides being an extremely versatile distortion plug-in, it's also capable of many other effects from EQ, filtering, compression, convolution and delay. With all these features, it's a bit of a one stop shop. So let's have a look and see what's on offer!
New Features
iZotope have packed Trash 2 with a whole bunch of new goodies. Probably the most significant being a rebuilt audio engine and 64-bit support on all platforms and a totally redesigned UI (crafted by Chris Randall from Audio Damage). Trash comes with 300+ presets from subtle saturation to complete destruction and fine tuning one of the 60+ distortion algorithms (or creating your own) is a breeze using the new custom waveshaper interface.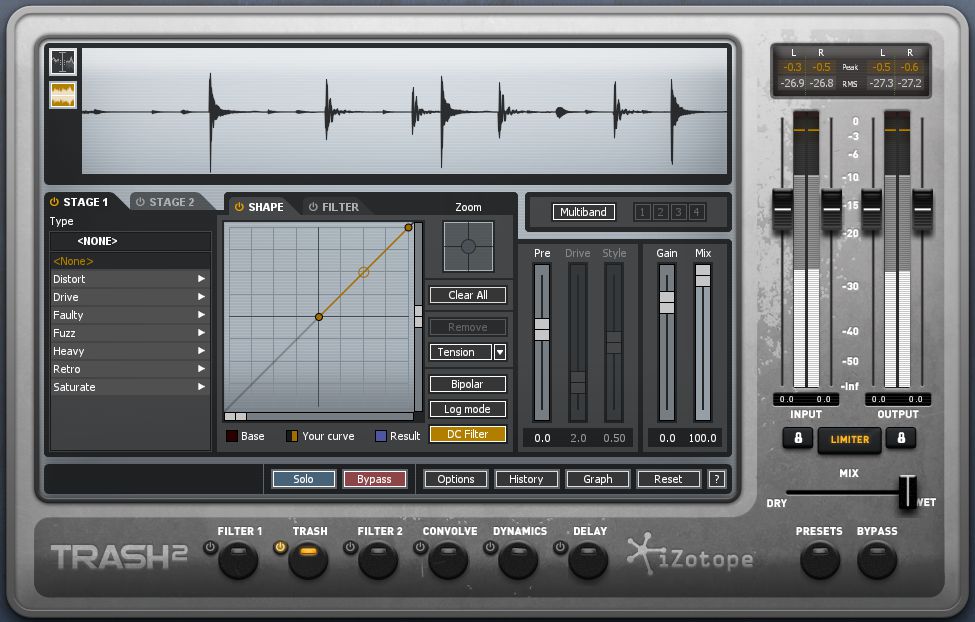 The new filters can now be modulated via the side-chain and now include a vowel filter for all your talking bass needs!
The dynamics section has also been given a total revamp with side-chain support and an incredibly powerful Detection Filter which allows you to pick the frequency that triggers the compression. Oh, and there's a new Limiter on the output too!!
Finally, the new Convolve module (formally Box-Model) allows you to import your own Impulse Responses in .WAv or .AIFF format as well as providing over 100 new IRs.
Signal Flow
Trash is built up of six modules. The Trash module for (single or multiband) distortion, two filters, the Dynamics (single or multiband) and Convolve modules and a Delay. Each module can be selected for editing via six buttons at the bottom of the UI.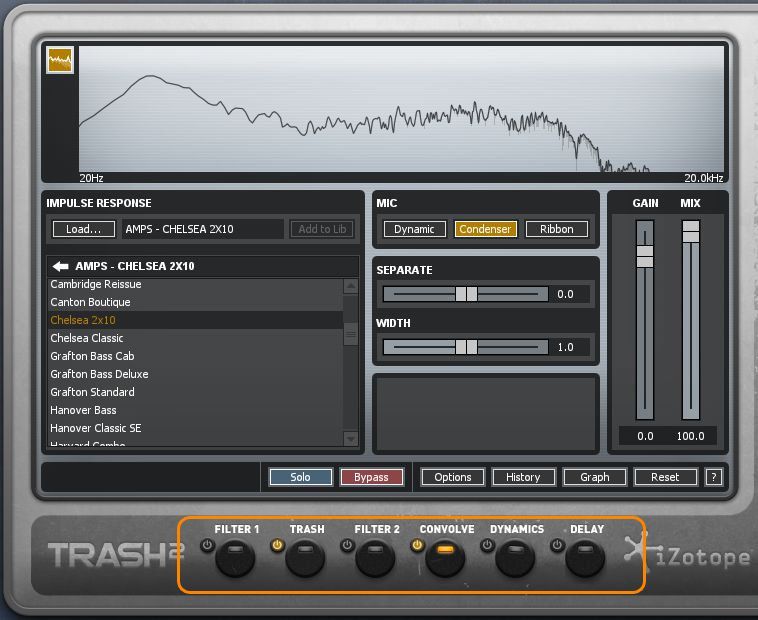 The great thing about Trash is that these modules are not fixed in any particular order and can be rearranged in any way you like. Just open the Graph panel and drag and drop your modules to create new signal chains.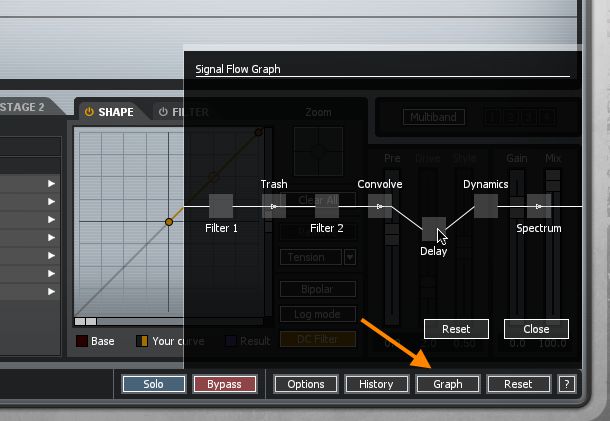 This gives Trash a very flexible edge when it comes to creating fancy new presets!
Trash it!
Obviously, the Trash module is the main player here and is one seriously powerful distortion engine. It can be used as a single band distortion unit or in multiband mode.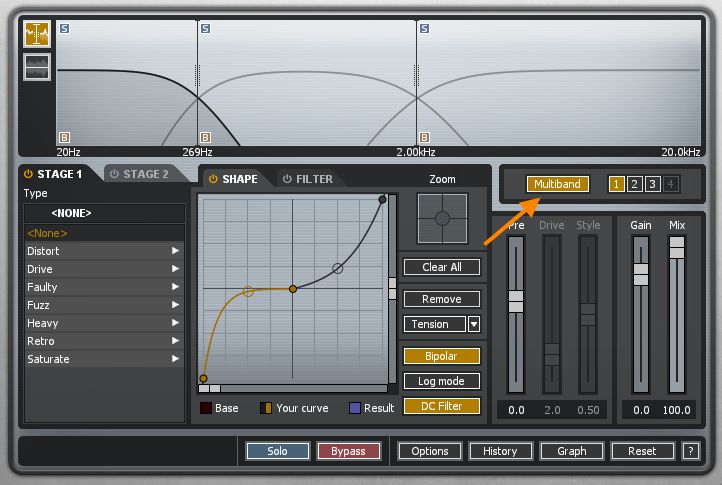 In multiband mode, the signal can be split into four bands. Trash defaults to three bands but you can add another by Control-clicking (Right-clicking on PC) on the Spectrum display or setting a default number in the Options panel.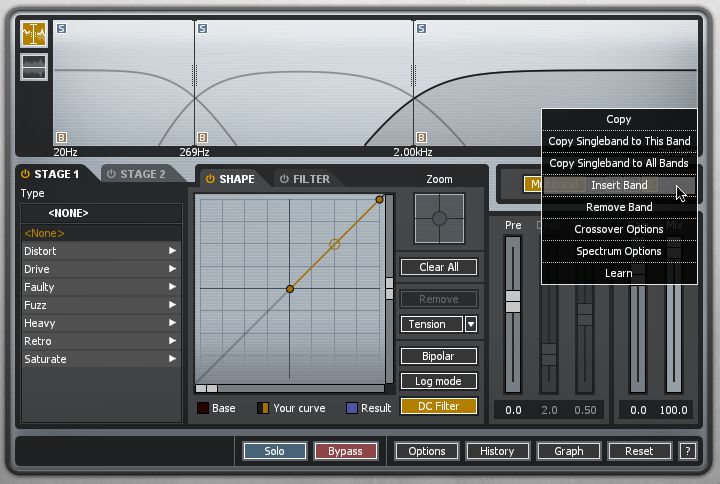 Each band has access to two 'Stages' with each Stage comprising of a highly editable Waveshaper and a Post Filter (for taming harmonics). You can use the Waveshaper in two ways.
First is load up one of the default presets. These come in the form of 60+ pre-made distortion algorithms (or Waveshapes). They are nicely categorized and range from subtle tape saturation to total carnage!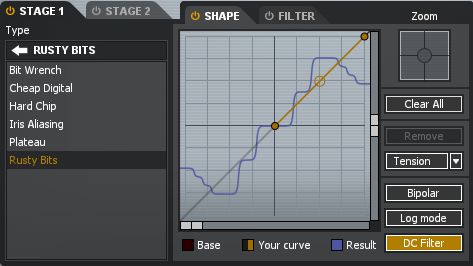 Depending on what preset you're using, you'll find you have access to some macro controls called Drive and Style. These can be used to tweak the preset. Drive is always available and obviously applies more waveshaping (thus more distortion) while Style (when available) will effect another aspect of the preset, say Bit Rate on a bit crushing style effect.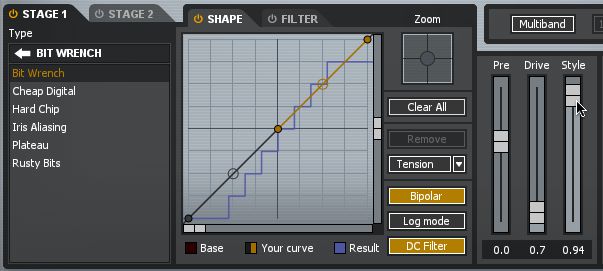 You can also effect the preset by using the User curve (yellow) and Tension handles to further shape the preset with some very interesting results. These are preset independent and will affect any new preset loaded in until you clear them.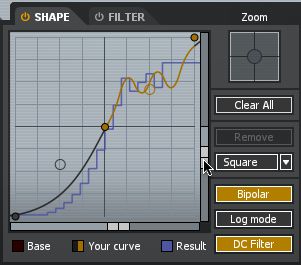 Speaking of user curves, you're free to create your own algorithms by starting with the default setting and simply adding points to the graph (by double-clicking). You can then drag these points around to create new shapes. Each point you add can be assigned one of six styles. Linear, Tension (bezier), Square, Triangle, Sine and Stair (Bit Crush).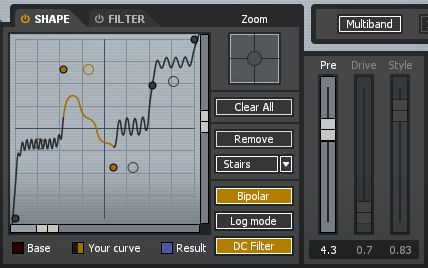 The graph can operate in two modes. Normal mode is where the negative part of the wave is a mirror image of the top half...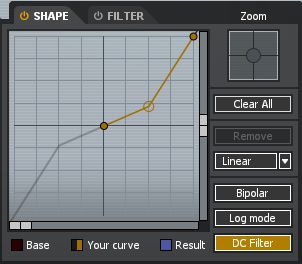 or Bipolar mode which allow the negative half to be independent from the top half. This also allows you to rectifying the signal (no negative part of the wave).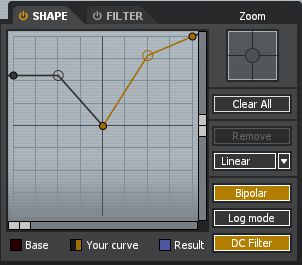 With Trash it's possible to create any type of distortion you can think of... and some you can't! Used in conjunction with the Convolve module (which has Amp and Cab sims) you can get some pretty interesting Guitar and Bass sounds out of Trash too.
In multiband mode, the sky is the limit. From sculpting a monster bass tone to just adding some grit to a Kick drum..
Filter Mayhem!
Each one of Trash's Filter sections come with six configurable bands. Each band can be assigned its own characteristic from a list of EQ and filter types.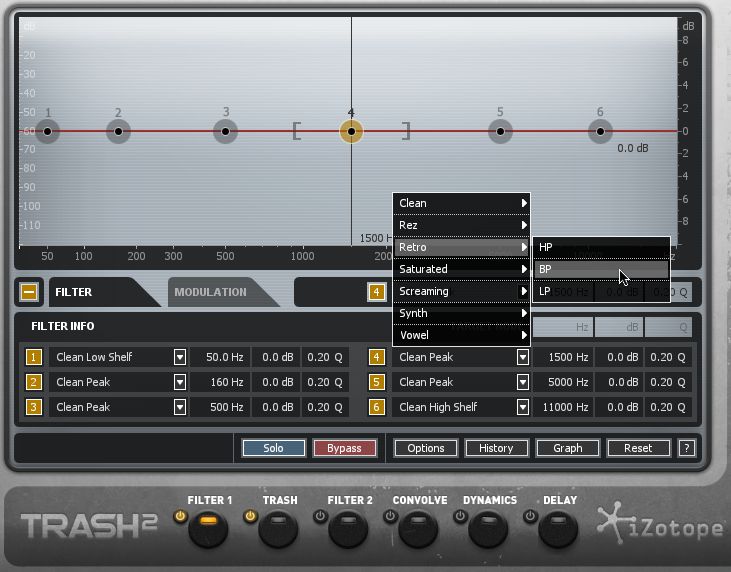 This means each section can run as a regular EQ...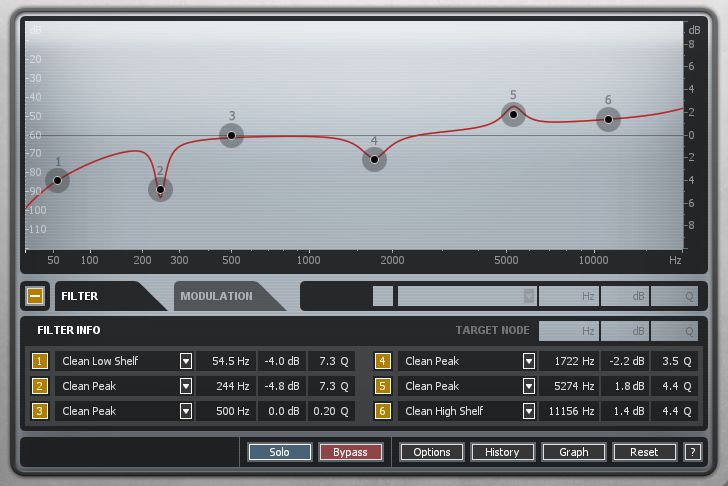 or a more synth like filter section. Very versatile indeed!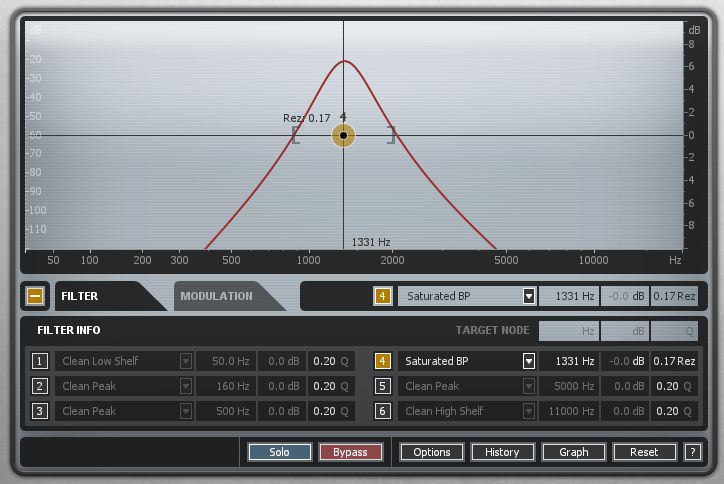 Each band can also be independently modulated by a either its own LFO or envelope (which can also be triggered by the side-chain input!). With a really great selection of filters from Retro and Saturated to the new Vowel filters this is one really creative tool.
Dynamics
The Dynamics section offers up to four bands of compression and gating with side-chaining. Each band also comes with a Detection Filter which lets you define a frequency band that will trigger the effect.
This is great for corrective compression like crushing plosives on a vocal track or dropping a snare in some overhead mics.
On And On...
I could go on here about how great Trash 2 is but I have to stop. I haven't even got to the Delay section yet with its crunchy lo-fi delays and analog breakup. Combined with the Filter section on an effects bus, you can get some great filter sweep delays!
There's even a scope for showing how the delays are feeding back on themselves... nice!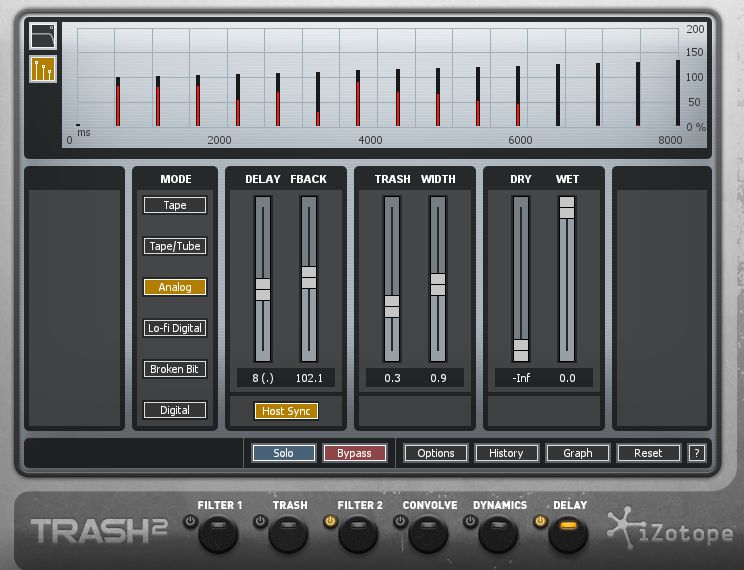 Trash is like a Swiss Army knife of effects. It sounds great and the new interface is really easy to navigate.
At $249, it's not cheap (you can upgrade from $99) but you're getting a lot of bang for your buck here. Try out a Demo at iZotope.com which works unrestricted for 10 days. I guarantee you'll not be disappointed!
All in all a welcome update for Trash! Spectron next please iZotope!!!
Download Trash 2 here.