Review: iZotope Spire Studio
A portable recording interface that can be self-powered, with seamless software integration? Watch Matt Vanacoro's video review to find out if iZotope Spire Studio delivers all it promises.
The iZotope Spire Studio made quite the splash when it was first introduced. Could the good folks behind some of the most widely used sonic tools deliver on their first foray into hardware? Like everyone else, I was really eager to see what Spire Studio could do. I had access to a Spire Studio to use over the holidays and found myself constantly breaking it out to discover how it would handle various instruments. Here's the lowdown.
What The Heck Is This Thing?
The Spire Studio is a physical recording device that is tied to a sleek piece of software. It has a studio grade built-in microphone, as well as two xlr-1/4" combo inputs with Grace Design preamps. There is a built-in 4 hour battery for taking Spire Studio on the go, a host of processing and effects that happens behind the scenes (iZotope cleverly describes it as an audio engineer 'trapped' inside the Spire Studio), and tight integration with the Spire app for iOS.
The design is simple and rugged. The visual feedback from Spire Studio is easy to read, the device itself feels sturdy enough to toss in a backpack, and the buttons are recessed enough to guarantee durability. Nothing protrudes from the device, and it feels very sleek to the touch.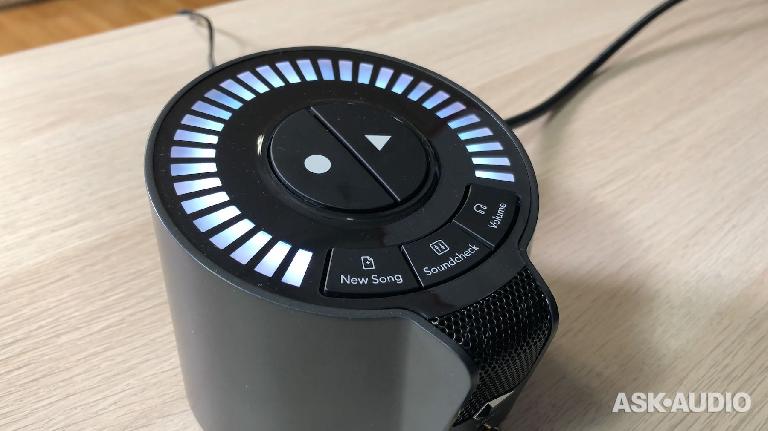 OK, But How Does It Work?
Spire Studio does a fantastic job of getting all of the things I've spent years getting good at out of the way. The automatic 'sound check' really does work and truly sets the gain to a fairly optimal level for recording. The integrated DSP/engineer trapped inside the Spire/magic sauce or whatever is happening here really does a fantastic job of making your song sound 'polished' from the very first take. I was amazed at the way my acoustic guitar sounded simply by grabbing the guitar, setting it down in front of Spire Studio, and playing.
This makes Spire Studio quite valuable for beginners and pros alike. For a beginner, you really can't find a more simple device that allows you to get recording. For a pro, you can export your recorded tracks into separated stems for further editing and mixdown on your desktop. Spire Studio really tries to give you the best of both worlds, and overall, it succeeds quite well.
It's the tight integration of the hardware and software that really makes Spire Studio shine. There is no detectable latency at all. Even when using the built in effects (which obviously must run on the hardware). You can hear yourself clearly, the visual feedback is helpful, and the software itself is cleverly laid out. Mixing in the 'mix cube' is simplistic, but oh, so much fun!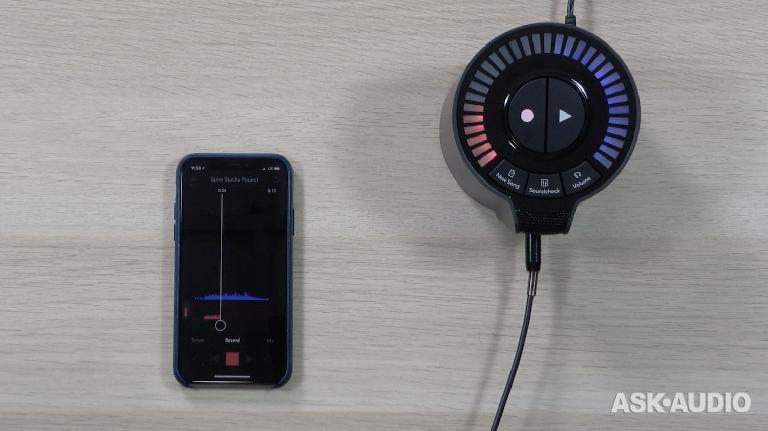 It Sounds Too Good to be True
As a whole package, Spire Studio is fantastic value and an excellent piece of gear. It worked so incredibly well, to be honest, I found myself wanting to use Spire Studio in ways iZotope likely didn't intend for. I'd love to see more guitar amp models as well as more effect options delivered in a future update. The mic/processing combo of the built-in microphone for Spire Studio is truly great, and I would love to be able to use it with other apps on iOS. Finally, if they put a USB port on the hardware, if only for keeping my phone charged off of the Spire, I'd be thrilled.
I'm sure we'll see a lot of software updates for the Spire app that brings more functionality to Spire Studio, and I honestly can't wait. Spire Studio represents the perfect marriage of hardware and software that gets the tech working for you and out of your way. I enjoyed it immensely and can't recommend it enough as a device that makes recording both simple and fun.
Price: $349
Pros: Simple design, built-in battery, excellent built-in microphone, 2 great preamps, superior software/hardware integration, intuitive app.
Cons: Only a few effects available at launch, no USB power for mobile devices.