For several years, audio producers and forensic audio specialists alike have relied on iZotope RX to improve and even rescue damaged recordings. Now the team in Boston, MA have upgraded the suite to RX3, which has greatly improved a program that, for many, is an indispensable tool. Let's see what RX3 has to offer.

Installation and Application
RX3 is 32- and 64-bit compatible and cross-platform to run on both Mac computers (Snow Leopard and higher) and Windows-based PCs (XP and higher). It is compatible with the iLok, but can also be authorized via serial number without the need for hardware copy protection. It can run in trial mode for 10 days, providing prospective buyers with an unrestricted hands-on experience.
RX3 is a standalone application, or the restoration modules can run as plug-ins in Audio Unit, VST/VST3, RTAS/AudioSuite, and for the first time ever, AAX formats. This provides real-time RX3 processing in virtually any plug-in capable audio program.
Exploring the Interface
RX2, with its brushed aluminum module buttons and pinstripes, looked... well... a little campy. But the RX3 interface is a work of contemporary art, with all of the program elements integrated into one screen.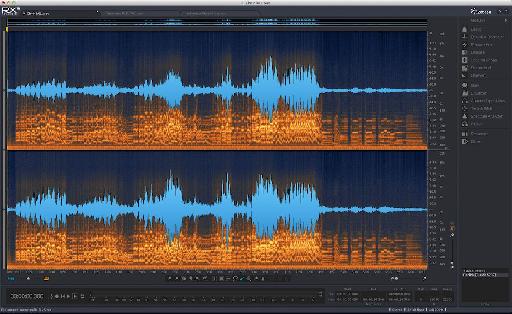 The RX3 interface.
The largest part of the interface is the waveform/spectrogram display, which has a slider to balance each visual element. The zoom and selection tools are located below the timeline. To the right are the frequency and dB scales, which can both be zoomed to reveal more detail.
Also to the right are the Modules. Clicking a Module will reveal the associated restoration tool. Along the bottom, you'll find the time display, transport controls, VU meters, selection ranges, and the all-important undo list for auditioning '