iZotope RX has a well-deserved reputation for being the de facto standard in audio repair programs. Many audio engineers and forensic specialists rely on its many powerful tools, which can run either in the stand-alone RX program, or as plug-ins in AU, VST, RTAS, and AAX formats. Now in its fourth incarnation, iZotope RX 4 comes with several new features and modules I'll be discussing here.
RX 4 comes in two versions: RX 4 and RX 4 Advanced. While RX 4 Advanced includes all the new features I'll be reviewing here, RX 4 now includes the Dialog Denoiser (formerly only available in Advanced), as well as Connect, Monitor, Clip Gain, export regions, and updated file format support.
The Look and Feel
If you've used RX in the past, you'll be right at home in RX 4. All the common tools are right where you'd expect them to be. But now, RX 4 has the same crisp appearance found in other iZotope programs, and is a darker slate grey.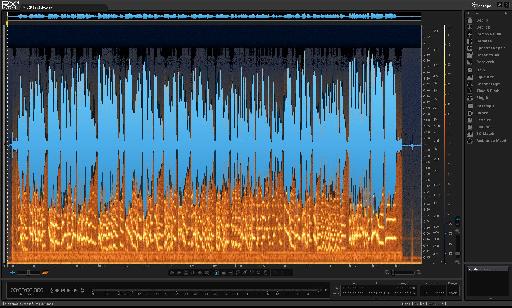 The appearance of RX 4.
Connect and Monitor
iZotope are the first to admit that the Spectral Repair plug-in workflow was a little messy. So they've created '