iZotope RX has a well-deserved reputation for being the de facto standard in audio repair programs. Many audio engineers and forensic specialists rely on its many powerful tools, which can run either in the stand-alone RX program, or as plug-ins in AU, VST, RTAS, and AAX formats. Now in its fourth incarnation, iZotope RX 4 comes with several new features and modules I'll be discussing here.
RX 4 comes in two versions: RX 4 and RX 4 Advanced. While RX 4 Advanced includes all the new features I'll be reviewing here, RX 4 now includes the Dialog Denoiser (formerly only available in Advanced), as well as Connect, Monitor, Clip Gain, export regions, and updated file format support.
The Look and Feel
If you've used RX in the past, you'll be right at home in RX 4. All the common tools are right where you'd expect them to be. But now, RX 4 has the same crisp appearance found in other iZotope programs, and is a darker slate grey.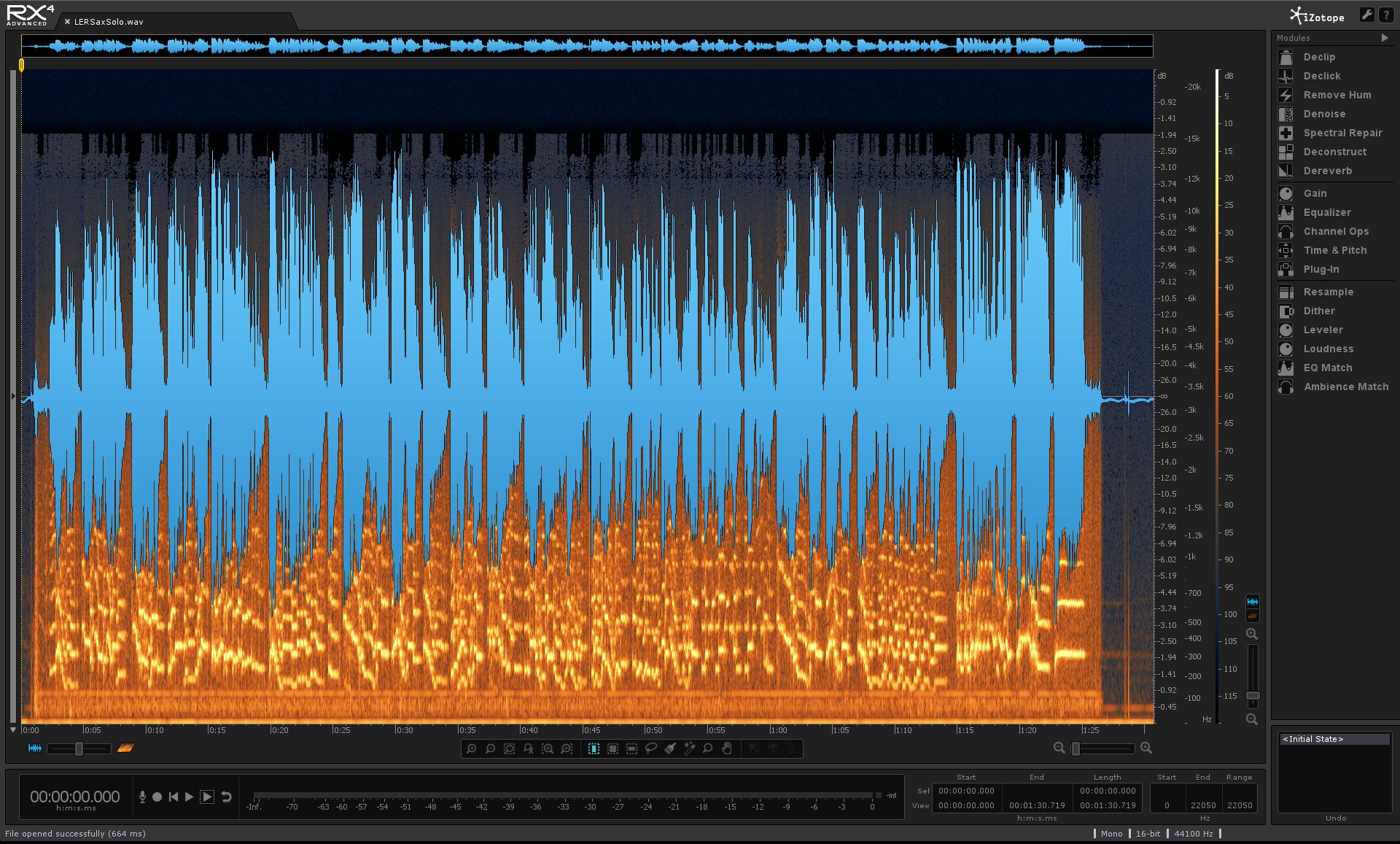 The appearance of RX 4.
Connect and Monitor
iZotope are the first to admit that the Spectral Repair plug-in workflow was a little messy. So they've created 'round-trip' plug-ins called Connect and Monitor. With them, you can be working in your host application and send audio to RX, apply any RX editing (rather than just Spectral Repair), then send the audio right back to your host.

The Connect and Monitor control panels.
This new workflow is incredibly powerful because you don't have to leave your DAW for RX editing. No need for different file versions or names; All the processed audio gets placed right back into your host. It works so well that the ReWire option has been removed (you won't miss it), and the Connect control panel even prompts you through the workflow. The Monitor plug-in routes the RX audio into your DAW so that you can hear your repair work. (Pro Tools users use Monitor on Aux tracks, while VST and AU users will use it on Audio tracks.)
Clip Gain, Export Regions, and File Formats
While most DAWs have it, RX 4 has a new Clip Gain editor. This is especially useful for temporally modifying the gain of a file when in the stand-alone app. You can also create regions within a larger file, then export them as a series of smaller individual files. And speaking of saving, RX 4 supports more file formats including BWF (Broadcast WAV Format), AIFF (Audio Interchange File Format), Ogg (Ogg Vorbis), and FLAC (Free Lossless Audio Codec.)
New Modules
On the right side of the stand-alone UI, you'll find a larger number of modules including Leveler, Loudness, EQ Match, and Ambience Match, but the Spectrum Analyzer module has been relocated to the View menu. (RX 4 Advanced comes with the Insight plug-in, which provides even more detailed audio visualization.)
Leveler Module (RX 4 Advanced only)
The Leveler module works a bit like a compressor, in that it tracks the amplitude of the file. But instead of processing the actual level, it creates a very detailed volume envelope (see Clip Gain above), which can be used to smooth the level, or further modify manually to craft the level over time.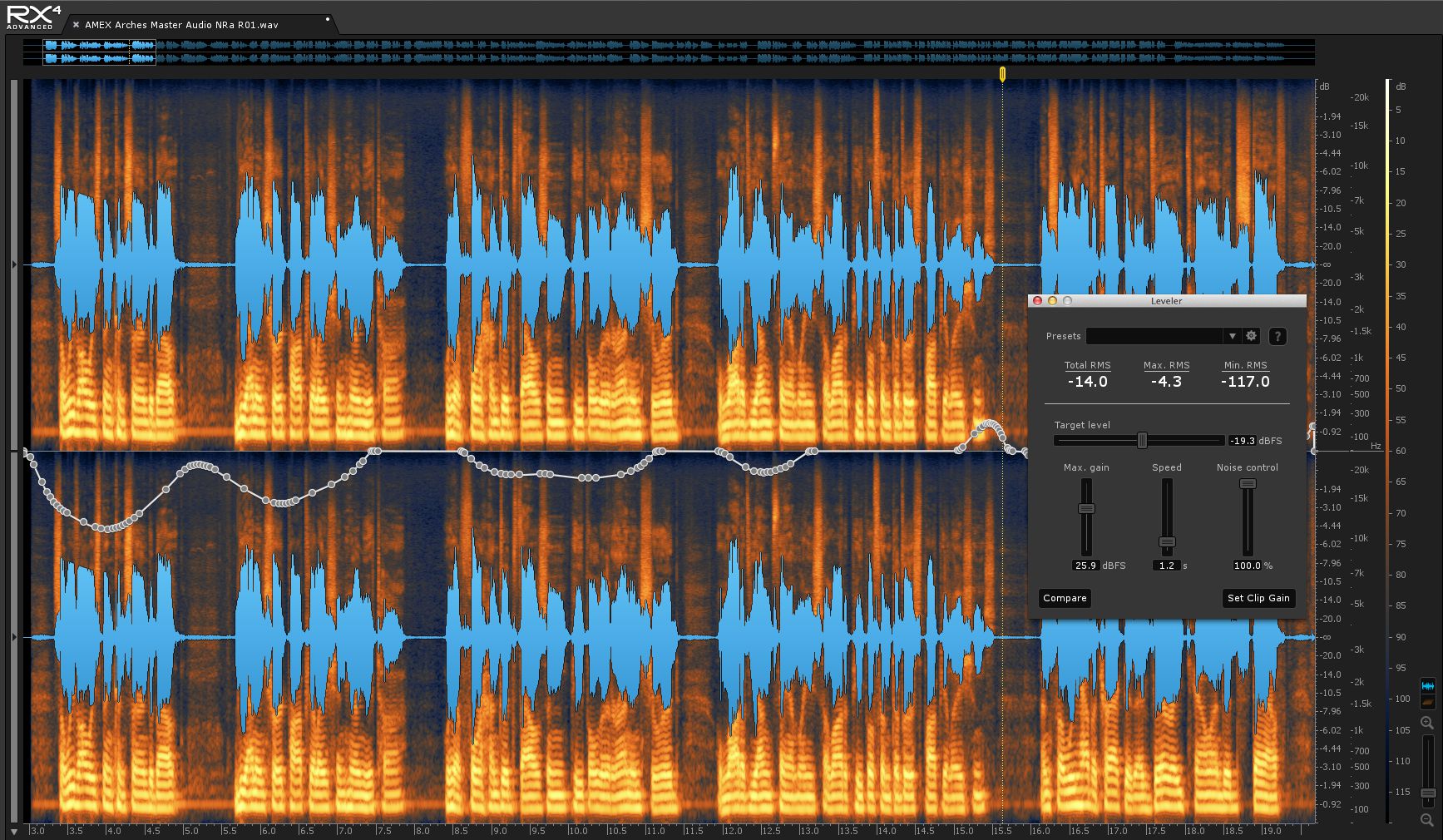 The Leveler module (far right) and Clip Gain envelope.
Loudness Module (RX 4 Advanced only)
The Loudness module is similar to a mastering limiter. It has two basic controls: True peak (in dB) and Integrated loudness (in LUFS, or Loudness Units Full Scale), and can be used to increase or decrease the loudness of a file. When you select the Loudness module, it displays helpful information about the loudness of the currently loaded source file.
EQ Match Module (RX 4 Advanced only)
If you've ever recorded a two-shot interview and were forced to use two different microphones, you'll love the EQ Match module. It learns the EQ curve of a source file, then applies that curve to a destination file. I tested EQ Match on two tracks, one with a Sanken COS-11D (my favorite lavalier mic) and the other with a Countryman B6. The results were fantastic. EQ match easily corrects for variables like mic placement and tired vocal cords, too.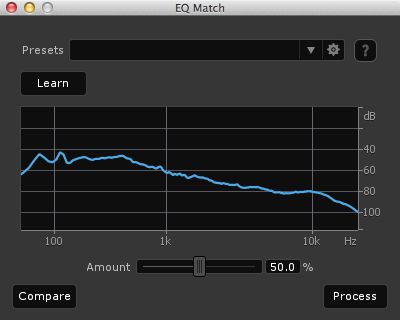 The EQ Match control panel.
Ambience Match Module (RX 4 Advanced only)
Voice-over and ADR (Automated Dialog Recording) engineers have always been challenged to match the room or environment noise of an original recording to that of replacement dialog recorded in a virtually noiseless studio. The Ambience Match module makes this process a breeze and works especially well in a DAW with Connect and Monitor. First, you'll 'learn' the room tone from an on-location source file. (You don't need to select a separate noise print file because Ambience Match only looks at the noisy component of the source.) It then generates an ambience noise print file, which can then be applied to a file in RX, or can also be sent into your DAW via Connect. It's extremely fast, and truly simplifies your ADR workflow.
The Ambience Match control panel (far right) and processed audio.
Conclusions
There are more improvements in RX 4 than I had space to write about including file information display, improvements to the time rulers, and more. There's only one thing I wish iZotope would add: Encoding in AAC (Advanced Audio Coding) format. While it's nice to have Ogg and lossless FLAC support, neither is as widely supported as AAC. Be that as it may, the new modules and workflow improvements in RX 4 make it a no-brainer upgrade. Granted, if you're buying Advanced for the first time, it's a healthy investment. But you simply cannot find a better audio repair program anywhere, and iZotope continually strives to offer innovation to even the most demanding of customers.
Price: RX 4: $349 / RX 4 Advanced: $1,199 (Upgrade pricing is available via your account at www.izotope.com.)

Pros: The best audio repair program money can buy, round-trip processing, innovative new repair modules, and broadened file format support.
Cons: No AAC support, and Advanced is a serious investment for new users.
Web: www.izotope.com / (UK users can go to Time&Space here)
Note: Matthew Loel T Hepworth has created a massive video course on RX4 and RX4 Advanced available at AskVideo.com here.