Design Concept
As a longtime Ozone user, I'm always eager for a new iteration. With the release of version 8, new and current users will find compelling reasons to update.
Depending on your budget and needs, there are three levels of Ozone to choose from: Elements, Standard, and Advanced. (This review covers the Advanced level, but you can make a full feature comparison here.) You can run Ozone 8 either as a standalone app or as plug-ins in any modern audio editor or DAW. There is a variety of contemporary digital modules to choose from, as well as vintage modules that provide faithful recreations of analog hardware devices.
When running as an app, you can load multiple audio files directly into the Ozone interface. From there you can add shaped fade-ins and outs, as well as add up to six individual mastering modules per audio file, including 3rd-party plug-ins.
When using as plug-ins in your DAW, each Ozone module (except the Post EQ, which is identical to the Equalizer module) runs as an individual plug-in. But you can also load the full Ozone plug-in and load the modules into it. This method also gives you access to all the Ozone features (except the file loading/saving) including the new Master Assistant.
The Master Assistant
The Master Assistant analyzes an audio file for several properties including tonal balance, low-end compression and overall loudness. Then based on the ultimate destination of the mastered file (streaming or audio CD), modules are inserted and programmed to achieve a baseline result. While seasoned users will probably use the results as a starting point, the recommendations usually sound so good that new users could apply them and get welcome sonic improvements.
Tonal Balance Control
The new Tonal Balance Control is a plug-in that serves as a meter as well as parameter control over both the Ozone 8 and Neutron 2 (also from iZotope, sold separately) equalizers. Visually monitoring while adjusting the tonality in one window is both a timesaver and serves as a check on your EQ decisions. You can also rename each instance of the EQ plug-in to make it easier to assign to the Tonal Balance Control interface, and create custom target curves from other audio recordings.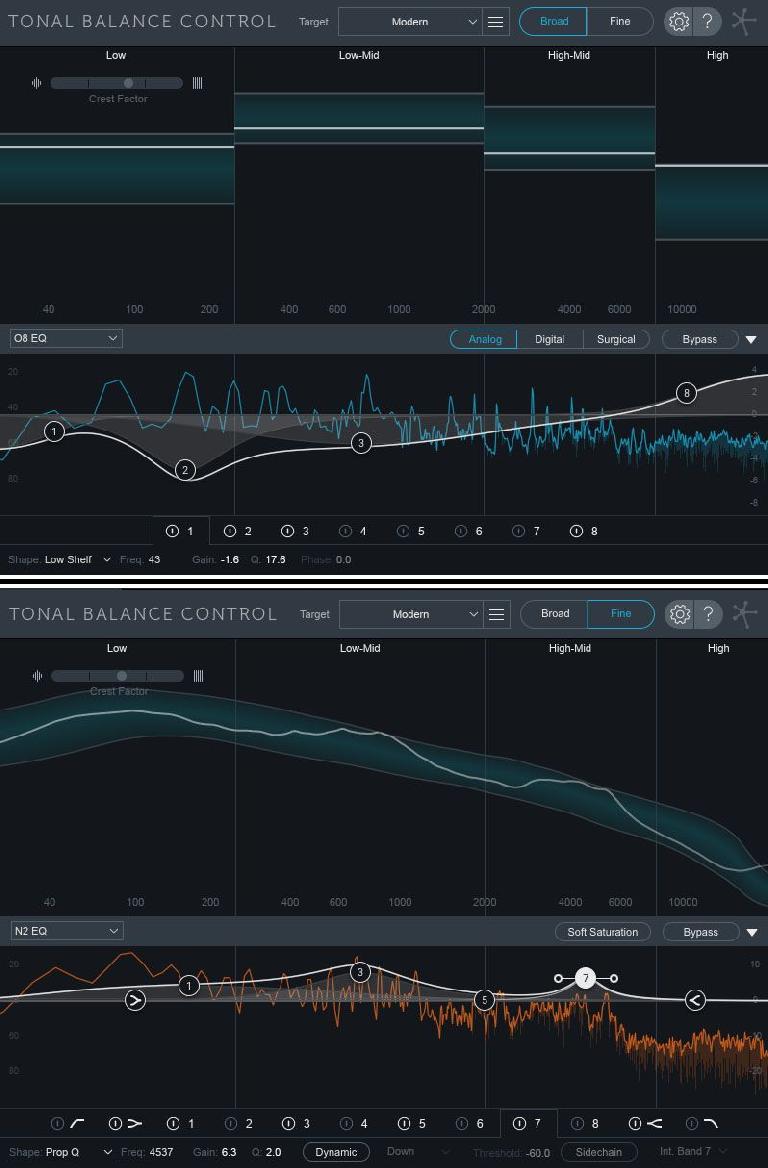 Tonal Balance Control interface with Ozone 8 EQ (top, Broad view) and Neutron 2 EQ (bottom, Fine view).
That New Software Smell
Other changes to Ozone 8 are numerous, including the vanquishing of the creme-colored vintage module faceplates in favor of a unified modern look. The Vintage Tape module now includes a 7.5 ips (inches-per-second) speed, and the Maximizer has a Learn Threshold feature (set in LUFS) and the new IRC LL (low latency) and IV modes, the latter with three settings.
The new Spectral Shaper looks like de-esser and, while it does function as one, can also work in any frequency range. The gain reduction algorithm continually monitors the signal tonality to provide practically invisible results.
Each frequency band of the Exciter module can now be assigned its independent flavor of saturation, which means you can add Tape saturation to the low-end while adding Triode tube saturation to the high-mids, or any combination across as many as four bands.
Ozone or No-zone?
With so many welcome additions, there is one missing component: Insight. Once included in Ozone Advanced, it's now optional in version 8. While new users may not need that level of sonic analysis, upgrading users will likely already have Insight.
Be that as it may, iZotope have packed a lot of new features into an already potent package. Because sound is subjective, I didn't spend a lot of time on sonic capabilities. I'd recommend trying it for free for 30 days before you purchase a license. But I think anyone who uses Ozone regularly will find version 8 to be a compulsory upgrade with great new features. And as a complete mastering solution, new users can get positive results, regardless of which level of Ozone they choose.