Historically, Ozone has been a collection of modules that'"for many'"have been the go-to solution for getting professional mastering results. However, you still needed a host application to run those plug-ins. Now both versions of Ozone 6 (Ozone 6 and Ozone 6 Advanced) run as a stand-alone app and as a multi-module plug-in. Ozone 6 Advanced adds the ability to run each module as a separate plug-in, introduces a great new module called Dynamic EQ, and includes the Insight metering suite.
A New Look
Ozone 6 is the latest program to feature the crisp, flat iZotope esthetic. Gone are the hyper-colorful themes, now replaced with more muted tones.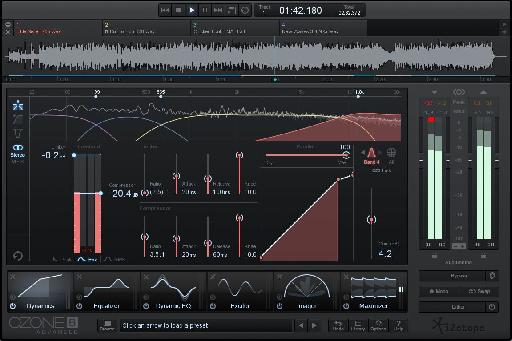 The Ozone 6 stand-alone interface.
The stand-alone version can load multiple audio files simultaneously, which allows you to make quick comparisons between different tracks. Each track can be truncated and faded-in/out with a variety of curves, and treated by up to six different mastering modules like dynamics and various tonal processors. All of the modules (with the exception of the Maximizer and Imager) can work in stereo or mid/side channel modes. There's also a special Plug-in module that allows you to use third-party plug-ins. The modules can be rearranged into customized signal flows for each track, but remember that if you're using the Maximizer, you'll always want it to be last in the chain. The Master I/O section meters can be configured for several loudness standards, including the K-System.
"The Auto Match Gain button is perhaps my favorite new feature of Ozone 6."
Below the Master I/O section is the Auditioning section, which is where you'll find the Bypass, Mono, (channel) Swap buttons, as well as the Dither section powered by the MBIT+ dithering processor. Next to the Bypass button, you'll find the Auto Match Gain button, which resembles a small human ear. This is perhaps my favorite new feature of Ozone because it matches the loudness of both the original (unmastered) file and the currently mastered version. This means that clicking the Bypass button allows you to truly listen to the mastering treatments you're applying without the huge disparity in loudness.
Equalizer Modules
While it might appear that there are two different modules, the Equalizer and Post Equalizer are identical. But having two EQs allow you to provide some specialized treatments. For example, one could be in L-R mode for independent EQ of the left and right channels, while the other could be in M-S mode for mid/side processing. Both equalizers provide up to 8-bands of paragraphic EQ. Each band has a wide choice of individual filter shapes, and the entire module can operate in Analog or Digital mode. Analog mode provides non-linear phase curves with an analog-modeled flavor, while Digital mode gives you less-colorful filters with linear phase, which is highly desirable for mastering. While in Digital mode, you can set the shape to Surgical mode for uncolored, yet highly precise filter responses.
"It's really interesting to analyze music that you feel epitomizes high-quality sound, then apply that tonality to your own recordings."
There's also a Matching section that allows you to analyze the EQ curve of any audio file, then apply that curve to your mastered file. Remember that Picasso said, 'Good artists copy, great artists steal.'