iZotope's Alloy 2 is designed to be an all-purpose tool for working with dynamics and sound shaping on a day-to-day basis. Why use multiple plug-ins, the argument goes, when you could use one? It's not exactly a channel strip either, though it does contain some of the kinds of modules you would find on one.
As its name suggests, Alloy 2 is the successor to the original Alloy. For users of the original you'll uncover a new darker, and more user-friendly interface, as well as improvements across the board to the Transient Shaper, Exciter, Dynamics sections as well as new EQ filter types, presets and even AAX support for Avid's latest plug-in format.
Alloy 2 uses iZotope's now familiar system of grouping a number of sections into a single window and providing a clever navigation system to let you move around. Overview mode is, as you might expect, a view that shows you broadly what is going on across the whole plug-in. The omnipresent level meters and faders to the right let you set global input and output gain, as well as featuring an optional Zero Latency mode, for DAWs that don't natively support it.
It starts with a preset
The preset system is iZotope's usual nifty translucent pop-up window that can be split off to its own window if you prefer. Presets are grouped into Global and module-specific, and provide an excellent starting point for all kinds of sound shaping. There are presets for basses, drums, vocals, pianos, guitars, post production, special effects and more. They are a huge timesaver in setting up multiple modules to be pretty close to where you want them, then making smaller tweaks to suit your particular source material. Sorting and saving presets is easy too, so you'll have no problem making your own settings.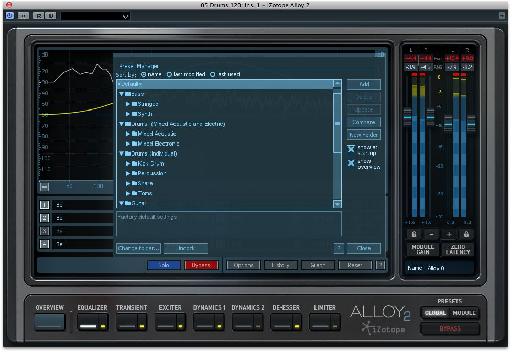 Transient Shaping and Much more
Each of Alloy 2's modules can be switched on or off and each has its own control section. First up is EQ, with sweepable bands and Q settings, preset curves and up to eight points. You also get analogue or vintage style filter shapes, a spectrum analyzer and a clever solo feature if you hold the Alt key while clicking on an area of the spectrum. Next is the Transient Shaper, with single and multi band operation for shaping the attack and sustain of audio, especially percussive sounds. The Exciter can again be used in single or multi band mode, and has X/Y pads for mixing different types of saturation. It's great for adding boost and presence to the mids of a mix, and sparkle to the top end.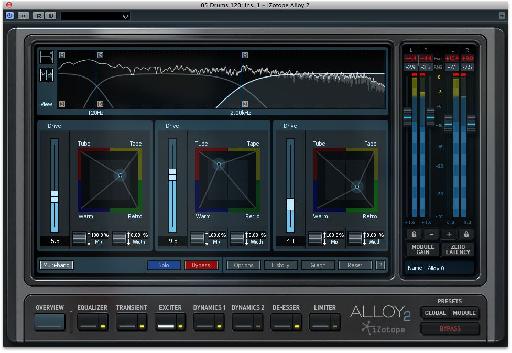 Dynamic Controls
Alloy 2 is particularly good with dynamics and has two independent dynamics modules with gate and compressor stages that can be connected in series or parallel. There are comprehensive controls as well as unique features like Gain Tracing, which shows you how gain reduction is being applied over time. Next up is a de-esser, simple but effective and more flexible than others since it has a customizable de-essing bandwidth range and so can be used for special effects as well as traditional de-essing. Last but not least, a limiter section provides hard or soft limiting and all the controls you need to squeeze maximum gain out of your mix.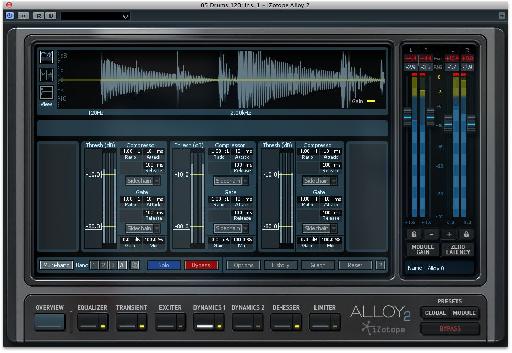 Final Thoughts
Alloy is a remarkably powerful multiple effects processor and at $199 (currently on special offer for just $149), covers an awful lot of ground in terms of the stuff you need to do during everyday music production. There's a lot of depth too: dig into the menus and you can tweak and customize the behavior of every effect stage as well as the plug-in itself. Alloy 2 is an excellent all-rounder and an essential studio tool for anyone producing music on their computer.