Livid Instruments and newcomers Isotonik are partnering up for what's sure to be a venture that finds interest for both DJs and current owners of the Livid Base II. When you purchase the supplemental Isotonik Base II DJ template, you gain both a very impressive insight into cutting edge DJ practice, as well as some very exciting, expanded functionality for your Base II. Let's take a look.
Two Buttons for Something Else
After loading up the session file, which is your template, and which takes a considerable amount of time to load, you enter into a very well planned out session, indeed. Multiple Sends are feeding into multiple Return tracks housing a plethora of custom Isotonik Modular DJ effects. These effects, also known as Smart Effects, residing as an Effects Rack on the main channel, are loaded and mapped, already, to your Base II controller, provided you press the two little buttons on the Base II at the same time. Buttons 4 and 5 move you into Isotonik mode. Here, you have some additional screens and shifted screens which will both assist you on stage, and also have the tweaker kids in the audience asking what that badass controller of yours is doing.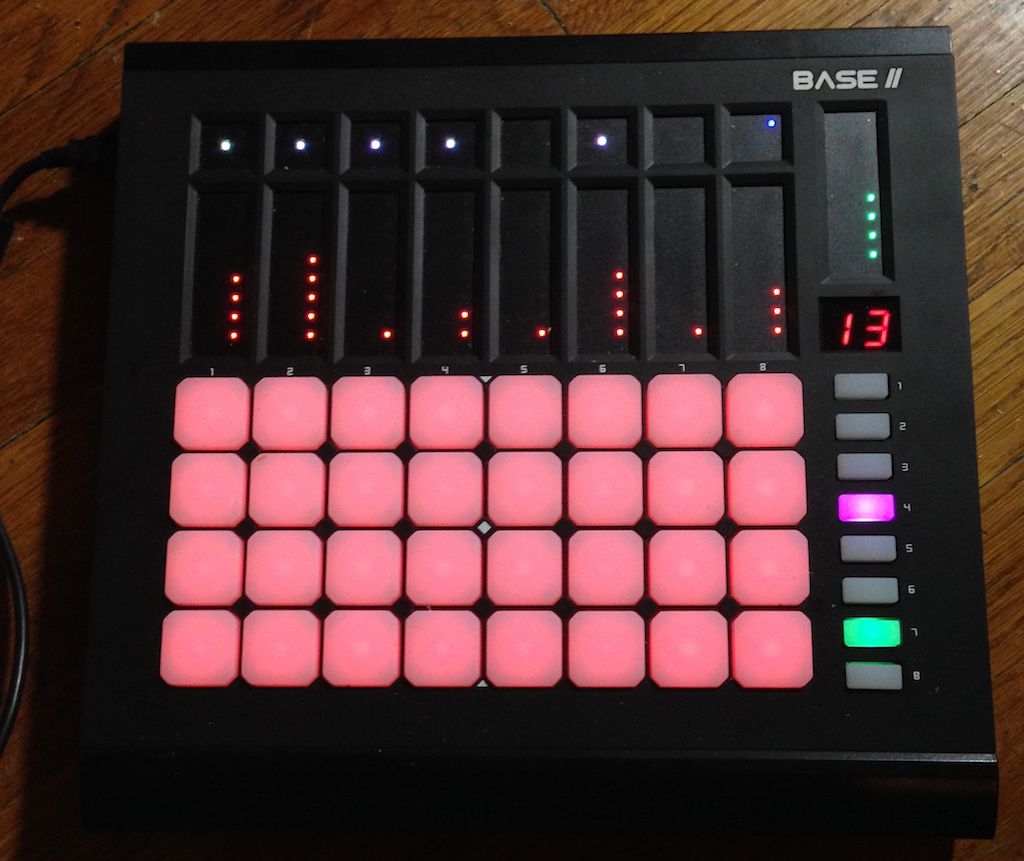 It's All In Your Perspective
The first (and one of the most impressive) of the Isotonik screens would be the DJ effects screen, which is the very first screen to appear after pressing buttons 4 and 5.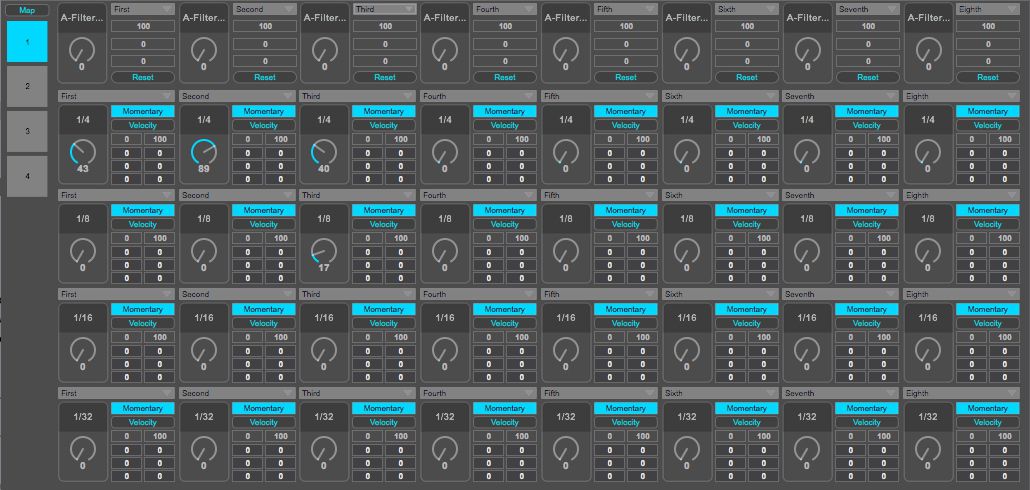 Pads are assigned to Slicer effects and this is amazingly done, as there is a blue line that cycles in time with the playback needle in Ableton, so that you know where you are when you introduce a slice. The rows are set up by Slicer resolution. If you press the top row, while in the DJ Effects screen, you'll initiate an 8th note slice. Bottom row is 64th, and I'm sure you can imagine everything in between. The top ribbon-based buttons of Base II are all mapped to Effect toggles, and correspond with the Ribbon controller based faders directly underneath. For example: If I press Touchpad 2 (Top button, second one over from the left), I'll initiate a Brake, which simulates a turntable being turned off and gradually coming to a halt. Because of the awesome Isotonik effects that populate the session, when I press button 2, it sounds like my set is slowly powering down and the audio gradually comes to a halt. If I adjust the Fader directly under button 2, I can modify the speed of the audio 'brake'. That's just one of the DJ effects!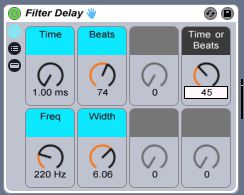 On another touch pad, there's Overdrive, on another there's a High Pass filter. And yet, there's still room with the Faders to tweak every one of these effects, on the fly, through the use of Smart Effects. This is so well thought out! By the way, that's just one of the screens.
Conclusion
All of these effects and mappings can be replaced, within the template, with effects and mappings of your own. And, Isotonik does an amazing job of explaining, not only how they did the original mappings, through use of a very nice manual, illustrate how you can see what they've done, and give you suggestions for modifications. Also, they've made a great video that fully explores the entire feature list of all of the effects, as well as giving you additional suggestions, and most importantly, let you see Base II, in action. If DJing is your thing, and you have Max 4 Live, and you have a Base II, jump on this, as the Isotonik Base II template is not just an amazing tool that will let you instantly DJ with some of the most modern DJ effects taking place in any club, it's a very well-thought-out template that will show you how to make a virtual DJ environment that truly matches your style and workflow.