As iOS devices become more and more powerful, we come to expect to be able to do more with them. Music and recording apps are getting pretty advanced, but Apple's hardware still only has the basic built-in mic, or the facility to connect mics via the Camera Connection Kit or more frequently these days, the headphone jack which unbeknown to many people also accepts audio input.
Great recordings of course require great microphones. The problem is that many studio mics are condenser models and practically all have an XLR connection. Even worse, from the point of view of mobile recording, they tend to require phantom power. Until now, getting a studio mic connected to your iOS device has meant either a fiddly workaround or getting something like the Alesis StudioDock which, while an excellent piece of kit, requires plugging into the mains and could be considered overkill if all you want to do is record one condenser mic.
Plug and play
Enter IK Multimedia's iRig PRE, the latest in the company's ever increasing range of music hardware for iOS. It is, essentially, a fairly simple piece of kit. Pop in the 9v battery and connect the mini jack to your iPhone, iPod Touch or iPad's headphone port. To the other side of the box, plug in your studio mic using an XLR cable. Adjust the gain using the small recessed dial on the side, and monitor back through the onboard mini jack headphone port. If you need phantom power you can flip the main switch to a third position, and an extra light comes on to indicate that it's working.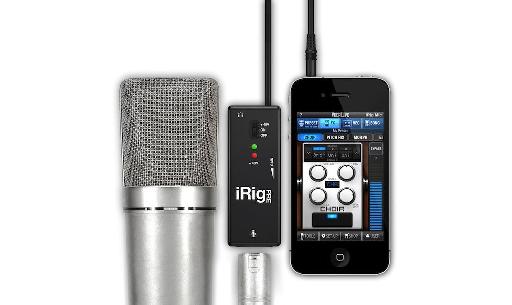 iRig PRE is easy as pie to connect to your favorite iOS device.
And that is pretty much it '" connect everything up and record into your app of choice. IK makes iRig Recorder and VocaLive, both of which come in free and paid versions, and of course the input will work with IK's other apps like Amplitube, Apple's GarageBand and other audio recording apps. I tested it out and found recording quality to be great '" the long cable between the Pre and the iPhone is helpful because it lets you position things a bit more flexibly '" and my Rode NT1 sounded much like it does when I record it through other, computer-based audio interfaces. There's a facility to attach the Pre to a mic stand using the supplied velcro strap.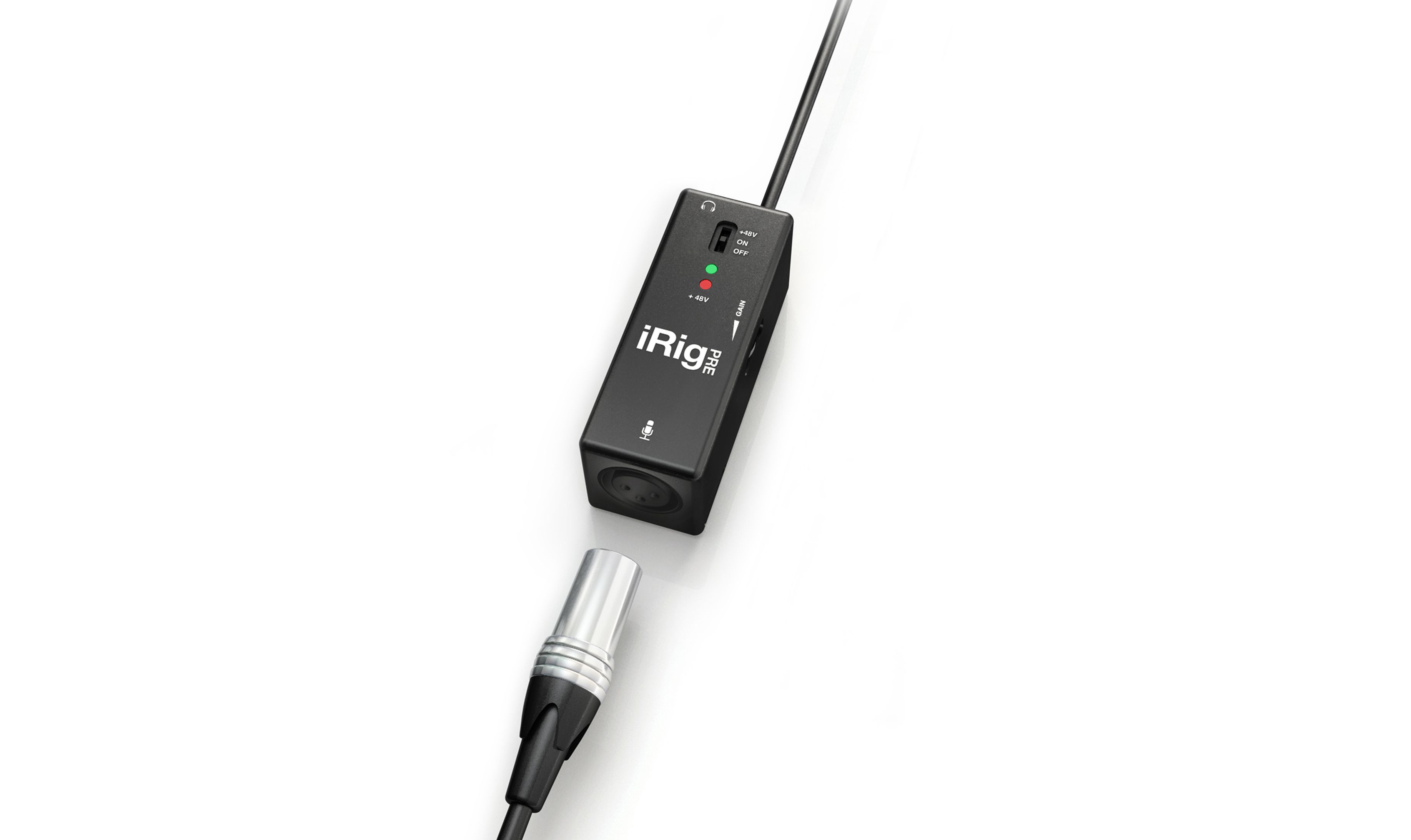 Connect your XLR mic, turn on phantom power and you're good to go.
Onboard Monitoring
Using the Pre with VocaLive is interesting too. Thanks to the onboard monitoring you can speak or sing into your mic (it works with non-phantom powered mics too of course), have it processed through the various effects in the app and then hear it monitored back, with impressively low latency. Since the box uses a battery, there's no drain on your iOS device's battery, and batteries are fairly inexpensive.
Final thoughts
The iRig PRE is just about the most mobile recording solution you could think of when paired with a recent iOS device and an XLR-connected mic. The ability to feed phantom power makes it really useful and recording quality is great. If you record on the move but want studio quality sound, at a shade under 30 Euros, it's definitely worth checking out!
Discover more about iRig PRE here.