IK Multimedia is no stranger to making products that extend the functionality of our iOS devices. So far we have seen iRig for vocalists and guitarists, now with the introduction of iRig MIDI keyboard players and programers can join the party, too.
The nice guys at IK have sent through an iRig MIDI for me to peruse, so let's take a look at what this thing is capable of and if it can really transform your iOS-based mobile studio.
The Concept
This is actually the third iOS-enhancing 'iRig' based device that has come from the IK Multimedia crew. So far we have seen guitarists benefit from the original iRig, allowing a guitar to be plugged in directly into an iPad or iPhone. Following this, vocalists were able to get involved with the introduction of the iRig Microphone system.
Both systems included various custom apps, allowing the user to either process their voice or guitar and also record the results. All very cool considering you can now essentially fit a mini studio grade processor in your pocket or rucksack!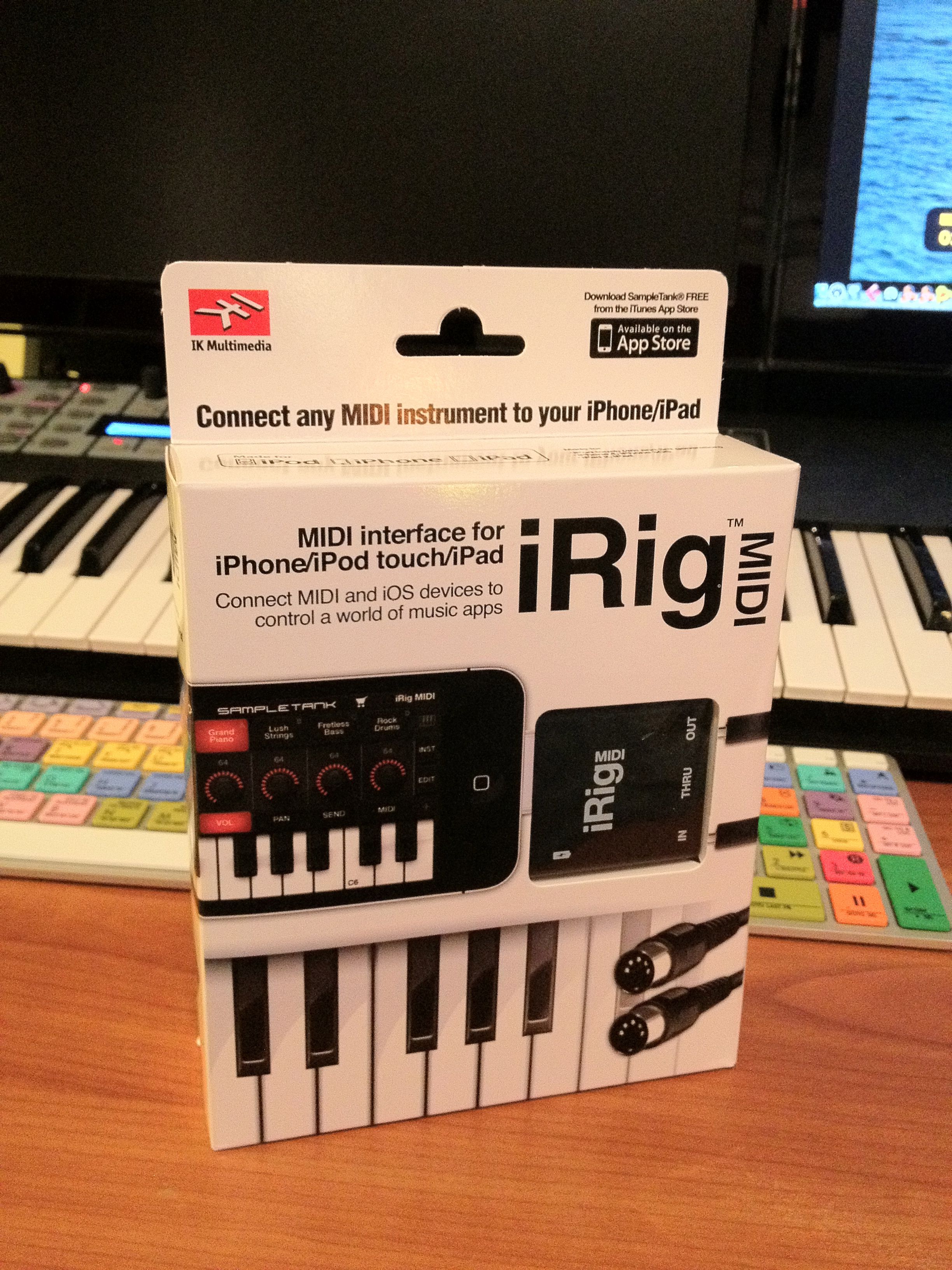 iRig MIDI touches down in my studio.
The iRig MIDI brings full MIDI interfacing and recording to the table and just like its predecessors it comes bundled with a few very clever custom Apps. Not only is the software free but can actually turn your iOS device into a fully-fledged sound module. Let's take a look at how it all fits together...
Hooking Up The System
Although the iRig MIDI system is perhaps a little more complex than previous products in the range it's still relatively simple to set up. In the box you'll find the main unit that plugs into either your iPhone or iPad. This is essentially the MIDI interface and every cable you'll need will attach to this unit.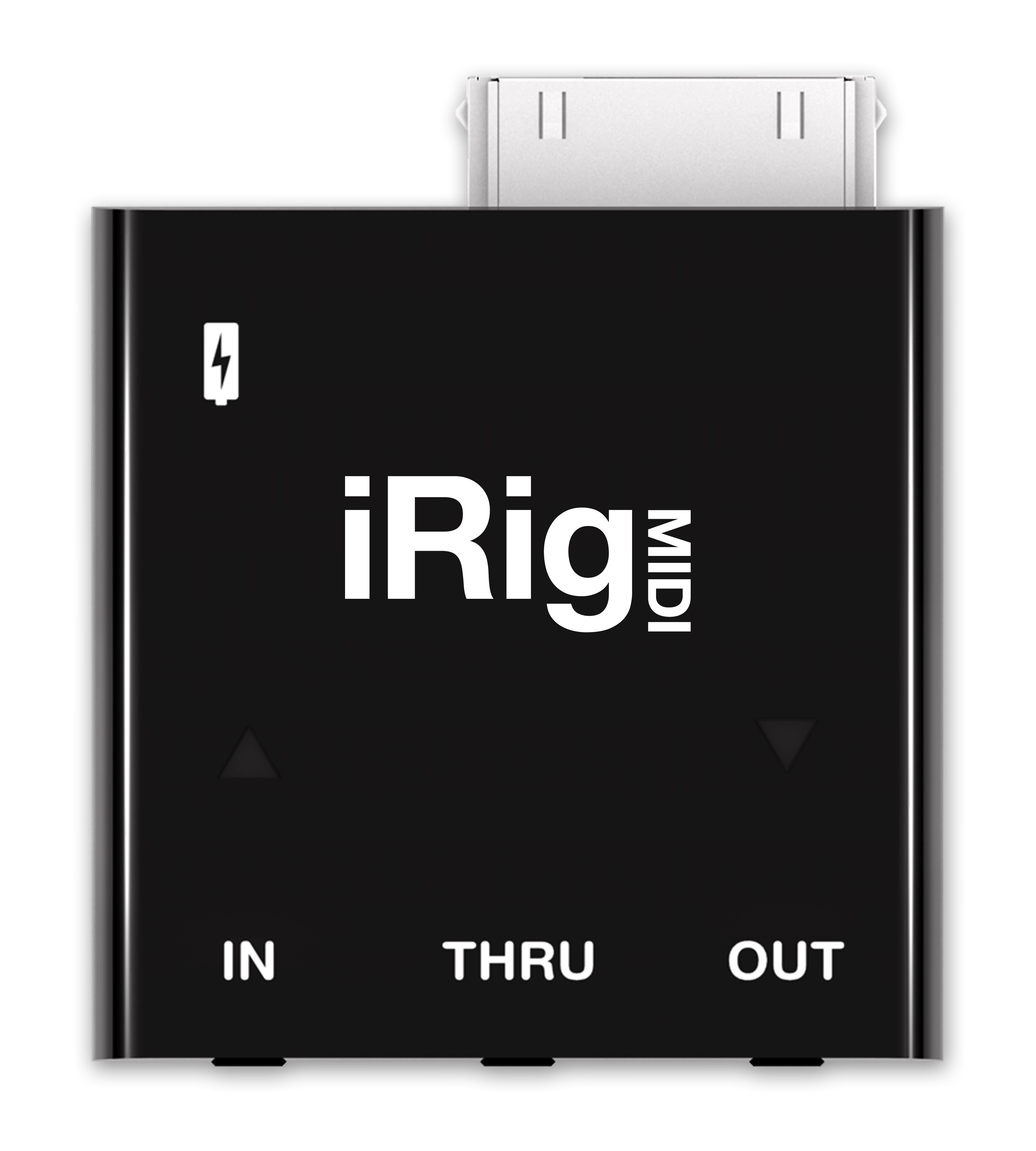 The main iRig MIDI unit.
You'll also find a bunch of custom MIDI cables in the box that feature a small plug on one end (that connects to the iRig MIDI) and a standard 5-din MIDI cable on the other. These are used to plug into a MIDI keyboard or controller. You'll need to plug the 'OUT' of your keyboard into the 'IN' of the iRig to get things going.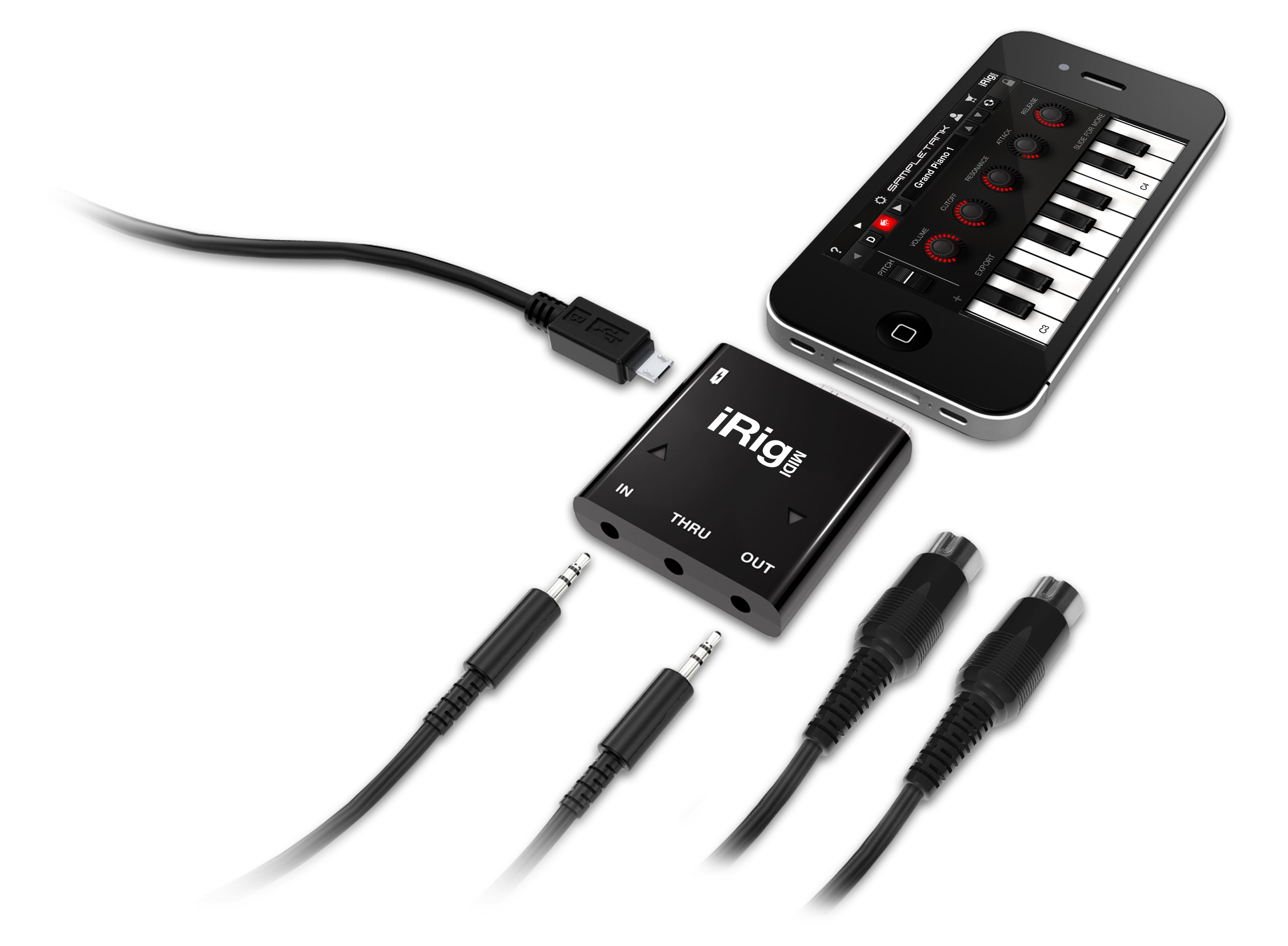 Hooking up the MIDI wiring looks something like this (maybe a bit messier in reality ;)
With this basic connection established you can then launch any Core MIDI-enabled App on your device and start playing. This is literally plug and play and will work straight away. I had success with GarageBand and Moog's AniMoog synth.
As previously mentioned there is a MIDI out for sending any recorded MIDI back to your software and surprisingly there is also a MIDI thru for daisy-chaining further devices and integrating the iRig into an established MIDI set up.
One other nice little touch here is the mini USB port on the side of the unit. This allows you to charge and power your device even when using the iRig. This is a great touch especially for iPhone users; using the device as a MIDI instrument can be pretty taxing on the phone's battery.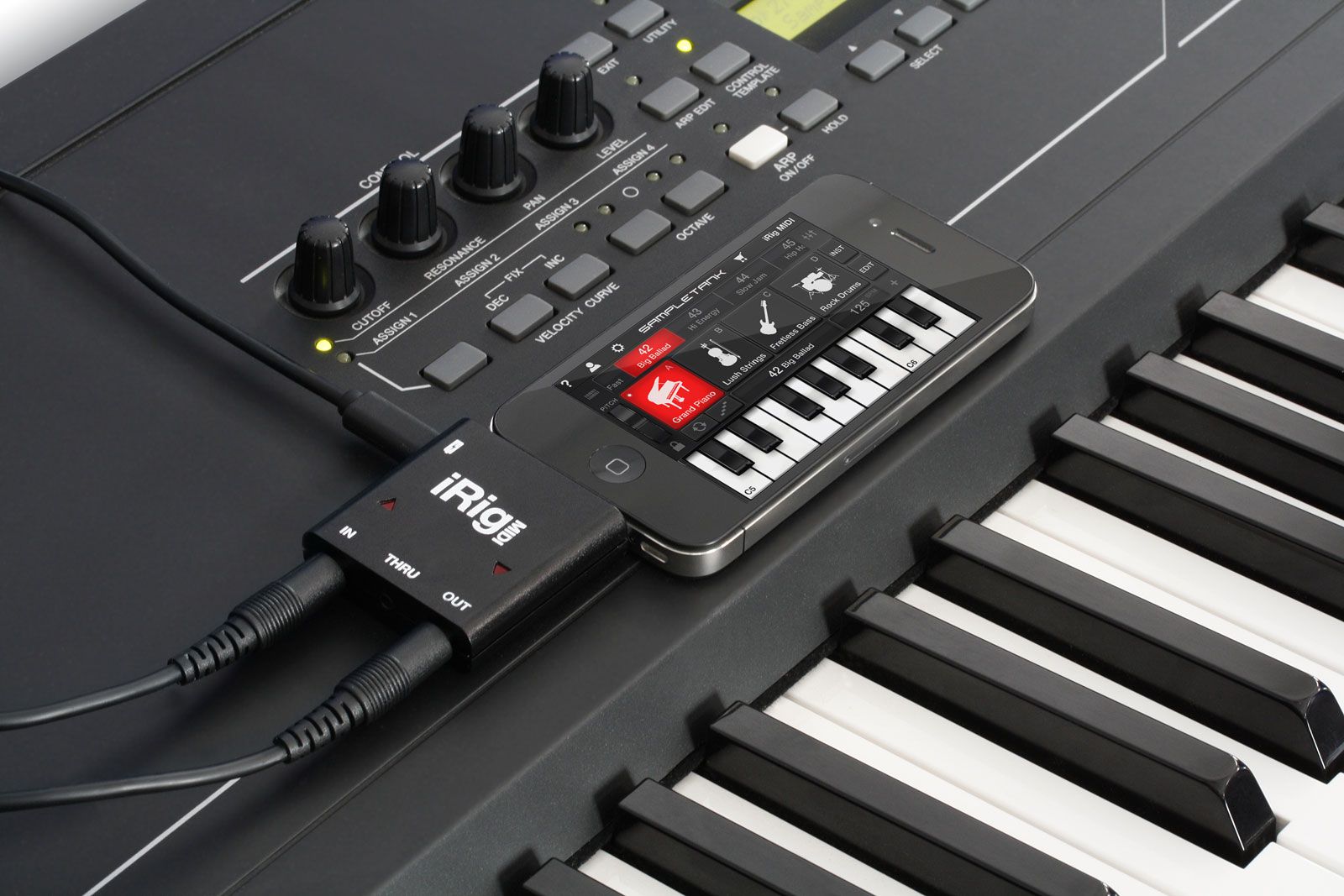 The set up in action.
So with all this hooked up and your iOS device on a nice stand you are ready to start making some music. If you don't already have a Core MIDI-enabled app you'll need some sounds to get you going. Luckily, IK have provided a couple of great free Apps with the iRig MIDI.
The Bundled App Pack
There are actually two free Apps available for iRig MIDI users (available on the App Store), one of which is a virtual sound module called SampleTank Free. The other is a MIDI recording, playback and storage App called iRig MIDI Recorder Free.
SampleTank Free is an impressive App and the fact it wont cost you a penny is equally impressive. This App will run on both iPhone and iPad and is capable of producing sounds in just about every style you can imagine. You can even edit individual sounds once they are loaded.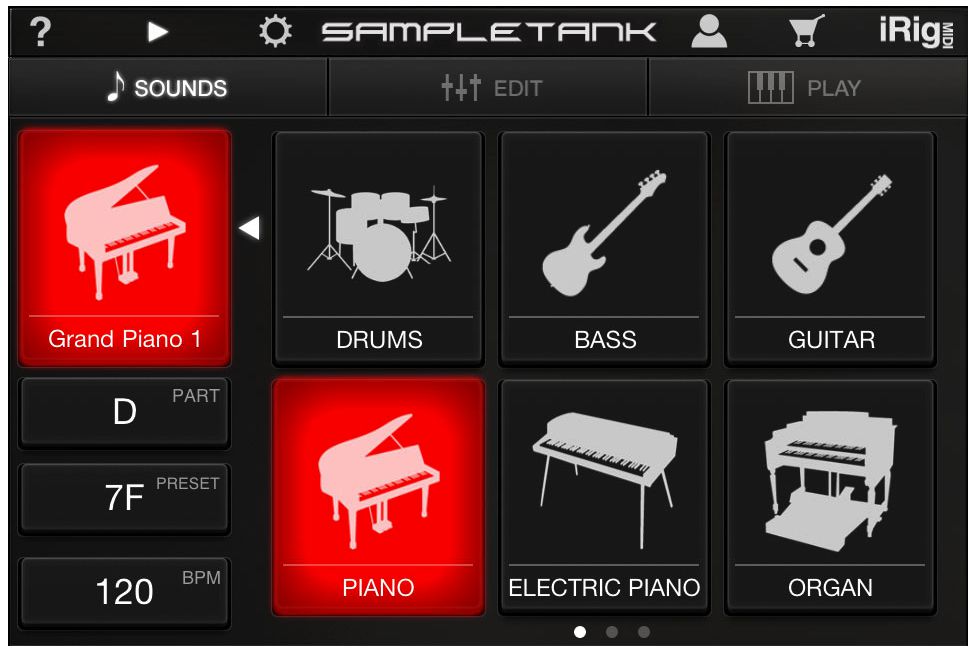 SampleTank Free's main page.
In total you get a 900MB library which contains 16 instrument categories and over 400 instruments. This is a four-part multi-timbral instrument, meaning it can play four parts at any one time.
It doesn't stop there, either: there are 900 patterns and grooves to help you build your mini projects. After a quick scan through the sounds they are superb and certainly build on the pedigree of the pro SampleTank instruments.
Finally we come to iRig MIDI Recorder, another free app and very useful to the performing MIDI musician. This little app can record any incoming MIDI signal, save it and play it back. This is great for recording specific performances, ideas or programmed MIDI loops.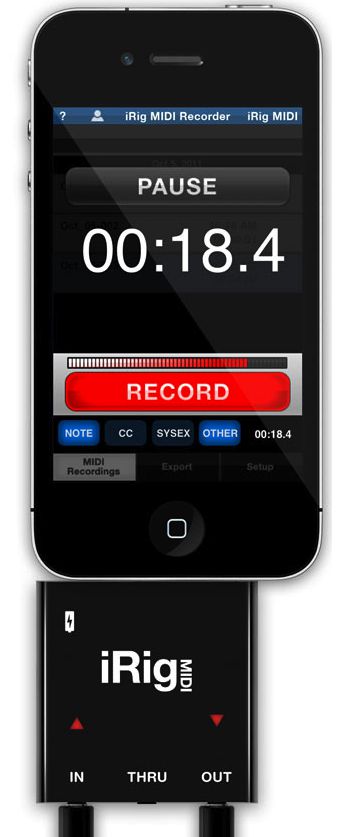 iRig MIDI Recorder.
MIDI Recorder can also capture controller data and system exclusive allowing you to record patch data or device set up info. Any of this can be stored with custom names and dates for later use.
Summing Up
All in all this is a great package and IK Multimedia should really be given its dues as this is the first system of its kind. If you love MIDI and own one of these iOS devices you should go and pick up this package straight away. It won't only open up your device to new possibilities but give you an extra instrument to play with in your compositions.
Find out more about iRig MIDI and SampleTank free from the IK Website here.