There are already a number of available iPad and iPhone apps for the professional (and aspiring) musician. Less common though, which is surprising, are the number of iOS friendly musical devices (e.g. keyboard controllers, audio interfaces and microphones). After all, if you're serious about audio quality, the built-in mic on an iPhone or iPad will give less than desirable results!
IK Multimedia
are one of the companies that have stepped up to fill this gap and their
iRig Mic
has gone on to be a huge hit since it's release. So I decided to put it through it's paces and see just how good it is. Along with this mic, IK Multimedia offer free and paid versions of
Vocalive
and
iRig Recorder
which you can use with the built-in mic or any compatible microphone. For this review I decided to use their newly released iRig Recorder on an iPhone 4.
Plug N Play

The iRig Mic is a hand-held condenser mic and both looks and feels professional and sturdy. It uses a dual mini-jack connector which slots neatly into the headphone output of your iOS device and allows you to plug-in your headphones (or speakers) so you can monitor either while recording or after the fact.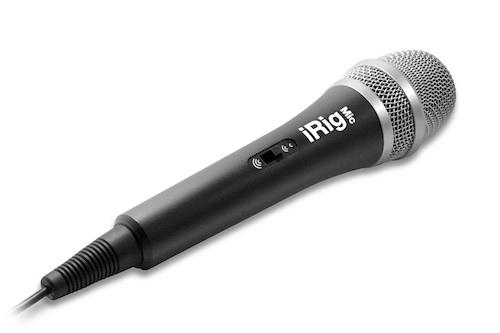 Setup is effortless and in less than a minute I was up and running. There's really little else to do other than plug it in and get ready to record!
iRig Recorder
IK Multimedia used to be known primarily for their desktop Mac/PC Software Instruments and Samplers but in the past few years they've begun reaching the eyes (and ears) of a whole new audience: The iOS mobile musician. Vocalive is a great example of a well-thought out iPhone app for musicians and is really fun to play with, so I was curious to see in what way iRig Recorder would be different.
Well, iRig Recorder feels like a cross between a single-input mixer and a portable digital recorder/editor. It's suitable for vocalists recording a demo, a journalist recording and editing an interview on the move, or anyone who wants to record their ideas, thoughts (or in my case) grocery list! It's what Apple's Voice Recorder app should have been: featuring intuitive to use editing functions with useful effects (e.g. noise-reduction) and some novelty effects (e.g. Pitch Shift) thrown in for good measure.
The Setup tab allows for detailed level input and output control, latency settings, real-time monitoring and even an Auto-Record option (recording will begin as soon as the app is launched)!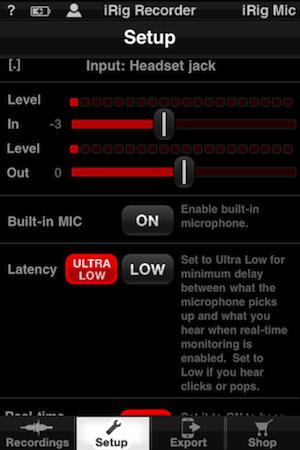 Recording is easy. Tap the 'Record' button to begin! Navigating and previewing previous recordings is simple enough that even new iPhone users will be laying down and editing their vocals in a matter of seconds.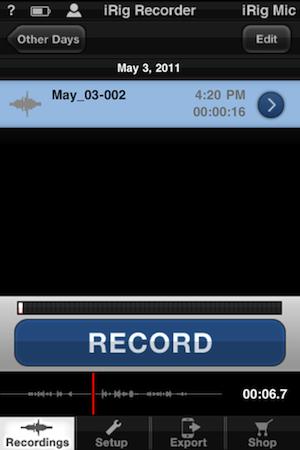 The Edit Screen features a gorgeous giant waveform display and allows for marking a start and end point (creating a selection). You can then loop the selection as well as cut it out or crop outside of the selection. Scrubbing the audio is possible in real-time by dragging your finger along the miniature wave form overview at the bottom of the interface, and you can conveniently pinch to zoom in to the waveform.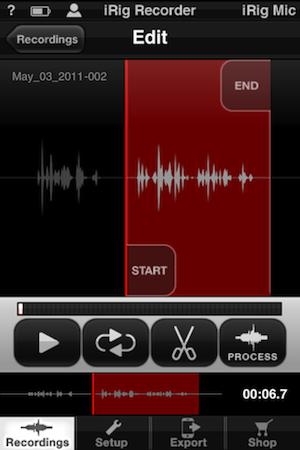 The Process button is where you can add effects to your recording. You can monitor the recording while previewing effects such as, Smoothen Voice, Speed Up, Slow Down, Pitch Shift, Optimize Volume and Cleanup - all in real-time. The later of these effects is basically a noise reduction feature which I found very handy and provided reasonable results, though I'd still prefer to export the audio file to my Mac via iTunes File Sharing and work on it in Logic or SoundTrack Pro. IK Multimedia have provided other ways to export and share your recordings: over Wi-Fi, email and even via FTP or SoundCloud. At least one of these will appeal to most people's needs.
Final Thoughts
The iRig Mic performed admirably well in my tests. I didn't need to think about the microphone and was able to concentrate on my vocal performance or interview technique. For the price I was more than happy with the quality of it's recordings compared to the iPhone's built-in microphone. For any serious editing and effects I would probably choose to get back these recordings onto my Mac. But the iRig Recorder is not designed to replace a Pro Studio environment or Editing suite, rather than supplement it and provide a very decent quality audio recording on an iPhone or iPad. It's an economical, rugged and fun to use iOS mic, and it should be noted that it can be used in GarageBand for iPad and many other iOS apps too. If you need a better microphone than the built-in mic on your iPad or iPhone then you should consider the iRig Mic.