What is Renegade Guitar?
The Renegade is a Kontakt instrument that requires the full version of Kontakt. It has two pickups, bridge and neck, and three pickup positions as the middle position blends the two pickups.
It has two modes: Solo and Chords.
Chord Mode
Chords has mapped upstrokes and downstrokes in two different octaves, you can control the strum speed and tie velocity to it, and it will even arpeggiate the chords. Click on the Anvil icon and you have power chords. See Pic 1.
You can customize the triggered chord for each note and even create your own chords in the chord grid that you see in Pic 2.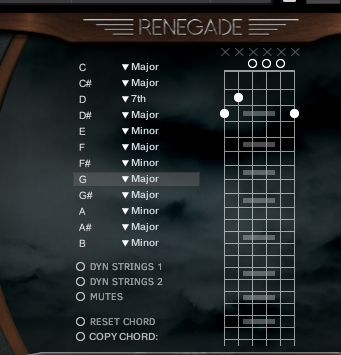 Pic 2
Personally, as Tracy of Indiginus knows from my past reviews, I would prefer the ability to play my chords and inversions manually as I can with some competitor's libraries, but it is hard to argue that this method does not work easily and sound great. Also, you can save the chord maps and load them into other instances.
Solo Mode
There are a ton of articulations, of course, which can either be triggered by velocity or keyswitching: hammer ons, trills, downslides, up and down bends, and momentary up and back down to the note, which really heightens the realism. You can even add harmony by velocity or keyswitch and keyswitches, which I prefer generally, override the velocity. Clicking on the Settings button displays the keyswitch maps, as you see in Pic 3.
You can control vibrato with CC1 (modwheel) but there is also an auto vibrato with a controllable vibrato depth that works really well. See Pic 4.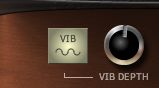 Pic 4
FX and Presets
Usually, the first thing I do is turn off the included FX in libraries as I have so many great ones, but this library is going to be an exception to that rule, because they sound amazing, so much better than you would expect in such an inexpensive library. And of course, you can create your own, either in the presets or with the camera tool now recently incorporated into Kontakt. Check out Pic 5.
There are also the Harmony presets that you see in Pic 6.
Conclusions
Once again, it sounds just great and at a $49 introductory price that will eventually, maybe by the time you read this, go up to $59, this is the very definition of a "no-brainer" in my opinion! I did not include any audio examples because the website has a teaser and a video walk-through that show it off in its best light.
Price: $49 (time-limited), Regular $59 USD
Pros: Beautifully recorded, does pretty much everything you could want a library like this to do to help you create some realistic guitar parts. Easy learning curve and everything in the GUIs are very clear. Light on CPU. Great included FX.
Cons: Doesn't recognize chords and inversions you play manually.
Requirements: Full version of Kontakt 5.5