As a musician, and a gear junky, there have been some apps, since the inception of iOS, that I've sort of seen coming... Or, wished for... Or, craved. Apps from Propellerhead, apps from Korg. And, yes, of course, apps from Akai.

However, Akai held back. Sure, they gave us some synths, and so on, early on. But, it was the MPC we were all craving. And, finally, they released it. But, is it worth it?

In case you don't know, the MPC series, sampling drum machine was a classic line of gear that dominated multiple genre throughout the last couple of decades. Even to this day, the older MPC drum machines are still sought out for sound, as well as feel. Akai really got it right with those pads.

iMPC- Look
The iMPC for the iPhone opens up to a familiar interface, as I launch it for the first time. The pads look right, the casing looks right. Even the font looks like it should. Well, if you were doing a virtual MPC.
The iPhone version of anything is usually something that people will write off these days, in favor of the iPad version. But, I'd warn off throwing the little guy to the curb, in this case. There is a lot of power here, and polish.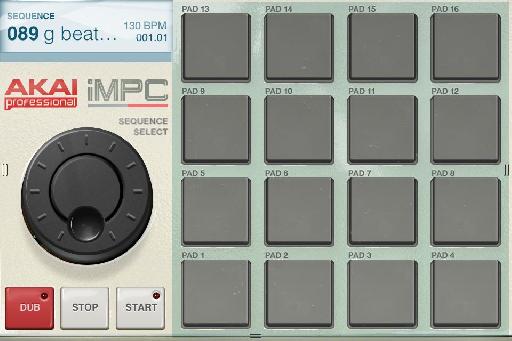 I was particularly impressed with how well documented iMPC is. Akai really is intent on creating a user base. There is even an animated tutorial that starts up the first time you run iMPC, letting you know how to swipe between different screens. Which is indeed a very elegant way to solve the problem of fitting all of the capabilities of the MPC within such a small device.
iMPC- Sound
Carefully, I begin to slowly test the features of the iMPC. Of course, the first thing I go for is to start pressing pads. I've just got to hear the included samples, right? Akai did not disappoint here. Some choice samples have been included on the default patch. And, as I began editing the patch, because that's always the next step for me, I began to discover a very impressive library of sound has been included. Wonderful Moog bass samples, wonderful 808 patches, are a given. And, there have been some great spins done on samples that you'd expect. The samples I didn't expect were a healthy serving of some killer Dubstep wobbles, vocal samples, vocoder samples, and much more. They were not screwing around. And, yes, sampling has been included and is a big part of iMPC.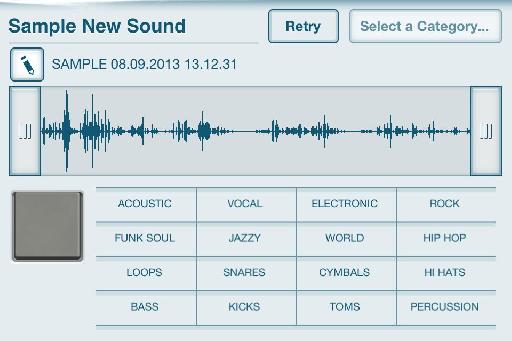 In fact, I was particularly impressed with the way that you are also allowed to sample blurbs of songs within your library. Using the built-in record player, you can even scratch as you record you sample. I was able to quickly get some really cool sampled material from a song I'm currently working on, and drop it easily in to my drum pattern.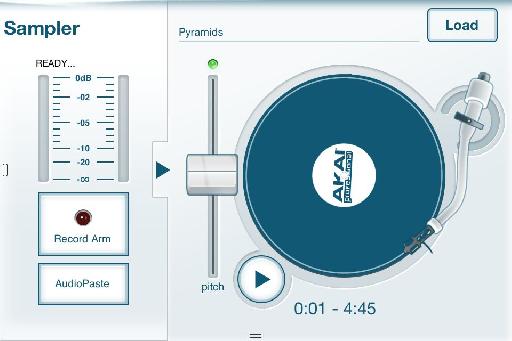 iMPC- Feel
After creating a patch that suits my style, and momentary fancy, I begin making some beats of my own. I'll say that starting from an empty pattern can be a little tricky to uncover from the interface. Maybe it was me. Although I'm a macProVideo.com trainer, I did not read the instructions first. But, with a little bit of exploration, I was suddenly making a drum beat of my own. Although I had a wonderful time, I am hoping that they'll add some sort of graphical editor for drawing and refining notes, and so on. Even without the graphical representation, beat creation is still fun. Quantize is always active by default. So, your mistakes will be well covered. But, don't worry, it can be disabled, too.
Performance mode is particularly cool. Being able to use subtle, and physical iPhone movements to influence parameters like timing, and filters that can also be recorded really does take pattern creation to a very new level of expressiveness.

Oh, and the iMPC comes with some very cool effects. The Bitcrusher, the Delay and the Compressor/Limiter add some balls, depth and '