imitone is an innovative software audio to MIDI tool now available in its Beta version after a successful Kickstarter campaign in April 2014. Developed by Evan Balster, imitone allows you to play any instrument in your DAW with your voice or acoustic instrument and record MIDI in the process. This eliminates the step of picking out notes on the keyboard, allowing vocalists and instrumentalists to quickly record melodic ideas before they are gone forever.
He asks an important question on the Kickstarter page: Have you ever awoken from a dream with a melody in your head?
Why, yes! I've had this experience many times. And, inspiration can strike anywhere. When I'm out and about, I quickly record a voice memo and revisit it later when I'm in the studio. Once in the studio, I still have the step of finding the melody on the keyboard before recording the track. There are producers who may not have the ear training or piano skills yet to do this quickly. That's why imitone is such a wonderful tool for keeping the inspiration flowing. The voice is our first and most expressive instrument, so it's a logical step to have an audio tool enter the market that allows from voice to MIDI conversion. In fact, it's so easy, anyone who has a DAW and imitone on Mac or PC can use this tool to record and edit their ideas.
Tools for Expressive Performance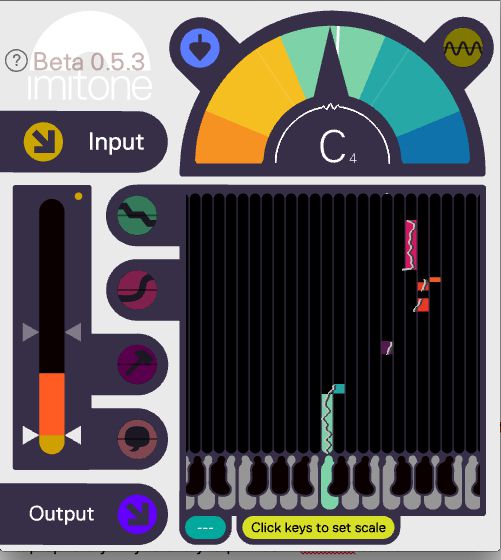 imitone interface.
Evan Balster has developed a proprietary way to analyze pitches in imitone that allows for very accurate, real-time results. Any slight fluctuations in pitch and loudness are immediately shown in the tuning dial and MIDI window. The interface is easy to use because of its clean and colorful design. Pitches are color coded in the tuning wheel and MIDI window. MIDI notes scroll up as you sing or play showing the accuracy, bending and legato of the notes with a white line. Choosing the keys on the keyboard easily sets scales. The other tools included in the Beta version for expressive performance are a tone stabilizer, vibrato control, pitch glide, pitch bend and expression control for loudness.
Setting up imitone in your DAW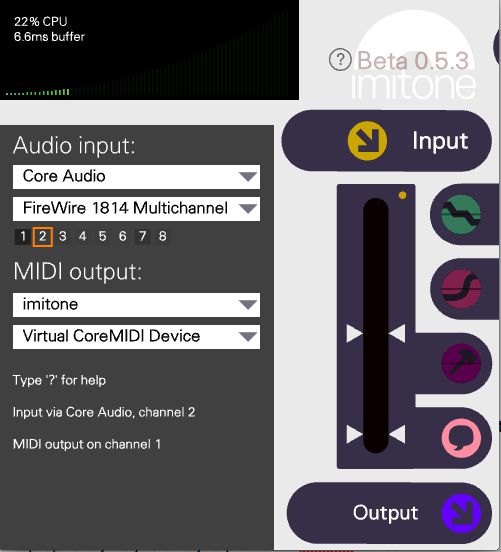 imitone Input/Output setup.
It's essential to open imitone first before opening your DAW. Otherwise, the program will not sync properly. In imitone, you can set your microphone input and MIDI output. In some DAWs you have to set up imitone as an input device. I tried this in Reason and Pro Tools. In Reason, I created a MIDI controller for imitone in the preferences and launched it using an external MIDI instrument. In Pro Tools, I activated imitone in the Set-Up --> MIDI --> Input Devices window and selected imitone as my input in the MIDI track. To control an instrument in Pro Tools, I created an instrument track and loaded up a Mini Grand piano sound and connected it to the MIDI track like you see pictured below. I was able to start singing and recording while hearing the piano notes immediately. I also tried imitone with GarageBand by selecting a 'Software Instrument' track. imitone worked immediately without any additional MIDI setup.
Experimenting with imitone
I initially experimented with imitone by singing into the program without an instrument attached to my DAW. I tried singing with different scales and also chromatically to observe the sensitivity of pitch detection in the main dial and in the MIDI note window. The latency in imitone is excellent at 6.6 ms and detects the pitches very accurately. I was able to get a sense of my pitch fluctuations as I sang simple phrases. I also noticed how much I glide in and out of notes. Humming the notes produces more pitch slides and fluctuations, while putting a stong consonant in front of a vowel sound like Da, Do, Ma, etc. helps the program to recognize the notes easier without sliding, especially if a legato performance isn't necessary. Regardless, it takes a little while to get used to working with imitone's pitch detection and it's good to practice your melody for a little while before recording to get the cleanest take to work with. Balster has hinted at developing built-in instruments and even a MIDI record and export feature in future versions so users can stay within the low latency environment of imitone.
Using imitone in Pro Tools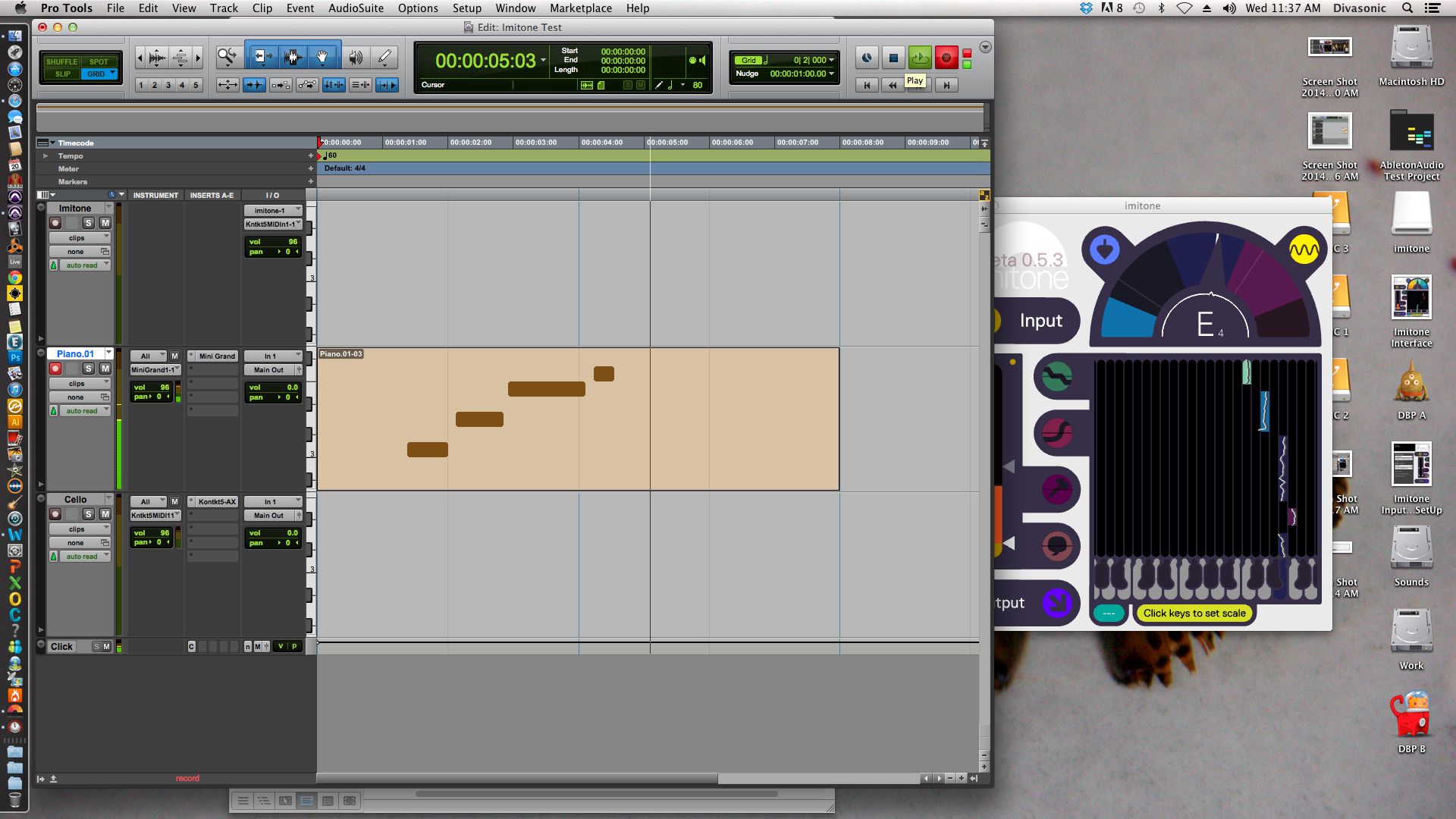 Recording MIDI in Pro Tools with imitone.
I tried imitone in Pro Tools using the Mini Grand piano instrument and the Blakus Cello by Embertone in Kontakt 5. I noticed a little more latency while working in Pro Tools and tried to lower the buffer size a bit, but it didn't always work in my favor, especially with the more RAM heavy Kontakt instruments. The Mini Grand worked well and I was able to lower the buffer size to the lowest setting for a few takes. I experienced a few crashes while in Pro Tools with the RAM heavy Kontakt instruments at the lower buffer settings. If latency is an issue for you, I would suggest giving GarageBand's built-in instruments a try.
Pitch Bending and Gliding with String Instruments

Controlling a Cello sound using imitone.
It's incredibly fun to use imitone for String instruments, especially with the Pitch Glide and Pitch Bend features. Pitch Glide allows you to create smooth transitions between notes and works well when you decide on a scale to work in. The Pitch Bend setting takes practice to control but would be very useful in creating all kinds of sound effects and glissandos. When I added in the Expression and Vibrato Controls, I was able to create a very acoustic like sound, full of emotion and movement that would be hard to emulate if played on a keyboard controller. The voice can provide way more subtlety.
imitone Prime and Future Features
We can expect more features to be added to imitone in the future, thanks to the success of the imitone's Kickstarter campaign. On that page, he lists the features that will be added in the basic and the prime version of the program. You can buy either version now and get updates as more features become available. Some of the features in development include automatic scale/key detection, percussion control mode, VST and iOS versions, multi-channel control, adjustable tuning and more. The future looks bright for users of imitone!
Price: imitone - $25, imitone Prime - $60

Pros: Easy to set up with powerful, expressive tools
Cons: Pitch fluctuations are a challenge when trying to achieve accuracy
Web: www.imitone.com