iMashup is an iPhone and iPad application from software company Mixed in Key that allows you to create mashups in minutes. It's designed to be a professional audio tool that DJs can use anywhere, while on the go. iMashup works on the iPhone 5, the iPhone 4S, the iPod Touch and all iPads (except the iPad 1). It comes with free lifetime updates, so you can install it on all your devices.
I'm a big fan of Mixed in Key products, and was excited to try out their new application. The first thing that caught my eye in iMashup was the GUI interface; all the features are intuitively laid out, and I immediately liked the simple design. It was easy to learn how to use the software, and anyone with a basic knowledge of DJing or production will be able to instantly create their own mashups.
One of the tricks to creating a solid mashup is making sure that the songs you combine are harmonically compatible, and sound good together. Mixed in Key has taken this into consideration, and added in a special system that recommends songs to mix together, based on their harmonic compatibility. If you follow iMashup's 'perfect matches', and make musical sense when creating your mashup, you'll be able to effortlessly create original tracks for your sets.
One of the best features of iMashup is the fact that it's designed for iOS systems, which means you can create your mashups anywhere. Even if you only have a few spare minutes, you can use your time to create a new song. This makes it an ideal app for DJs who are constantly on the go, and don't always have time for lengthy studio sessions. iMashup makes the creation process simple, fun and portable.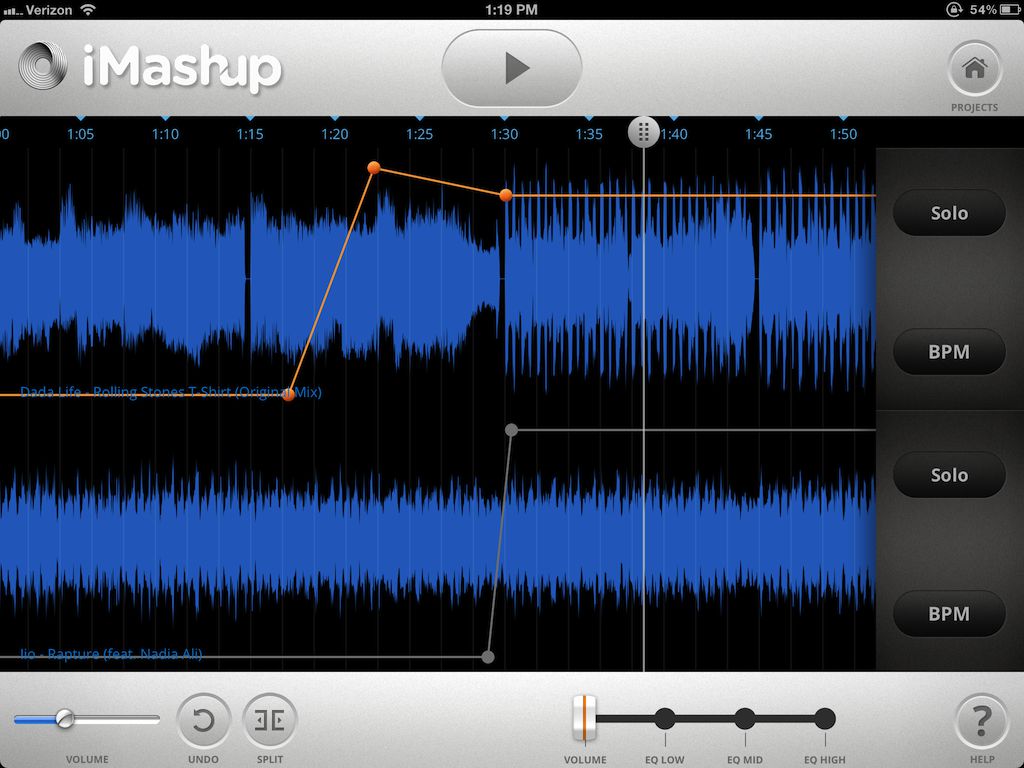 In this review, I'll walk you through a few of iMashup's key features to teach you how to use the app.
Getting Started
Before you begin to use iMashup, you'll need to load up your tracks and/or a cappellas, into iTunes on your iPhone or iPad. iMashup allows you to search your music collection by Artist, Album or Title. Simply press the 'Add a new track' button to choose your first song. iMashup will analyze the file, and display the song's BPM and key using the Camelot Sound System.
Adding and Selecting Your Tracks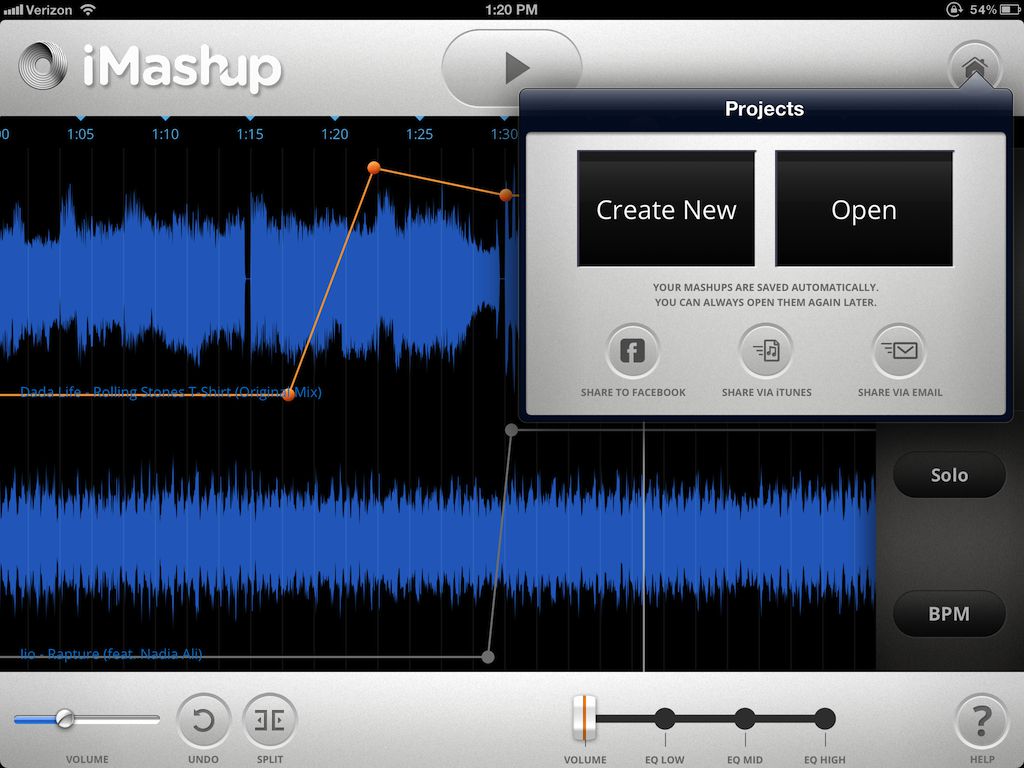 Here's where the software really excels: once your tracks have been analyzed, simply press the 'Add a New Track' button again. Any songs that have been previously analyzed (either with Mixed in Key 5.5 with elite mode, or iMashup) are sorted based on their harmonic compatibility, relevant to the first track that was added. If a song is a perfect match, this information is displayed using a 'Mixed in Key' label. For songs that are less harmonically compatible, there's a percentage value displayed (however it's only recommended you mix songs whose percentages are an 80% match, or higher).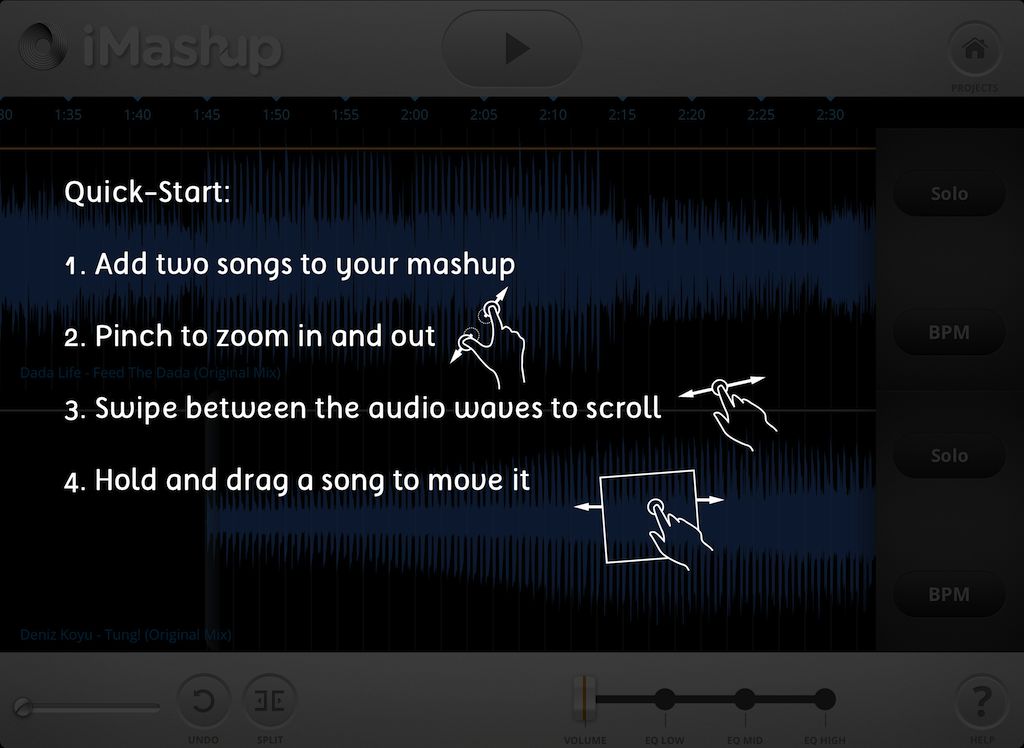 Beatmatching
iMashup automatically beat matches your tracks, although you may have to align the waveforms to sync up your mashup correctly. If you'd like to make your mashups even tighter, then click on the 'BPM' button to the right of each track. Inside the 'Track Tempo' box, you can enter the original tempo of the track, and the the master tempo. To make adjustments, you can add a more accurate original tempo, or advanced DJs can adjust the master tempo/output BPM to achieve tighter mixes.
Additional Features
Each track features its own Solo button, which can be useful to use when moving your songs. There's also a Split button, which allows you to bring up the scissor tool. You can use the scissor tool to split your tracks, and reposition the segments by dragging them left or right. However, you're not able to change the order of the segments, but you can delete sections by double-tapping and choosing 'Delete Segment'. Another useful feature is the Undo button, and the master Volume control in the bottom left.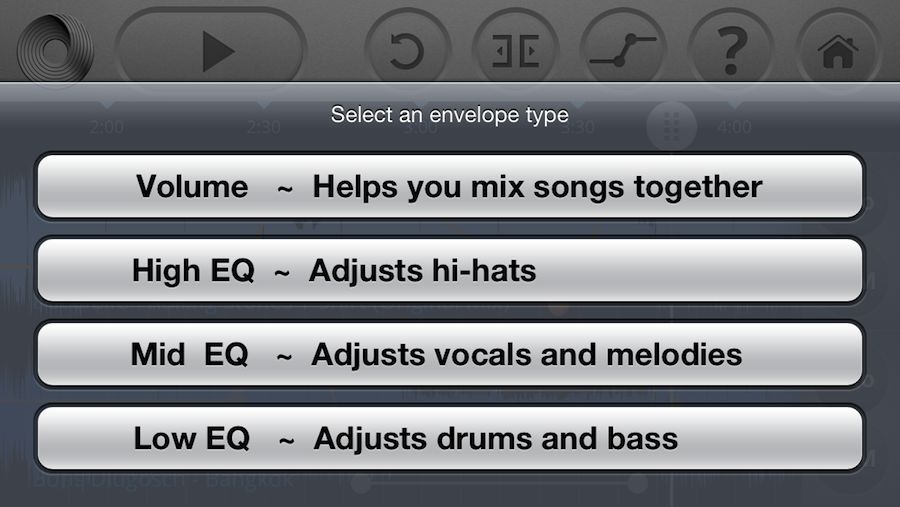 You can also EQ your tracks, and change each track's individual volume by clicking on the Volume and EQ fader. Simply select either EQ Low, Mid or High, and click on your desired track to make EQ or volume changes. You can even add automation points on each individual track, a useful feature for DJs who would like to create sophisticated mashups.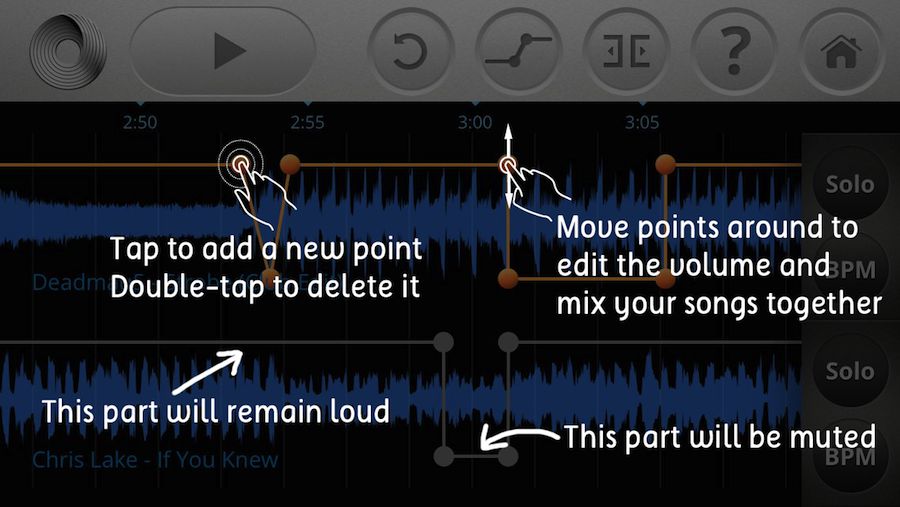 Exporting and Saving
Mashups are automatically saved, and you can open them up again at a later point in time. Once you're happy with your mashup, tap on the Home button. You have the option to share your new track with Facebook, iTunes or email. If you select 'Share via Facebook', a video with your mashup is displayed on your Facebook timeline. Pressing the 'Share via Email' button allows you to share your mashup in a 44.1, 128 kbps .m4a format. Use the 'Share via iTunes' button to export a high-quality .WAV file that you can use in your DJ sets. If you choose this option, you'll need to plug in your iOS device into iTunes on your computer to access the .WAV file.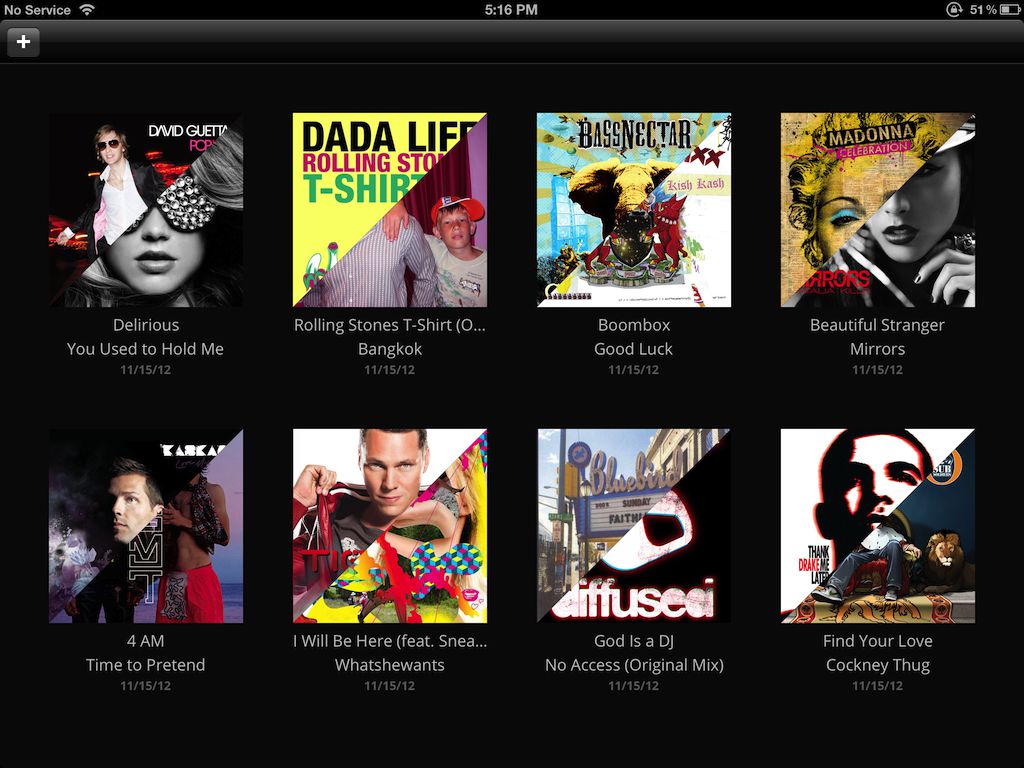 iMashup is another well-designed and developed software from Mixed in Key. It's easy to use, and allows you create mashups in a matter of minutes. It's a great software for DJs to use while traveling, or during a few minutes of downtime. Priced at only $4.99 in the iTunes store, iMashup offers good value for your money, as clever DJs will be able to make exclusive tracks for their sets while on the go.
Developer: Mixed in Key
Price: $4.99 USD
Available in: iTunes Store
Works On: iPhone 5, the iPhone 4S, the iPod Touch and all iPads (except the iPad 1)
The Good News:
Fun to use

Allows you to create mashups in minutes

Produce mashups anywhere, anytime

The Not-So-Good News:
Now that everyone can create mashups so easily, you had better come up with a great idea to stand out!