If you're using multiple personal devices, like laptop, iPad, and iOS or Android phones for music, and are hoping for software that isn't just unique to one device, then you really might want to check out the synth that I'm talking about in this review. DRC from Imaginando is a powerful, beautiful sounding synth, made with love, from Portugal that exists on iOS, Android and as a VST plug-in, which even has Cloud-based patch management between multiple devices. How is it? Let's find out!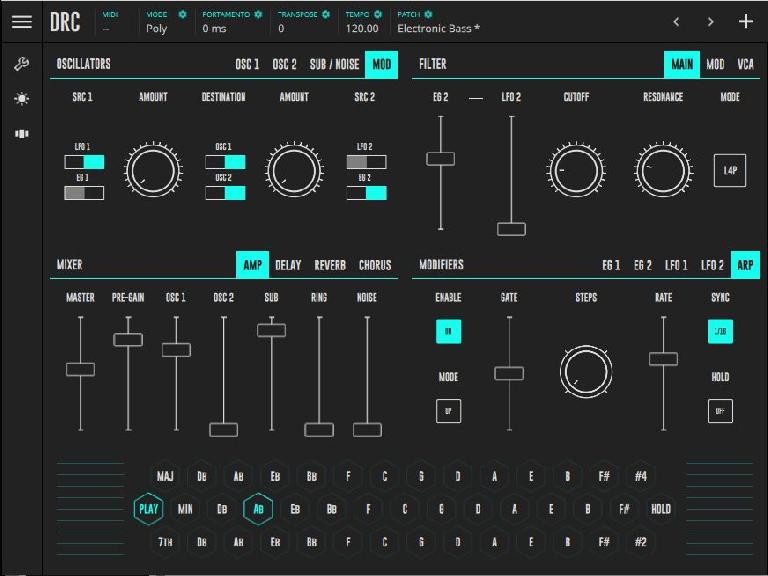 Fan Friendly
Having two oscillators, a sub oscillator, and a filter that gives you not only a four-pole low pass, but also a 2-pole Low Pass, High Pass, Band Pass, and Notch, with an Arp, DRC is no slouch. And, as it's highly subtractive, it's an easy choice for beginners who really do wish to understand a deeper level of synthesis, without having to deal with a learning curve steeply exaggerated by developers that don't understand their client base. It's incredible to have a VST version of the synth, and the iPad version running side by side, especially with all of the nostalgia.
It's not hard to spot some of the influences that the guys at Imaginando hold dear. The patch browser is full of movie character references I know and love. And, in fact, many of the synthesizer sound effects do evoke the essence and feel of those characters. And, as I look around, even the interface feels like some of these movies. Tron, definitely jumps out, and with the latter, the sound coming from DRC is also reminiscent of The Grid and many other galaxies far, far away. And I love it!
The Force Behind the Force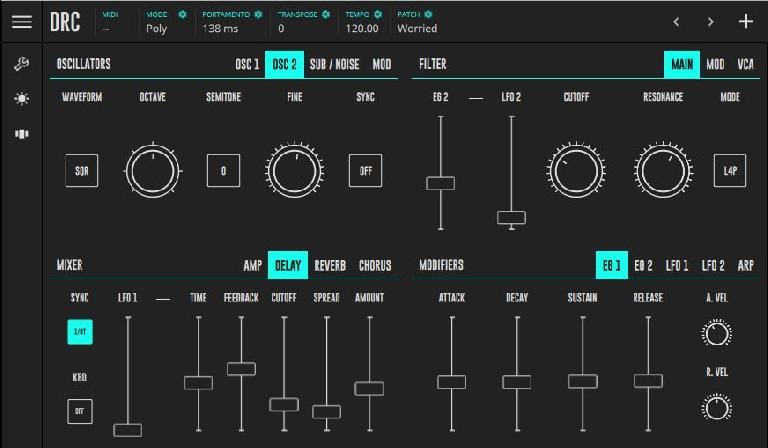 Rui Antunes and Nuno Santos, life-long friends and colleagues are the brains behind DRC, and Imaginando. If you've had a chance to watch their intro video of DRC, you've probably already picked up on the fact that these guys are passionate about what they've built, here. But it's when you sit down and really take a listen. That's when you get an idea of the scope of exactly what's been accomplished here, between two dudes.
The interface is highly polished, the browser is slicker than I think I've ever seen from a new release. And I finally got a new string patch, out of the gate, that matches my exact specifications. The whole package is there.
This is great, up until I try to log in and use the cloud-based patch storage, etc. Strangely, DRC forgot my login and password, since I used it last. But this is a bug that has been fixed. DRC is available as fully functional 7-day trial and during this period you need to be connected to the internet to use it. After 7-days, to continue using DRC you need to unlock the in-app purchase and the synth will be ready to work offline forever. To take advantage of the Cloud Preset Syncing feature you need to create a profile account under the DRC menu and be connected to the internet in order to sync your cloud bank with the cloud. The sounds, the patches and the extremely unique Chord mode made the rest of my week a lot of fun.
Audio example 1:
Audio example 2:
Conclusion
DRC has a great sound, out of the gate, if you're just into buying synths for new presets and 'signature sounds'. If you're a new sound designer, I'd highly recommend looking into DRC, as you can take it everywhere with you, and manage patches between multiple devices. This makes DRC ideal for the musician on the go, or the student who wants to up his game, while staying on top of it.
Web: https://www.imaginando.pt/products/drc
Pros: Great sound, great price and lives on multiple devices (iOS, Android and Mac/PC)!
Cons: Only VST, no AU. Developer website needs attention.
Buy: 7-day trial for all versions. Price for mobile devices in-app purchase is $11.99 and for the VST $49.99