IK Multimedia have become synonymous with iOS apps and hardware for musicians. This includes everything from voice recorders, effects and sample libraries to microphones and mixers specifically for those of an iOS persuasion. So, it was with some interest - but less than I'd like to admit - that I decided to try out the iKlip Studio in my studio. I wasn't initially sure how useful I'd find this bit of kit. As it turns out, iKlip Studio has changed the way I use my iPad.
Simple Design
Removing the iKlip Studio from the box revealed a light, flat packed stand. It was, as you'd expect, incredibly easy to setup. There are rounded rubberized feet on the base of the unit which stop it from sliding around on even slippery table tops. This is all the more comforting considering how lightweight the stand is.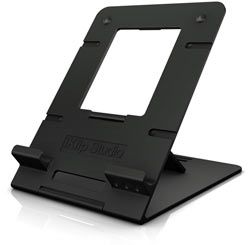 iKlip Studio - lightweight, easy to setup and incredibly useful.
It's easy enough to insert and remove the iPad from the stand, and you can rotate the iPad horizontally and vertically with no fuss, and no need to remove any connected cable(s). IK Multimedia have also included a detachable bracket to secure their popular iRig interface to sit snuggly and behind the resting iPad. It's little touches like this that make this stand, well, stand out!
If you feel the iPad needs to be tilted at a different angle, no problem. It takes a matter of seconds to adjust the bracket into one of 7 positions. I found myself switching between two or three positions depending on the height of the desk I was using, orientation of the iPad, whether I was sitting or standing and even the type of music app I was using.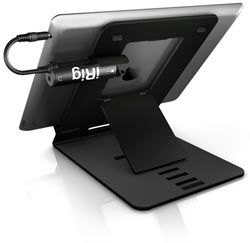 Attaching the iRig to the stand is a breeze.
Not Just for Music
I tested out iKlip Studio using a number of music apps like GarageBand, AmpliTube for iPad, TouchOSC, V-Control and SampleWiz to name but a few. In both landscape and portrait modes, the iKlip Studio was robust enough to support my furious tapping and swiping. Furthermore, I've found it extremely useful for non-music apps. In particular, I've been editing our new MPVHub Expert Guide iBooks. Using iBooks, while my iPad is supported in iKlip Studio, has made for a great desktop reading experience and an easy editing workflow. You may also wish to try using Air Display which makes it simple to transform your iPad into a second screen for your Mac!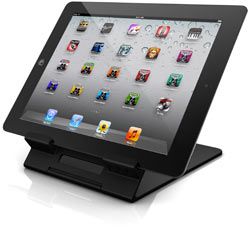 As useful for iPad musicians and non-musicians alike.
Designed with the mobile musician in mind, iKlip Studio is one of those accessories you'll want to make space for on your studio desk. In fact, I'd go even further and recommend this stand to those DJing or playing live with their iPads... and anyone - not just musicians - who uses an iPad at home, at work, in the kitchen, or anywhere with a flat surface. iKlip Studio has quickly become one of my favorite accessories for my iPad 3. And if your significant other has just walked off with your iPad, you'll even find it a convenient resting place for an iPhone!
Find out more about iKlip Studio here.