Review: IK Multimedia UNO Drum
IK's UNO Drum is compact, affordable and has a battery power option. But how does it sound? Rishabh Rajan finds out in this video review.
IK Multimedia have followed up the UNO Synth with an all new UNO Drum. Following the form factor of the Synth, the UNO Drum is a compact hybrid drum machine which should work great in the studio or on the go.
Hardware
The form factor of the UNO Drum is very sleek, compact and modern. The pads themselves are not velocity sensitive but there is an option to divide each pad area into two, one triggering a lower velocity and the other a higher.
The drum machine runs on 4 AA batteries or via USB power. There is no power adapter option. I noticed the battery runtime is a little low so USB power will be better for longer sessions. I/O is pretty basic. You get one 3.5mm jack each for input and output. There are no individual outs on the machine. There is USB MIDI functionality but no audio via USB. 5 pin MIDI support is included via 3.5mm to 5 pin adapter.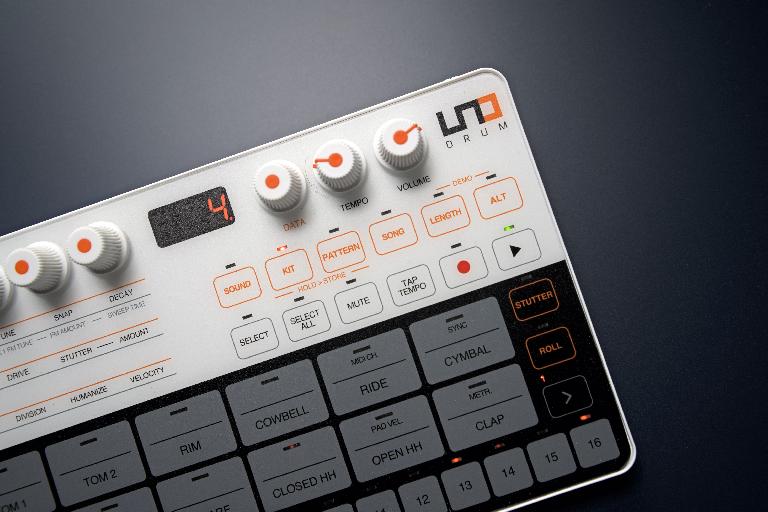 Sound Engine
The UNO Drum uses a hybrid design. There are 6 analog elements (two kicks, snare, clap, open & closed hats) and 6 digital PCM sample based elements, giving you a total of 12 parts with a maximum polyphony of 11. So essentially you can have one less than all the parts being played simultaneously. There is some tone shaping option though it's not consistent through all the drum elements . For example, you can tweak some parameters like FM tune and amount for Kick 1 but this feature is not available on Kick 2. The 6 analog elements can be swapped out with 5 digital PCM samples to give you a complete 12 part digital drum machine.
Currently there is no way to load in your own custom samples into the engine.
Patterns & Kits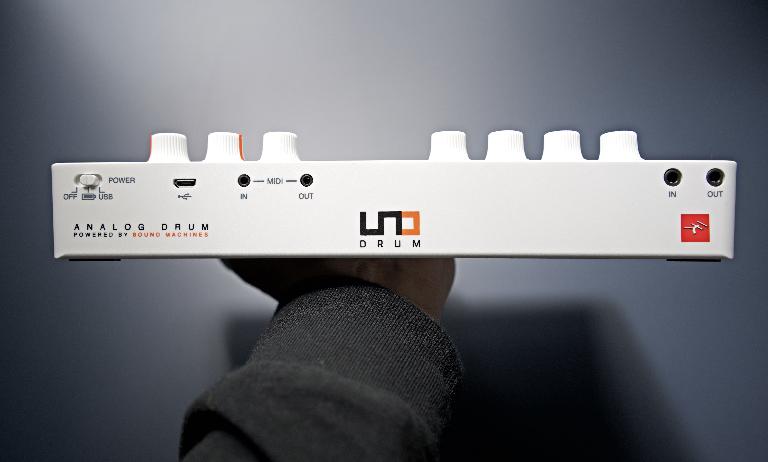 All sound settings can be saved in any of the available 100 presets kit slots, while any of the sequencer patterns can be saved independently in any of the 100 pattern presets. This means changing up a kit doesn't affect the pattern and vice versa.
Sequencer
The Uno Drum has a 64 step sequencer with 16 steps visible at a time. You can step input parts in the sequencer or record parts in real-time. Unfortunately the internal resolution of the sequencer is quite low so real-time recording sounds very quantized. There is no user quantization option. Aside from recording in notes in the pattern, you can also record automation. This can be done on an individual step by step basis or recorded in real time. Again, the automation will be quantized. There is a nifty roll/note-repeat feature that can also be automated. There's also a random option to quickly generate parts for each drum element.
Effects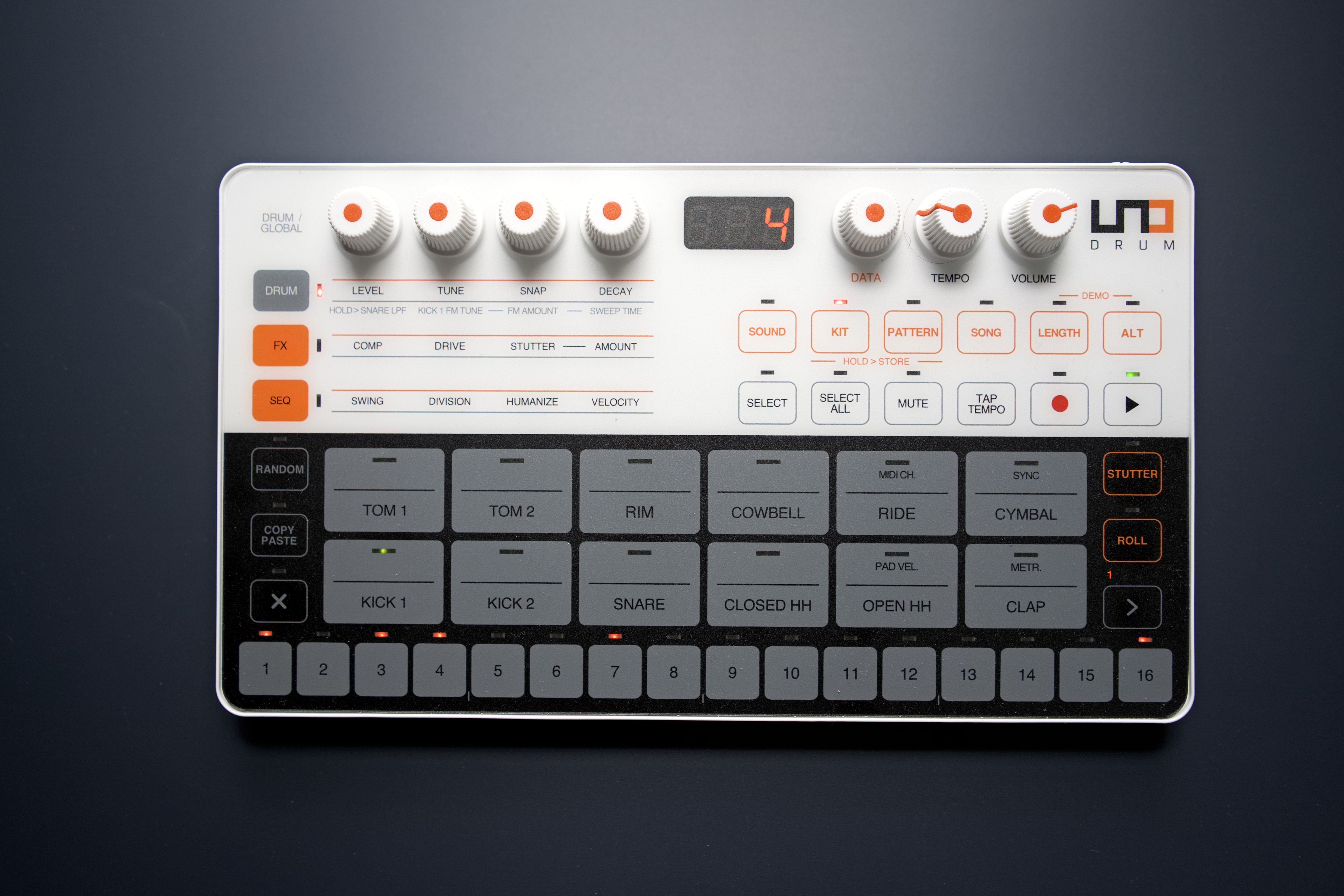 There are three global audio effects. A compressor, drive and stutter. All three effects affect the combined signal on the UNO drum. The effects themselves are fairly straightforward, with just a single dial that controls the overall amount. With the stutter effect you do get some alternate options.
Final Thoughts
This is a good drum machine for the price. I appreciate the portability of the design and the fact that it runs on batteries. Having a hybrid analog/digital design is great as you get the best of both worlds. The sequencer on the other hand is fairly basic, but since the machine has MIDI support you can bypass the onboard sequencer and use a DAW to sequence more complex patterns.