Review: IK Multimedia UNO - A Serious Analog Mono Synth For $199
Super affordable and feature-laden, the new IK Multimedia UNO is one of a handful of machines heralding a new age of analog hardware synthesisers. We dive in to find out just how good it really is.
Demand and popularity for analog synths is on the rise. While Roland are pursuing ACB (analog circuit behavior) modelling technology with their AIRA and Boutique range (aside from the SE-02), other big players like Moog, Korg and Arturia are rolling back the years with new analog synthesizers. And let's not forget the smaller makers from Dreadbox to Erica Synths, Jomox to Make Noise, who continue to make capable analog synth systems for a range of budgets.
For those looking for super-affordable machines, the Behringer Minimoog clone, Model D, and their new semi-modular Neutron defy logic with prices under $300 securing you some excellent sounding analog synths. And now IK Multimedia, best known for their virtual instruments, samplers, iOS and mobile music apps, hardware controllers and recording devices, are jumping into the fray with their first hardware synthesizer, UNO.
Made in conjunction with synth guru Eric Norlander and Italian synth company Soundmachines, IK Multimedia's UNO is a monophonic, two-oscillator, fully analog synthesizer with the ability to save presets, a built-in sequencer, arpeggiator and keyboard. All that and more for under $200.
But how does it perform? Who is the UNO aimed at? Is it a synth you'll actually want in your setup?
Watch the video review and demo here:
Build And Layout
When considering every aspect of UNO it's hard not to keep coming back to its price point - just 199 EUR before tax. It surely must be the most affordable mono analog synth ever? But price is only one factor involved in buying a synthesizer…
UNO has a solid plastic feel. The top is soft plastic which accepts finger pressure so the capacitive keyboard, which doubles up as a sequencer, can function. The seven rotary encoders are not what you'd find on a Moog, but are perfectly acceptable, if perhaps a little too close together for those with larger fingers. I prefer knobs that have a tad more friction, but they turn and work as they should.
Rather than increase the price of the UNO and weigh it down with one rotary knob per function, IK decided to make three of the knobs hard-wired to specific functions (filter cutoff, tempo and volume) and make the four on the left operate the parameter chosen depending on one of four buttons pressed below. It's a fairly intuitive system and within a couple of minutes it becomes second nature to switch between controlling wave shape 2, resonance, filter decay and LFO rate with one of the knobs.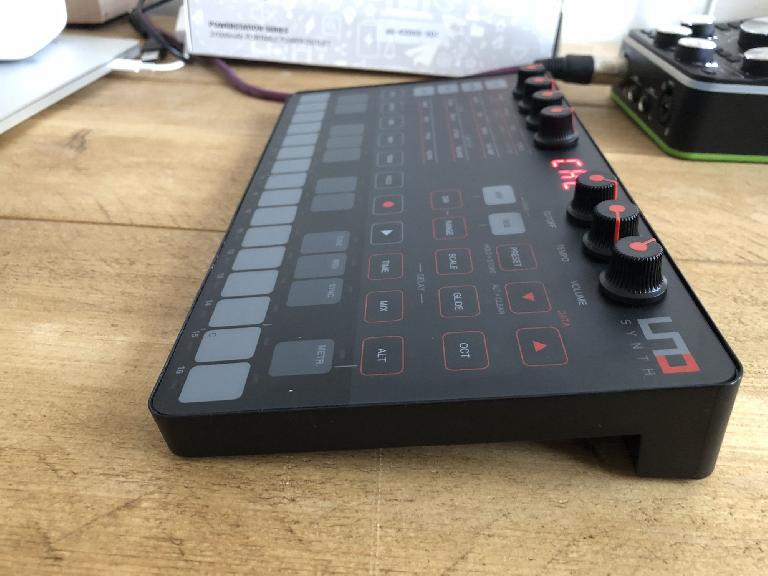 The benefits include a cleaner user interface. However, if like me you like having a separate knob for filter resonance, for example, then switching between functions might slow you down.
Controls & Connections
UNO is incredibly light and portable by design. It can be powered by four AA batteries. We only managed 5-6 hours of playback with the included batteries. It can also be powered via USB which is the way to go for most studio needs.
It comes with its own MIDI breakout cable (to 5-pin MIDI) and has a single input and output. The unit works great when connecting to other MIDI gear (we tried it hooked up to the new Arturia DrumBrute Impact which provided the master clock) and this was really simple to set up via the sync button on the device.
The three-digit LED screen comes in handy as UNO provides feedback on the value of knobs as well as showing selected presets and saved ones too. In a way, having a simple non-graphical LED screen makes it easier to focus on the sounds of the UNO. And selecting presets is as easy as pressing the Preset button and using the data selector up/down buttons to scroll through them. In fact those Data up/down buttons are used a lot. You'll use them to select the values for the digital delay, octave and scale mode as well as to move between steps on the step sequencer.

We can't talk about controls without spending a little time on the keyboard. Thanks to tiny red lights above each "key" or "button", UNO gives immediate and direct feedback detailing what is being pressed and this makes it surprisingly effective to use as a keyboard. Sure, you'll probably want to plug in an external MIDI controller for more expressive performance, but the built-in keyboard performs surprisingly well considering.
The Sound
There are a lot of possibilities with the sounds of UNO. Oscillator waveforms can be square, saw and triangle and square with pulse width modulation. In general it sounds good - very good if you push me for a sub-250€ synthesizer. It's not the best for booming basses, but with a little external processing it can reach deeper depths. The range of sounds is very good when compared to other synths of a slightly higher price. The analog filter is decent and smooth with a little grit and growl, but not distinctive enough for someone to recognise as being "that filter on the UNO".
Aside from having an analog signal path for the oscillators and filter, the envelope, LFO, performance modes and delay are digital. One of the strange things about UNO is how the Envelope filter only has settings for attack and decay, and amplitude only has controls for attack and release. IK have assured us that all the parameters on the hardware as well as many others will be controllable via the soon-to-be-released companion app for Mac, PC and iOS. So full ADSR control will be available within a matter of weeks or even days from the time this review was published.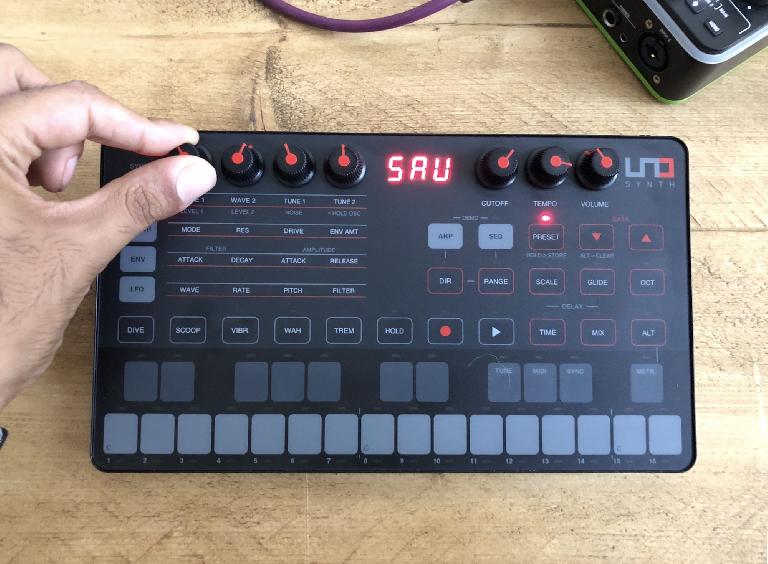 UNO sounds good. Very good in fact. How many more times can or should we reference the price? Sure, for a 243€ (inclusive of tax) analog synth UNO sounds great. But let's put the price aside for a moment. UNO sounds warm in places, it can become aggressive at times and even sonically inspiring at others. However, I don't feel it has a distinctive 'UNO' sound thatcharacterises it and makes it stand out amongst the crowd of other analog synths. My only criticism is that it could be a bit more distinctive. However, this is something that can easily be added with effect units and processing from a DAW. The sound quality and potential are there. It all depends what you do with it.
Sequence That
Where UNO shines in my book is as an all-in-one, portable synth that would fit in almost any bag. Unlike the Behringer Neutron or Model D, the UNO comes with its own keyboard, arpeggiator and sequencer. And really, despite being limited to 16 steps, the onboard sequencer is a joy to play and program. It makes using the UNO as immediate as it could possibly be.
The sequencer includes three modes to program - step recording, real-time recording and step edit recording. One nifty feature is being able to change the direction of the sequencer from forward to reverse to back and forth, which is always just a button press away. But again, you're limited to 16 steps. It would be great and useful for performers if UNO could save more than one sequence per preset so these could be chained together to create songs. Perhaps this is a feature IK will consider for a future update?
The arpeggiator is very easy to use. Simply press a key or two or more and you can switch between 10 directions including up, down, up/down, random, as played, and other curiously cool modes.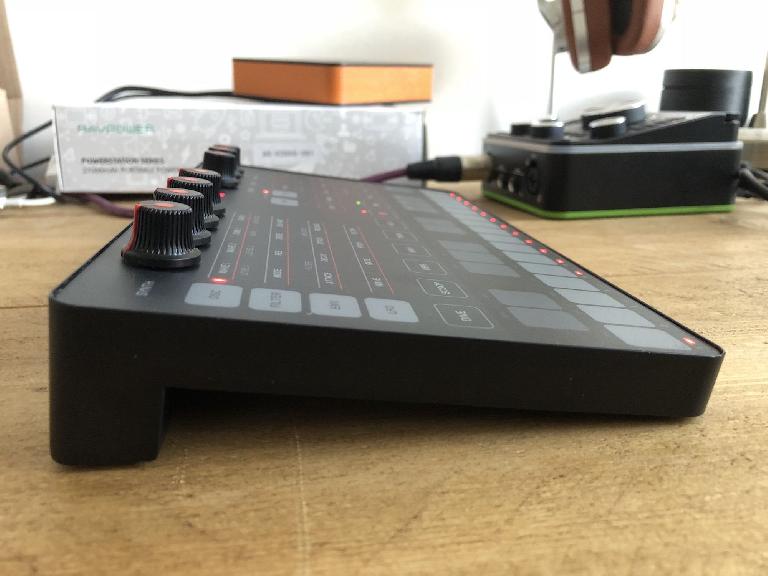 There's An App For That
The good news from IK is that every control on the faceplate of UNO, and many which can't be accessed via physical knobs and buttons can be controlled via the software editor which is coming soon. We believe it will be free for all owners of UNO and will run on Mac, PC and iOS. No word on Android just yet.
One of the settings I'm looking forward to adjusting using the software editor is the knob behavior. Currently, being analog, when switching presets as soon as you move the knob, for example cutoff, the value will jump to wherever the knob is, not where it was saved. The editor will allow you to change this so that as you turn a knob no change will happen to the parameter until it reaches the value of the saved preset.
There will also be ways to save and swap out presets and possibly save and manage sequence patterns too. But while the app is great to embellish what the UNO is capable of it's not required to really get into UNO and start making compelling, interesting analog sounds and sequences.
Conclusion
Even if the UNO was an extra 50€ more expensive it would be a good deal. While the plastic frame and knobs might not be to everyone's taste a metal enclosure and Elektron-style buttons and Moog-style knobs would simply take the UNO into a different price range out of the reach of its intended audience.
Beginner and intermediate level synth enthusiasts are not going to be disappointed with UNO. There's a wide palette of sound design possibilities, a useful built-in performance interface in the keyboard and sequencer, and it's super handy to use on the move thanks to running on battery power and/or via USB direct to a computer, power adapter or portable battery.
While it does sounds very good, the filter felt a bit lacking. If you're looking for a distinctive or characteristic sound it might be better to explore Moog Mother 32, Arturia's micro and Mini Brutes or the only 50% more expensive Behringer Neutron, which is semi-modular.
The small knobs and space between them, cheaper construction and basic connectivity aside, the IK Multimedia UNO is almost a no-brainer at this price point. It's just a matter of whether you need or want a monophonic analog hardware synth in your setup or not.
Price: $199.99 USD / 243.99 EUR incl VAT
Pros: 2 analog oscillators and filter. Super affordable. Built-in sequencer, keyboard and arpeggiator. Sounds better than its price would suggest. Very portable. Software editor allows control of all functions.
Cons: Not the most rugged design. Knobs are a bit close together. No dedicated hardware controls for all functions. It's hard to criticse at this price.
Web: https://www.ikmultimedia.com/products/unosynth/
Learn more about analog synthesis: https://ask.audio/academy?nleloc=new-releases