Guitar tuners for the iPhone have, to this point, been the bane of my existence. I'll admit it—I'm a tuning snob. I'm not a fan of inexpensive tuners, or imprecise ones for that matter. Give me a good strobe tuner over a cheap pedal any day of the week. When IK announced the release of UltraTuner, an app for iPhone that would finally be willing to put a little power (both electrical AND CPU) into the tuning process, I was intrigued. After downloading the app and using it for the week, it's graduated to the front page of apps on my phone, an honor only reserved for a select few.
Wait, There are Boutique Tuners?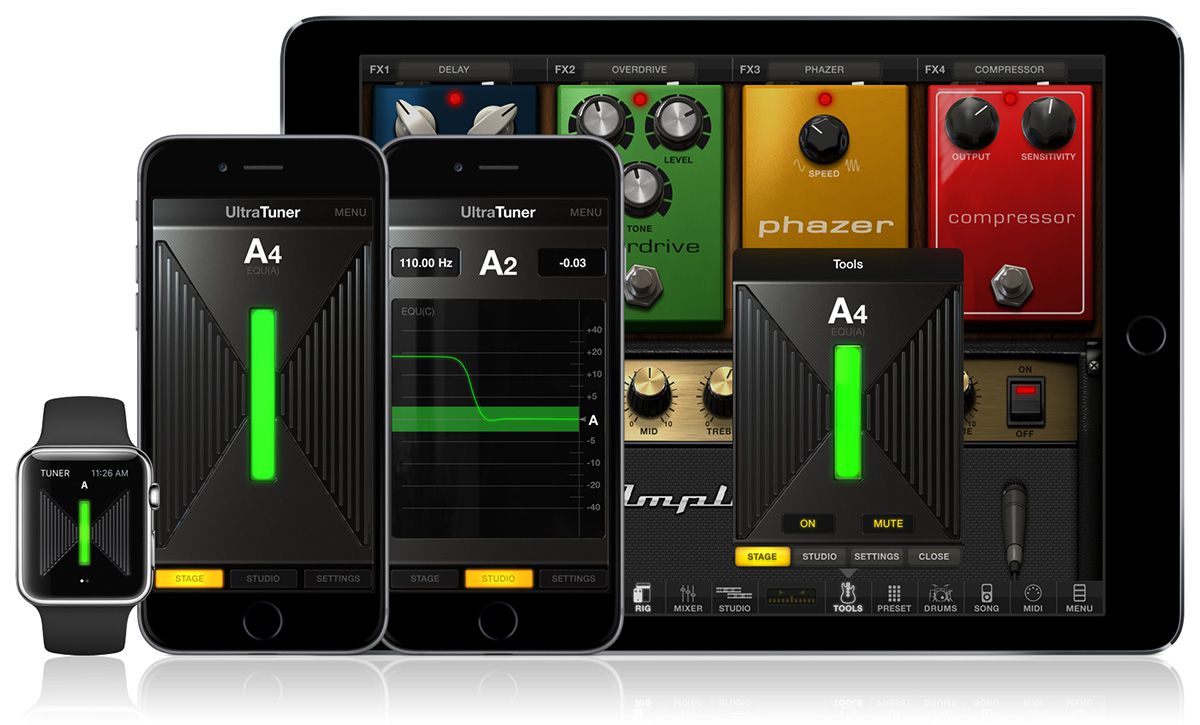 If you're used to clip-on tuners or free/ad supported tuning apps I'll warn you—once you use UltraTuner you'll never go back. Strobe tuners are generally considered to be the most accurate and responsive method to tuning your instrument. Most of the tuner apps I've encountered so far have embodied the antithesis of this. A tuner that isn't lightning fast in its reactions is a pain to use. By the time the tuner reflects that you're in tune, you've likely gone past the desired note and are out of tune again. The entire process becomes slow and frustrating.
A Better Way
UltraTuner eschews the paradigm of its predecessors. Most iOS tuners are an afterthought—added into a toolbox of other things or made as a free app. UltraTuner is fast, responsive, and accurate. In 'studio' mode, you have a strobe style tuner that is accurate to within .01 cents, and its reaction time feels absolutely instant. The input can be calibrated for maximum effectiveness, and when paired up with an interface that bypasses the internal mic (like the iRig) you can count on a clean signal.
You can even tap the studio mode label and switch into 'pitch history' mode. Here, you'll be treated to a bit of a modified strobe mode that gives you a live-drawn line graph representing your instrument's current tuning over the last few seconds. It's just as accurate, and can be another way to help you get in tune quickly.
I Can See For Miles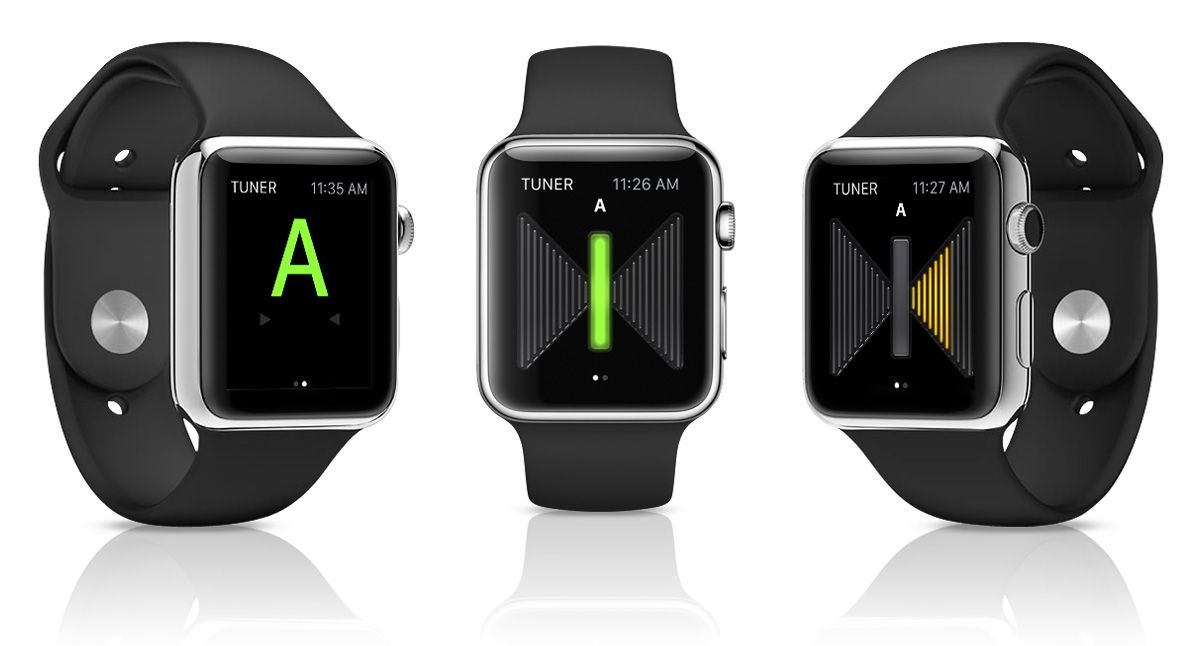 Studio mode is not the only trick UltraTuner has up its sleeve. If you don't need the precision a strobe tuner offers and you want to see a more traditional tuning mode, you can engage 'stage' mode. In stage mode, you get a tuner that is easier to see from further away. It's not as visually precise as a strobe, but it's still quick and easy to use. It's even usable on the Apple Watch if you have one, although I'm not convinced of the usefulness of that yet. You can't really get the watch at an angle that is visually useful while tuning a guitar, and using the watch as a tuner kind of takes one of your hands out of the equation. I suppose if you're not a guitarist, (wind players, analog synth players) it's less of a problem.
Conclusion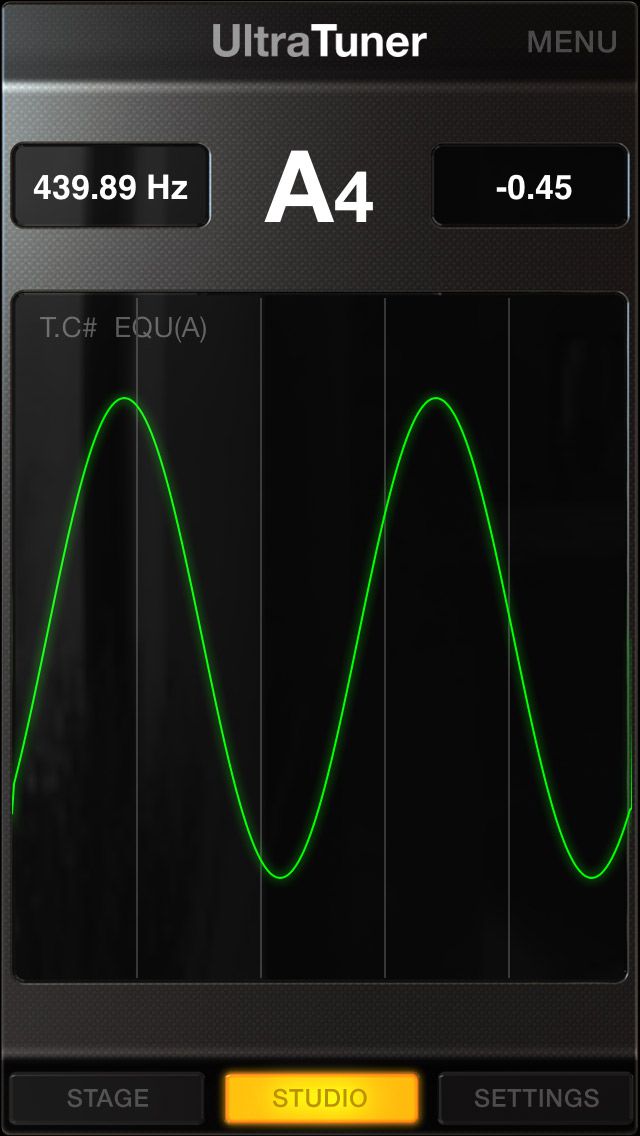 Quite simply, UltraTuner is the best iOS tuner you can buy. It's extremely fast, remarkably accurate, highly configurable for noisy situations, and can make you feel extremely confident and stress free when tuning. At less than $5 it's a no brainer. Buy this app.

Price: $4.99
Pros: Fast, responsive, simple interface, highly accurate
Cons: None. Really, none. It's great.