There's a reason Roland's hardware tape echo unit, the RE-201, remained in production from 1974 until 1990 - its sound is legendary and instantly recognisable. Not just in dub and reggae, where it formed an integral part of the genres, but also in trip hop, rock and dance, where its warm, saturated tones were equally prized. As with most classic hardware, units are now rare and expensive to maintain and so software is a good alternative.
What Is It?
IK's Space Delay runs as a plug-in or inside the developer's T-RackS CS suite and supports up to 32-bit, 192kHz operation. Modelled based on analysis of a fully restored original hardware unit, its look faithfully recreates the hardware while adding a couple of new touches of its own. There are presets of course (the original had no facility for this), and they span an excellent range of swampy, dubby echoes and delays, shimmering reverbs and everything from slight warming through to insane space FX.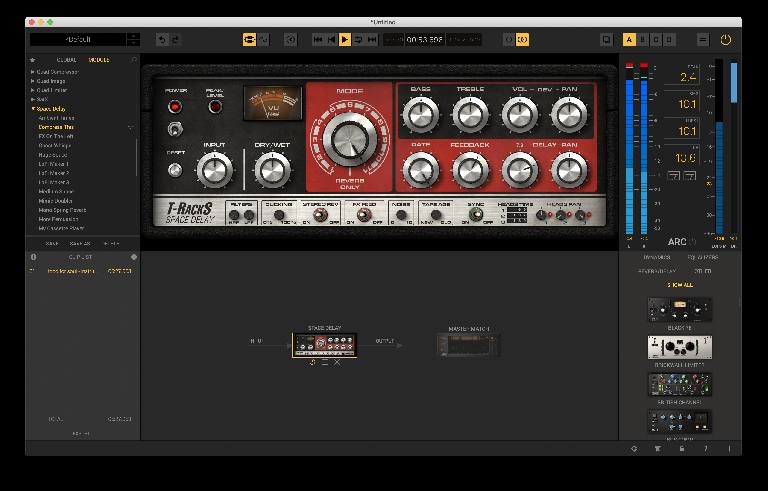 A Serious Dub
You'll want to dive in and start tweaking your delays and it's really pretty straightforward. Starting from the left there's an input level control and a dry / wet knob. In the centre is the large Mode knob, with 11 positions, each a different delay setting, plus a twelfth that switches the unit into reverb only mode. It's worth mentioning that while the combo of delay and reverb is what gives this module its instantly recognisable sound, it's also great when used purely as a reverb unit, the spring effect splashy and huge sounding.
Colour coded controls on the lower portion of the right hand side provide access to delay rate feedback, volume and pan, and above these are bass and treble knobs as well as volume and pan for the reverb effect. A Reset button instantly dials everything back to default settings.
So all the features of the hardware are here, but there's more. IK has added stereo operation, with each of the three play heads and the reverb able to be panned separately for really dense, layered stereo effects. High and low pass filters let you affect the sound before it is processed by the virtual tape, and a ducking feature has been added that can help your sound to cut through a mix by making it interact dynamically with other parts of the track. Last but not least, there's virtual controls to age the tape and add noise, allowing you to create some cool lo-fi and saturation effects. Plus of course a Sync button, which lets you de-sync from project tempo if desired - a particularly useful option with this particular kind of delay.

Conclusion
I've always been a fan of the Space Echo and its signature dub effect, with decaying echoes skittering off into the distance, often out of time with the beat. But there's much more you can do with it, as evidenced by the wide variety of sound sources demoed on IK's website. Vocals, guitars, keys, drums and more can all benefit not just from the dub treatment but from the spring reverb, signal crushing and more. There's a 14-day trial available for you to check out, so give it a look.
Price: 119.99 Eur inc. VAT
Pros: Excellent Space Echo sound. Adds new features like stereo, filters and ducking. Works well on a wide variety of sources. Use inside T-RackS or on its own.
Cons: None really, except perhaps that the Re-201 has been emulated a few times already.