IK Multimédias ricerca per darvi sempre più modi per interagire con il software continua a ritmo sostenuto con il rilascio di iRig Pad , un pad controller altamente portatile per i dispositivi Mac, PC e iOS. Ci sono un sacco di tastiere MIDI con i rilievi intorno però sorprendentemente pochi i controller pad questo piccolo quindi è stato interessante vedere come ha fatto il suo lavoro. Anche se touch screen sono piuttosto fresco, un sacco di gente preferisce ancora l'uso di tamponi reali durante la programmazione di battiti o melodie.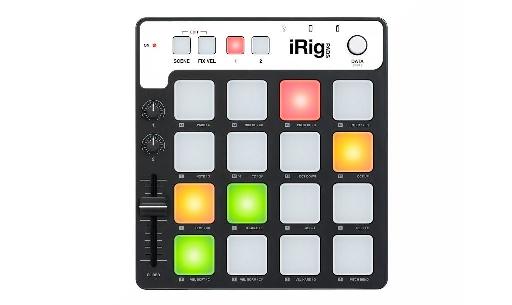 Look and Feel
L'unità è molto leggero ma ben costruito e viene fornito con un paio di cavi: theres un cavo di Fulmine per la connessione a tutti i più recenti dispositivi iOS e un cavo USB per la connessione a un Mac o un PC e il dispositivo è compatibile con classe di così non sono necessari driver. Theres nessun cavo 30-pin fornito, ma col passare del tempo, sempre meno persone stanno per essere l'utilizzo di tali dispositivi più vecchi, e un cavo è disponibile su ordinazione se volete uno. Trae alimentazione dal tuo iPad o iPhone anche se, come tutti questi dispositivi solo in realtà si accende quando una applicazione compatibile viene lanciato in modo da non scaricare la batteria. Alimenta completamente da un computer e quando viene utilizzato con iOS, è possibile collegare il cavo USB, oltre a fornire energia in modo che il isnt dispositivi batteria scarica, che è un bel tocco. C'è anche un ingresso per il pedale sustain per le prestazioni più espressivo.
Sul pannello frontale sono pad sensibili al tocco 16 con tre retroilluminazione di colore diverso ciascuno, e le pastiglie hanno ciascuno una funzione secondaria in modo da poter eseguire altri comandi come impostazione velocità e ottava, canale MIDI, program change, CC e di più e theyre anche marcato con valori di nota. In alto a destra è un quadrante dati con push-to-entrare, due pulsanti assegnabili e due pulsanti Modifica funzione. Sulla sinistra sono due quadranti MIDI programmabili e un cursore programmabile che è una bella aggiunta e rende l'apparecchio nel suo complesso ancora più flessibile.
Fare battute
Ci sono 16 scene MIDI programmabili dall'utente che possono essere memorizzati in locale in modo da poter impostare le proprie mappe. Ho provato con un paio di applicazioni e ha funzionato bene, fuori dalla scatola, la mappatura molti dei suoi controlli in modo appropriato in Logic Pro X e Ragione. Su iPad è sembrato funzionare bene con GarageBand e naturalmente con IKs propria roba come SampleTank gratuito. C'è in realtà un carico di roba che viene fornito con l'hardware, la maggior parte scaricabili previa registrazione on-line. Sarà inoltre compatibile con GrooveMaker 2 e DJ Rig in prossimi aggiornamenti, e questi hanno libero così come le versioni a pagamento pure.
Sul tuo Mac o PC è possibile scaricare SampleTank 3 SE e questo viene fornito con contenuto 6,5 GB di cui 400 strumenti e 150 modelli MIDI. Registrazione sblocca anche The Grid, una collezione di 50 strumenti supplementari che possono essere utilizzati anche all'interno della app iOS. La possibilità di utilizzare le pastiglie e altri controlli per controllare i parametri all'interno della scanalatura e DJ applicazioni è un bonus, quindi youre non limitati a suonare strumenti regolari sui pad, è possibile avviare i loop e cose del genere anche. Questo è un grande piccolo controller che si apre uno stile più naturale di giocare sul tuo dispositivo iOS o computer e viene fornito con un po 'di buon contenuto in bundle per ottenere il vostro cammino. E 'molto portatile e con un po' di messa a punto youll essere in controllo del vostro software preferito in pochissimo tempo.
Prezzo:
Pro:
Contro:
Web: