IK Multimedias búsqueda para darle cada vez más formas de interactuar con el software continúa a buen ritmo con el lanzamiento de IRIG Pad , un controlador de almohadilla portátil para dispositivos Mac, PC y iOS. Hay un montón de teclados MIDI con almohadillas alrededor aunque sorprendentemente pocos controladores pad esta pequeña, así que fue interesante ver la forma en que hizo su trabajo. A pesar de que las pantallas táctiles son bastante buenos, mucha gente todavía prefiere usar almohadillas reales en la programación de ritmos o melodías.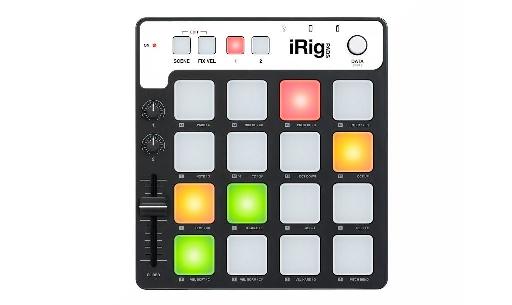 Look and Feel
La unidad es muy ligero, pero bien construido y viene con un par de cables: theres un cable Rayo para conectar a todos los dispositivos iOS recientes y un cable USB para conectar a un Mac o PC y el dispositivo es compatible con la clase de modo que no se requieren drivers. Theres ningún cable de 30 pines suministrado pero conforme pasa el tiempo, cada vez menos personas se van a usar esos dispositivos más antiguos, y un cable está disponible a la orden si lo desea. Se obtiene la energía de su iPad o iPhone, aunque como todos los dispositivos que en realidad sólo se enciende cuando se puso en marcha una aplicación compatible para no agotar la batería. Poderes plenamente desde un ordenador y cuando se utiliza con iOS, puede conectar el cable USB y para proporcionar luz para que tu tampoco batería dispositivos drenado, que es un bonito detalle. Hay también una entrada para pedal de sustain para un rendimiento más expresivo.
En el panel frontal son almohadillas sensibles al tacto 16 con tres luces de fondo de diferente color cada una, y las pastillas de cada uno tiene una función secundaria para que pueda ejecutar comandos adicionales como el establecimiento de la velocidad y la octava, canal MIDI, cambio de programa, CC y más y ayúdales también marcada con valores de nota. En la parte superior derecha hay un dial de datos con push-to-entrar, dos botones asignables y dos botones de función Editar. A la izquierda hay dos diales MIDI programables y un control deslizante programable que es un buen complemento y hace que la unidad en su conjunto aún más flexible.
Hacer latidos
Hay 16 escenas MIDI programables por el usuario que se pueden almacenar localmente por lo que puede configurar sus propios mapas. Lo he probado con un par de aplicaciones y ha funcionado muy bien fuera de la caja, la cartografía de muchos de sus controles de forma adecuada en Logic Pro X y la Razón. El iPad parece que ha funcionado bien con GarageBand y por supuesto con IKs propias cosas como SampleTank gratuito. Theres realmente un montón de cosas que viene con el hardware, se puede descargar en su mayoría después de registrarse en línea. También será compatible con GrooveMaker 2 y Rig DJ en próximas actualizaciones, y estos tienen libre, así como las versiones de pago también.
En su Mac o PC se puede descargar SampleTank 3 SE y este viene con 6,5 GB de contenido incluyendo 400 instrumentos y 150 patrones MIDI. El registro también desbloquea The Grid, una colección de 50 instrumentos adicionales que también pueden ser utilizados dentro de la aplicación para iOS. La capacidad de utilizar las pastillas y otros controles para controlar los parámetros dentro de las aplicaciones de ranura y DJ es un bono, por lo que usted no está limitado a tocar instrumentos regulares en las almohadillas, puede lanzar loops y cosas por el estilo también. Este es un gran pequeño controlador que se abre un estilo más natural de jugar en su dispositivo iOS u ordenador y viene con un poco de buen contenido incluido para conseguir que en su camino. Es muy portátil y con un ajuste de hasta poco youll sea el control de su software favorito en ningún momento.
Precio:
Pros:
Contras:
Web: