IK Multimediaprojekten Bestreben, Ihnen immer mehr Möglichkeiten zur Interaktion mit der Software weiter voran mit der Veröffentlichung von iRig Pads , eine extrem tragbare Pad-Controller für Mac, PC und iOS-Geräte. Es gibt viele MIDI-Keyboards mit Pads rund obwohl überraschend wenige Pad Controller dieses kleine, so war es interessant zu sehen, wie sie ihre Arbeit geleistet haben. Auch wenn Touchscreens sind ziemlich cool, eine Menge Leute immer noch lieber auf echte Pads beim Programmieren Beats oder Melodien.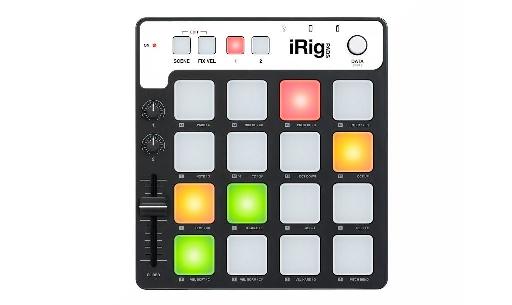 Look and Feel
Das Gerät ist sehr leicht, aber gut gebaut und kommt mit ein paar Kabeln: Theres ein Blitzkabel an allen bisherigen iOS-Geräte und ein USB-Kabel an den Mac oder PC anschließen und das Gerät ist Class Compliant, so dass keine Treiber benötigt. Theres keine 30-Pin-Kabel geliefert, aber mit der Zeit geht, werden immer weniger Menschen zu sein mit diesen älteren Geräten, und ein Kabel zur Verfügung steht, um zu bestellen, wenn Sie ein wünschen. Es bezieht Strom von Ihrem iPad oder iPhone aber wie alle diese Geräte, die es eigentlich nur auf, wenn eine kompatible App gestartet wird, um nicht die Batterie entladen. Es Befugnisse vollständig von einem Computer, und wenn mit iOS verwendet, können Sie das USB-Kabel kann auch um Leistung bereitzustellen, damit Ihre Geräte Batterie ist nicht abgelassen, was eine nette Geste ist. Theres auch ein Sustain-Pedal-Eingang für ausdrucks Leistung.
Auf der Frontplatte sind 16 berührungsempfindliche Pads mit drei verschiedenfarbigen Hintergrundbeleuchtungen je, und die Pads jeweils eine sekundäre Funktion, so dass Sie zusätzliche Befehle wie Einstellung Geschwindigkeit und Oktave, MIDI-Kanal, Programmwechsel, CC und mehr durchführen und theyre auch mit markierten Notenwerte. In der oberen rechten ist ein Datenzifferblatt mit Push-to-geben, zwei frei belegbare Tasten und zwei Funktionstasten bearbeiten. Auf der linken Seite sind zwei programmierbare MIDI Zifferblätter und eine programmierbare Schieberegler, die eine schöne Ergänzung ist und macht die Einheit als Ganzes noch flexibler.
Beats
Es gibt 16 Benutzer programmierbare MIDI-Szenen, die lokal gespeichert sind, können, so dass Sie Ihre eigenen Karten einrichten können werden. Ich versuchte es mit ein paar Apps, und es hat prima funktioniert out of the box, Kartierung viele seiner Kontrollen angemessen in Logic Pro X und Vernunft. Am iPad schien es gut mit Garageband und natürlich mit Ks eigenen Sachen wie Samplefreies Arbeiten. Theres eigentlich eine Belastung von Sachen, die mit der Hardware kommt, meist nach der Online-Registrierung herunterladbar. Es wird auch mit Groove 2 und DJ Rig in bevorstehenden Updates kompatibel sein, und diese haben freie sowie kostenpflichtigen Versionen auch.
Auf Ihrem Mac oder PC können Sie Sampletank 3 SE herunterladen und diese kommt mit 6,5 GB Inhalt einschließlich 400 Instrumenten und 150 MIDI-Patterns. Registrierung entriegelt auch The Grid, eine Sammlung von 50 zusätzlichen Instrumenten, die auch innerhalb der iOS-App genutzt werden kann. Die Fähigkeit, die Pads und andere Steuerelemente verwenden, um die Parameter innerhalb der Nut und DJ-Anwendungen zu steuern ist ein Bonus, so youre nicht auf das Spielen regelmäßig Instrumente auf den Pads, können Sie Schleifen und sowas starten zu begrenzt. Dies ist ein großartiges kleines Controller, der sich öffnet, einen natürlicheren Stil spielen auf Ihrem iOS-Gerät oder Computer und kommt mit einigen guten gebündelt Inhalte, um Sie auf Ihrem Weg zu bekommen. Seine sehr portabel und mit ein wenig Einrichtung youll Steuerung Ihrer Lieblings-Software in kürzester Zeit.
Preis:
Vorteile:
Nachteile:
Web: