The iRig Mic HD is the successor to IK's iRig Mic, and it's a handheld digital condenser mic that connects directly to your iOS device, Mac or PC. As you can probably tell by looking at it, this is much more of a live style of mic than some other studio condensers, and as such there's no onboard headphone port. The idea here is that you're talking or singing into it, or interviewing someone, or playing or recording some kind of music that doesn't require direct headphone monitoring (though this could still be achieved by routing via your computer or iOS device, zero latency can be harder to achieve without DSP in your interface).
The build quality is good and the mic feels solid and like it could take the rough and tumble of life on the road. The only onboard control is a gain dial, which you have to sort of push on with a finger to get enough purchase to turn it. This is in all probability so that you can't change the gain accidentally while holding the mic in your hand, and as such it makes sense. It's powered over USB and requires no drivers, as is pretty standard these days. Hardware-wise it has an SPL tolerance of 134 dB and a frequency response of 40 Hz–18 kHz and an LED to denote power, clean and clipped signal.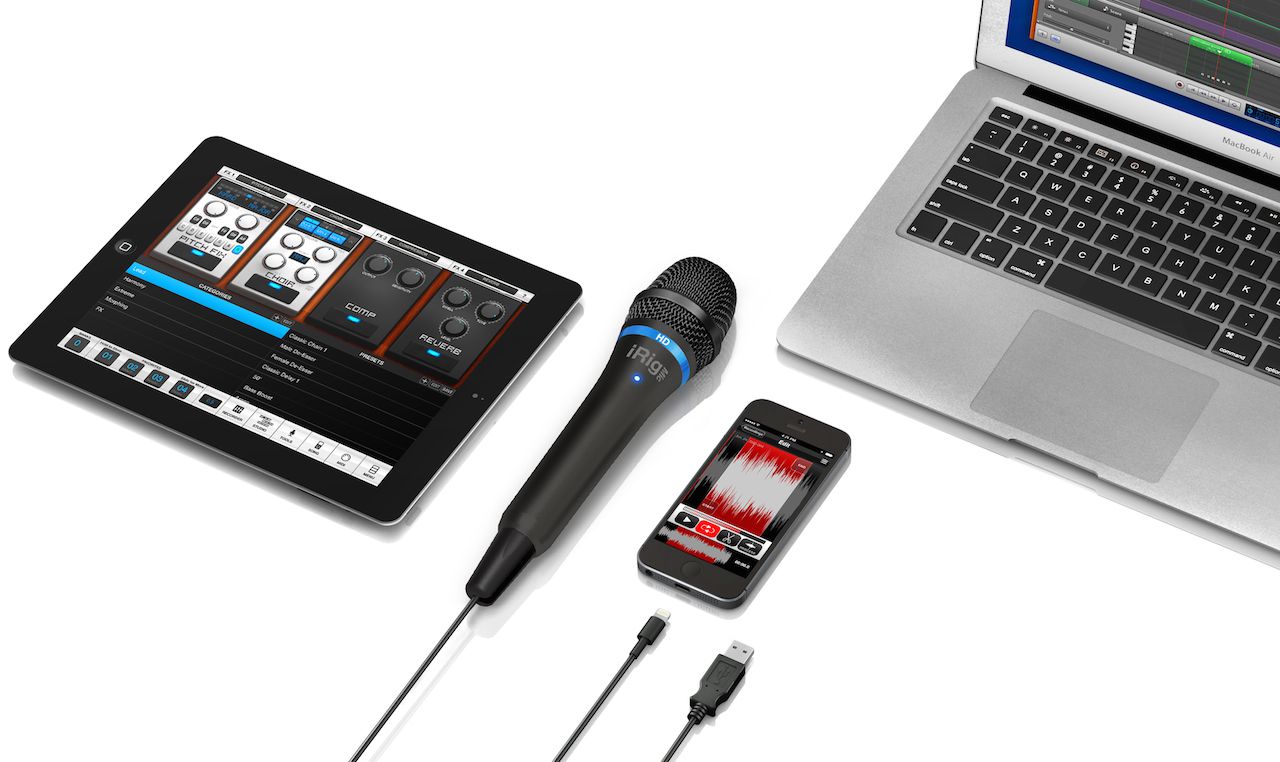 Connect to any newer iOS device or to a Mac or PC.
Ins and outs
The connection at the base of the mic is a micro USB port, which as a port type is rarely the most snug fitting, and there is a little movement of the cable where it joins though nothing that feels like a big problem. You get two cables, one with a regular USB end and one with a Lightning end for connection to newer iOS devices. An older 30-pin to micro USB cable is available as an optional extra though it costs a hefty 24.99 Euro. It's not clear if a third-party (and much cheaper) micro USB to 30-pin cable would work—this is usually officially unsupported by manufacturers but can sometimes work just fine. You also get a mic clip and carry bag in the case for good measure.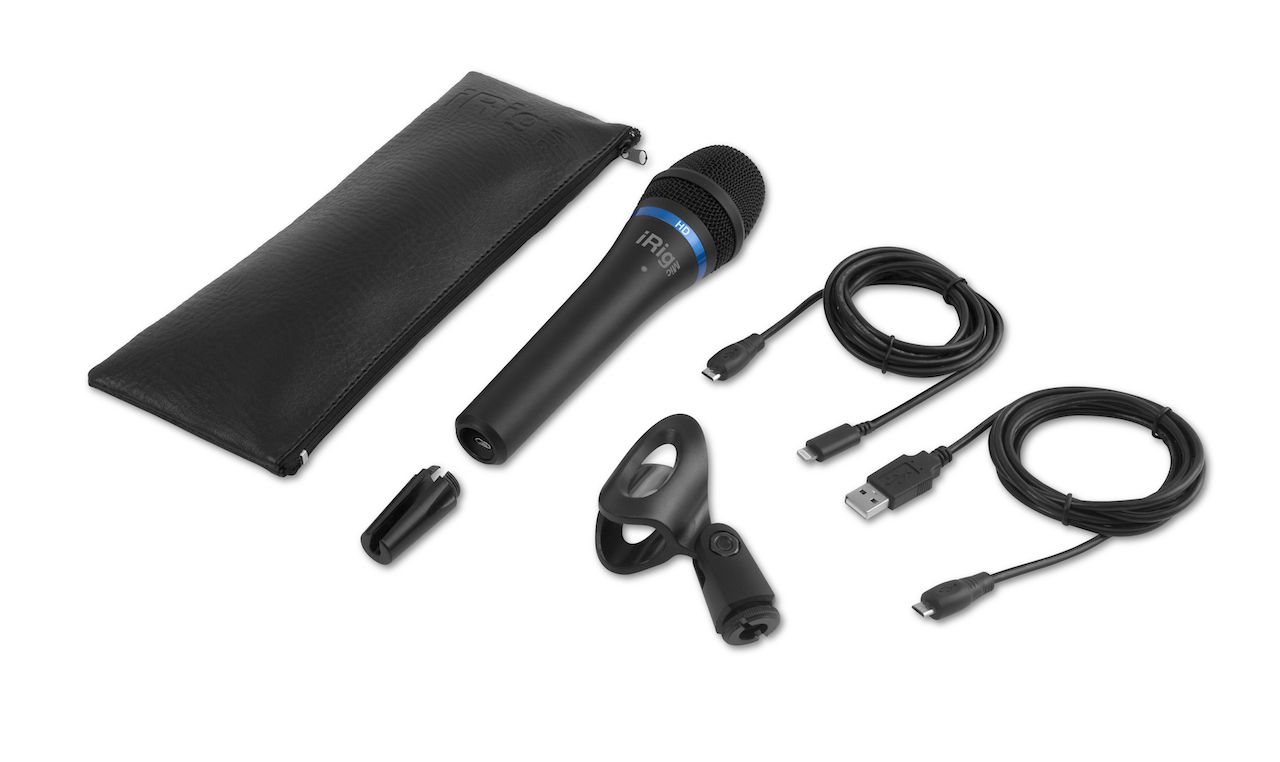 Lightning and USB cables are supplied though a 30-pin version is extra.
Go Hi-Def
The "HD" is a reference to the new all-digital signal path from the mic capsule to your recorder. Sound goes through the high definition preamp and then the 24-bit A/D converter. Recordings of up to 48 kHz are supported and for voice-over and interview work it captured a good, clear signal. It worked well enough on instruments though I'd always go for a more specialized studio mic in those instances, USB or otherwise. Of course the advantage this mic has is that it is explicitly hand-holdable, so it can be used for presentation or voice-over recording without any of the sensitivity issues you'd get with a studio mic.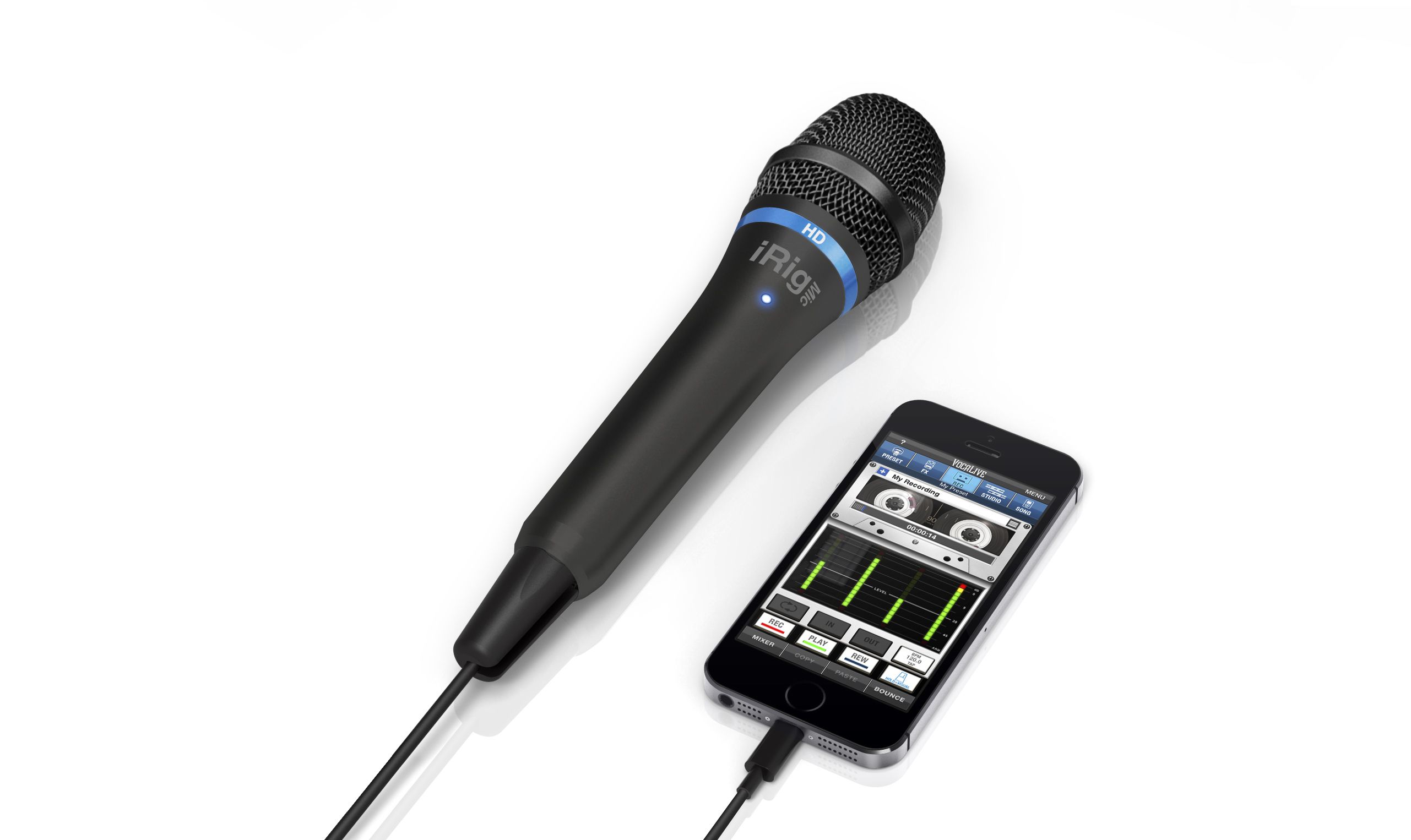 Or just record straight to your iPhone.
You can download a bunch of free IK apps including free versions of VocaLive, iRig Recorder and Amplitube for iOS and a free version of Amplitube for Mac / PC, and registering your hardware will unlock extra features inside them. IK's apps are well integrated with their hardware so whether you're field recording or singing you will be able to capture and edit the processed results fairly easily. I'd say someone conducting interviews, recording voiceover or field recording would find this robust mic most useful when paired with an iOS device or computer. It may lack the finesse of a studio condenser, but it is way more durable for use out and about.
Price: 99.99 Euro
Pros: Solid build. Durable. Comes with USB and Lightning cables. Mic clip. Mic purchase unlocks app features.
Cons: 30-pin cable option is quite expensive. Probably better for voices than instruments.

Web: www.ikmultimedia.com