Review: IK Multimedia iRig Keys IO MIDI Controller & Audio Interface
Why have a separate MIDI controller and audio interface when you can have both in some sexy package? Hollin Jones puts the iRig Keys IO through its paces.
It was only a matter of time before IK took the development it has been doing on iOS accessories, MIDI controllers and portable audio input devices and combined them into a single product. As a product category it's not unique, exactly, though the few other portable, combined audio interface / MIDI controller keyboards around are mostly pretty long in the tooth. (I still love my Novation Xiosynth but it's been gigged almost to death).
Mega Mobile
Since iPads and iPhones have become much more serious music-making platforms - and also gone down to a single Lightning port for I/O - the need for a device that can do everything down a single cable has arguably never been greater. In truth, this is the kind of product that I have been waiting for. Much of what I do involves fairly simple MIDI input and audio recording with a laptop or iPad, and I'm tired of carrying several devices to work on the move. So will the iRig Keys I/O do the job?

As noted above, this device feels like a culmination of many of the things IK has figured out while designing products that do just one or two of the things that the I/O can do. Coming in 25 or 49-key versions, it's a lightweight but well-built device (I'd invest in a gig bag if transporting any MIDI gear very often) that powers either using batteries, or over the supplied Lightning or regular USB cables, connected to your iOS device or Mac / PC respectively. It also sends MIDI and audio back and forth across the cable, meaning minimum fuss. It's worth noting it has to be battery powered when used with iOS to avoid draining the device, or powered via the optional PSU which when connected will also charge your iOS device.
Play It Again
Remarkably the units use full sized keys - IK says they are the smallest devices on the market to do so - and feature an improved keybed that is responsive to use. They are velocity sensitive and feature synth action - you'll be familiar with the type from other similar kinds of device. The top surface features a range of realtime controls to help you take better control of your instruments and DAW. There's slider strips for pitch and modulation that are user programmable, octave, program change and transport controls, 5 programmable touch sensitive knobs and 8 velocity-sensitive multi-colored assignable pads. The controls are capacitive, meaning that simply touching one (without having to move it) will call up its current value onto the LED screen.
The controls on both models are the same, but on the larger model they are more spaced out lengthwise. There's a handy mobile device stand included too for propping up your iPad - a thoughtful inclusion.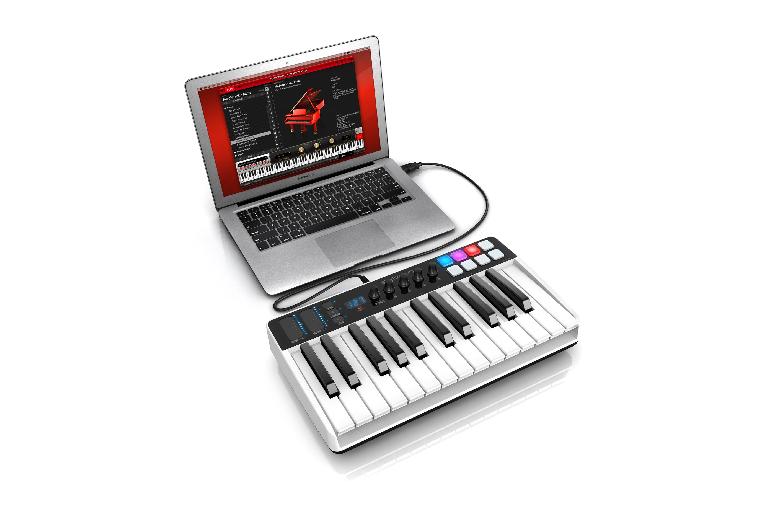 For The Record
And so to arguably the most interesting feature, a built-in audio interface that features a single channel combo input with phantom power, stereo line outs for monitoring plus a headphone out. In an ideal world the headphone port could be on the front instead of the back, but this isn't a deal breaker. You can connect your XLR or instrument input and record a single channel of audio. It is capable of 24-bit / 96kHz operation and performed well in my tests, capturing a decent level from a studio condenser mic with low noise and negligible latency. It's worth noting that there is also an IK-branded gooseneck mic available for preorder - the iRig Keys I/O Mic - that is designed for voice recording without the need for a stand: another potential space and time saver.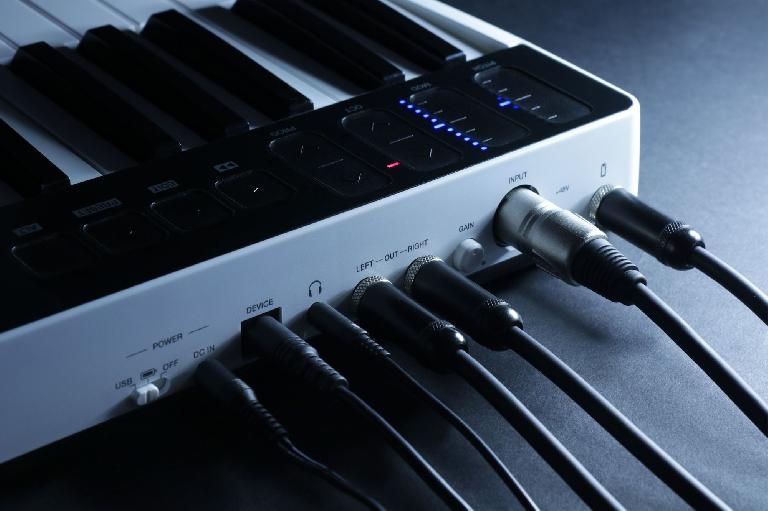 As is often the case, IK calls on its impressive software lineup to bundle some free goodies with the hardware, and the selection is very solid, differing slightly depending on which model you buy. For the desktop there's the full version of Sampletank 3, T-RackS 4 Deluxe, Syntronik Pro-V synth and Miroslav Philharmonik 2 CE. For iOS there's equivalent mobile versions of those apps. IK reckons the value of the bundles is $550 / $750 respectively so it's a generous giveaway and should get you up and running on either platform - just add a DAW like Apple's GarageBand.
Like many of IK's other iOS products, this one is Apple certified as MFi - Made for iOS devices - which isn't the easiest certification to get. This means it's guaranteed to work out of the box with iOS devices, plus of course it's class compliant on Windows and Mac so there's no real setup to speak of. There is a gap in the market for a truly portable all-in-one box that works with the latest devices, and IK would seem to have come up with one. Yes, there's only a single channel of recording at once but then the units are hugely portable, and for many people that's a compromise that's not a big issue as they may only be recording one voice or guitar at a time.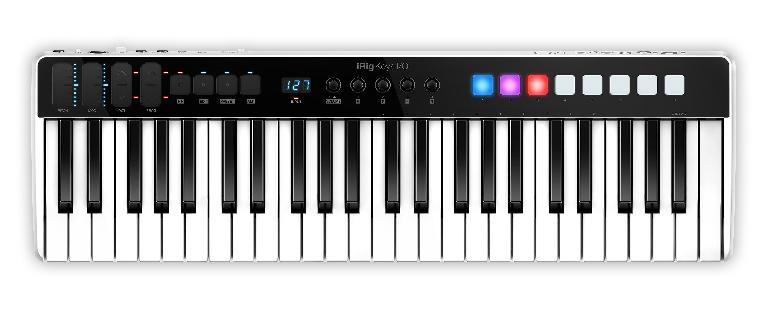 Conclusion
The ability to power and send audio and MIDI over a single cable (or use batteries when iOS is involved), to play and control MIDI, control the transport, monitor and record using such a compact device is great, especially for anyone working on the move or with limited space. The 25 key model is especially bijou. The bundled software is a nice addition too, giving you some tools to work with to get you up and running. As an all-in-one solution for mobile MIDI triggering, monitoring and simple audio recording, iRig Keys I/O is a handy and well thought-out solution that saves you carrying several devices around. For working with iOS devices it gets around the issue of the single Lightning port admirably, even if this does mean adding batteries or the optional PSU. Considering the functionality on offer, that's a small compromise to have to make. Overall, a great concept, and well executed.
Price: 25 key 199.99 EUR (Ex. VAT) / 49 key 299.99 EUR (Ex.VAT)
Pros: Supremely portable. Does almost everything down a single cable. Really no setup on Mac, PC or iOS. Good quality audio recording. Full size keys. Battery power option. Generous software bundle. Carry one device instead of 2 or 3. Mobile stand included.
Cons: Doesn't power independently from an iOS device. Only 1 channel of audio input, if that bothers you.