"iRig" is the prefix given to many of IK Multimedia's iOS-compatible products, and it certainly makes arguably the widest range of interfaces, controllers and mics on the market for Apple's portables. The only thing with most of these is that like any accessory, they occupy your device's Dock or Lightning conector. And you've only got one of those, which you may well want to use for streaming audio in and out.
The answer IK has come up with is the BlueBoard, a Bluetooth wireless MIDI pedal board that works with any iOS device or Mac that supports Bluetooth 4.0. The latest Bluetooth standard uses extremely low power, making it suitable for long periods of connection without burning lots of battery. In practice this means an iPhone 4S or later, iPod Touch 5G, iPad 3 or later and iPad Mini. The same applies to Macs : if yours has Bluetooth 4.0, you'll be fine. You can add 4.0 to any computer using a USB dongle for around £12, regardless of the age of your computer.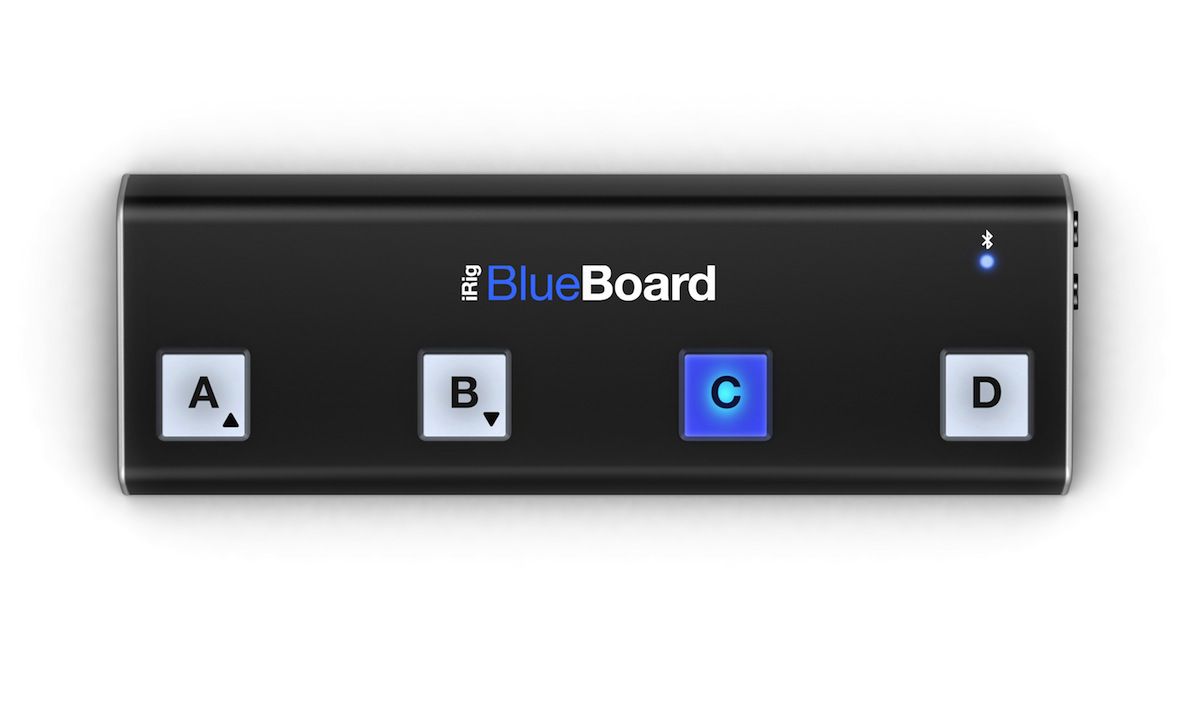 Compact and lightweight, BlueBoard slips into your bag along with your iPad or laptop.
Portable power
The box itself is small and lightweight but sturdy, with rubberised feet to hold it in place. It takes 4xAAA batteries and has an on-off switch on the base. It can also be powered over micro USB, for example if affixed to a larger guitar pedal board. There are four buttons, large and chunky enough to be pressed by foot, and backlit for use in the dark – incidentally, with variable brightness controlled in software. On the side are two variable pedal inputs, a nice touch that expands the usefulness of the device. You could for example connect expression or volume pedals and map their behaviour using the app.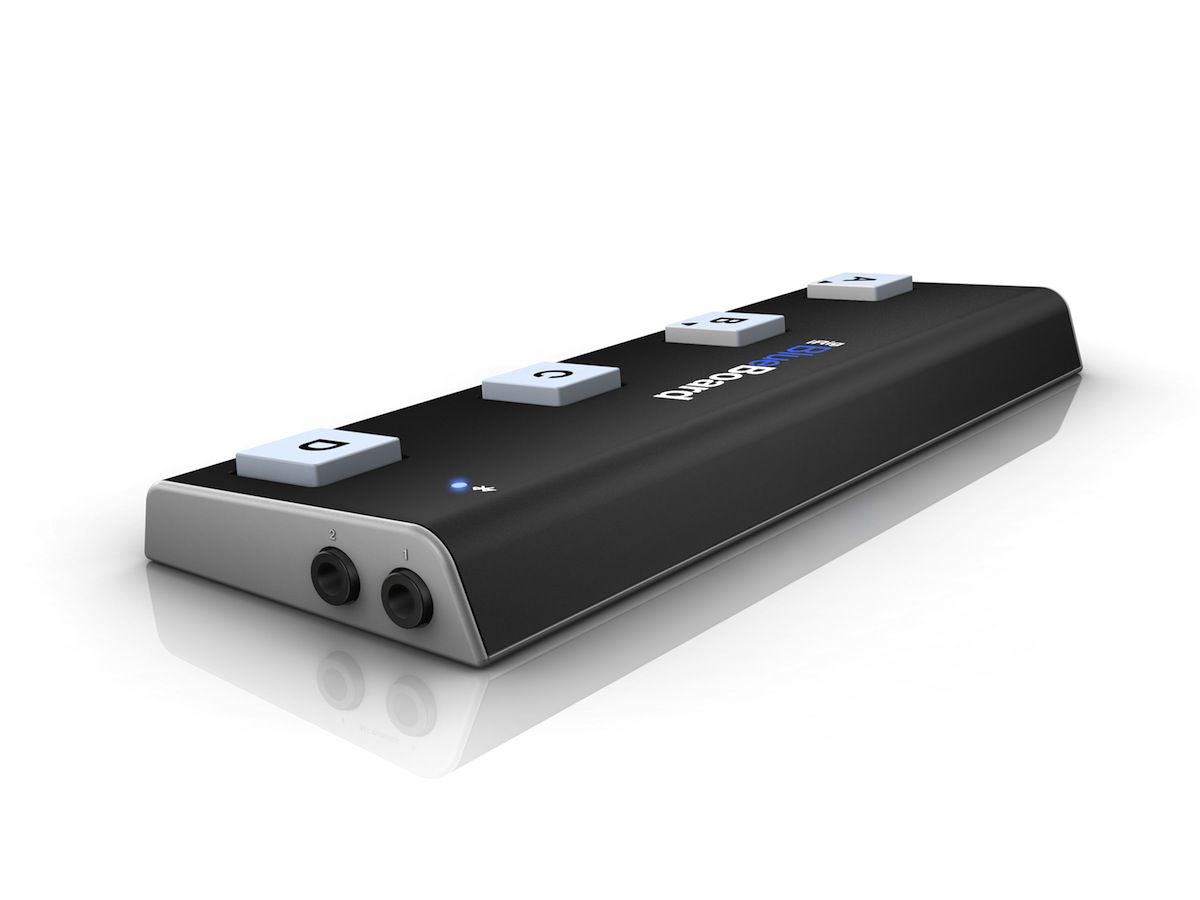 There are two control pedal inputs to expand the functionality of the device.
Speaking of the app, the free BlueBoard app for iOS or Mac works by intercepting the signal from the hardware over Bluetooth and converting it to MIDI. There's a pairing process, though no security code to enter. The app has several functions, the first of which is working in either program change or control change mode. The former switches presets whereas the latter can be made to change things like synth settings using CC numbers. You can also use the app to calibrate any connected pedals.
Take it to the bank
BlueBoard has a number of banks and these are how you navigate. By default the four physical buttons select patches 1-4. Hold the A button for three seconds to flip up a bank, and they trigger patches 5-8, and so on. Hold the B button to go down a bank. In Control mode, flipping banks makes buttons control different MIDI CCs. Of course in control mode you have to know what CCs correspond to what parameters in your software, which can take a little researching.
BlueBoard works very well with IK's apps like Amplitube, Vocalive and Sampletank on the iPad. I also set it up successfully with Nanostudio, though GarageBand for iPad accepts only a couple of CCs for external control. On the Mac the app works in much the same way, though here it's generally easier to use MIDI learn and identify MIDI CCs than it is on iOS.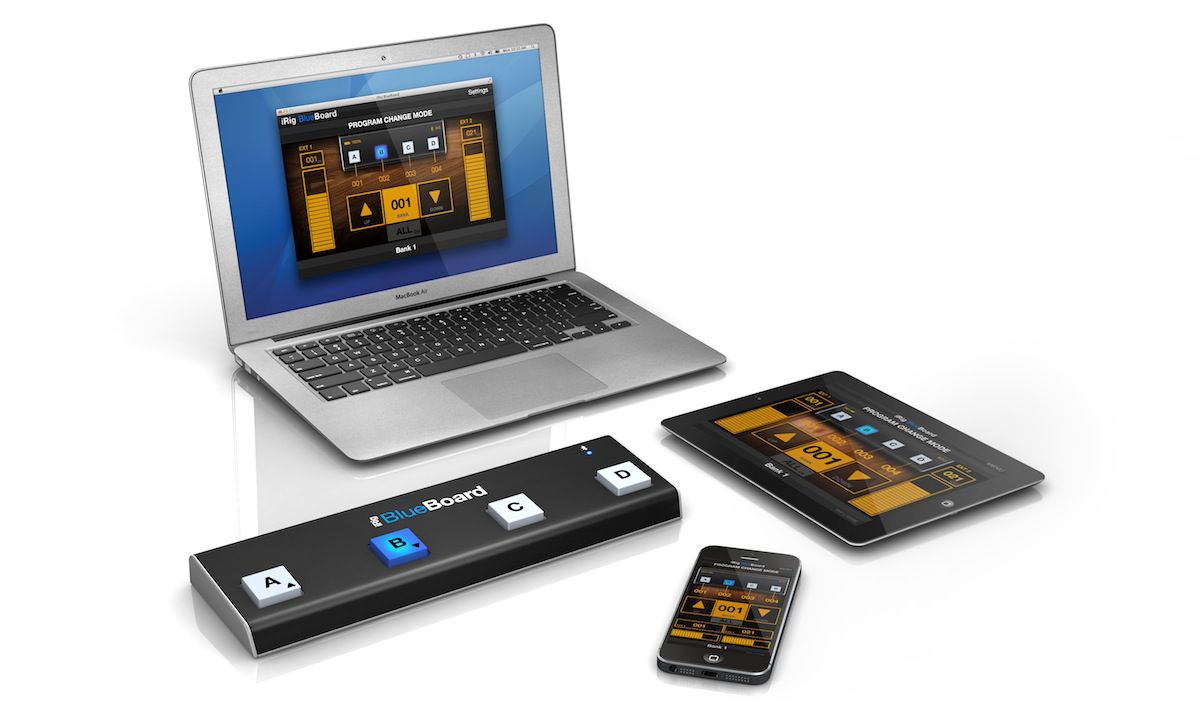 Install the free companion app on your Mac or iOS device to get up and running.
Feeling blue?
BlueBoard is a clever and affordable way to get wireless MIDI control of music apps running on your iOS device or Mac. For live performers it's a much better approach than constantly tapping at your iPad during a performance and it works from around 30ft away, though obviously nearer is better. Changing patches is its most obvious use, though the controller stuff is handy too. Connect a pedal or two to really unlock its full potential.
Web: http://www.ikmultimedia.com/products/irigblueboard/