iRig Acoustic Microphone
The iRig Acoustic mic is a simple plectrum shaped device that slots on to the rim of any acoustic guitar or Uke. It's based on the MEMS (MicroElectrical-Mechanical System) technology and has an omnidirectional polar pattern to capture a wide range of sound coming from the instrument. No Piezo system is used so what you get is a compact close miking system for your guitar.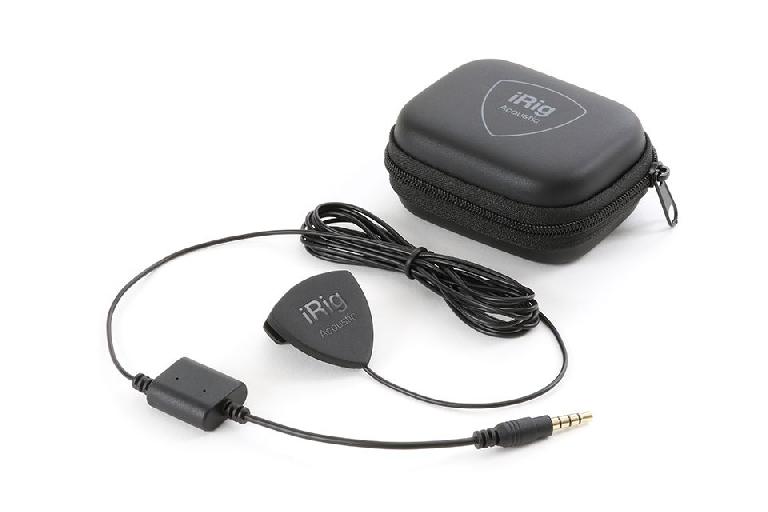 The mic is connected to a small hub (via a rather thin cable) which has an 1/8 in headphone connection and the four sleeve jack connector.
Setup
In order to use the iRig Acoustic Mic you need a compatible device such as an iPhone, iPad, iPod touch, iPad, Mini or Android device that supports the CTIA/AHJ wiring standard. Macs that support an external mic can also use this but none of my machines support this so I couldn't test it. I ran these tests using an iPad.
After downloading the free app Amplitube Acoustic from the App Store, it's simply a case of plugging the mic into the headphone socket and starting the app.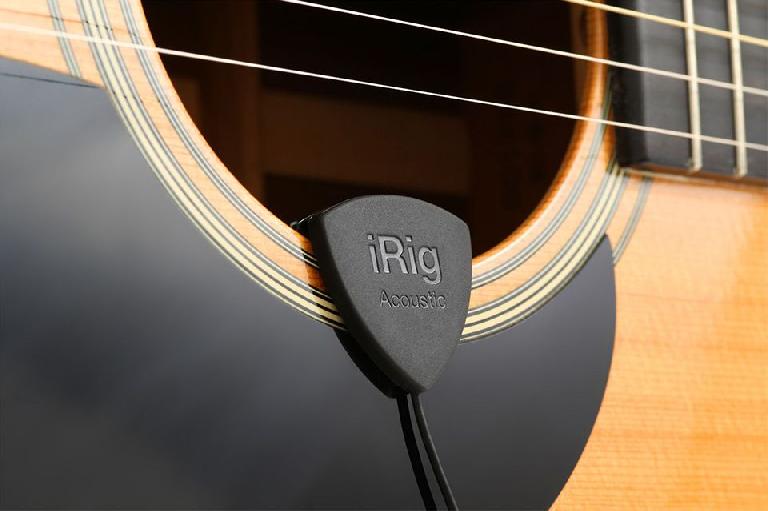 You'll then have to calibrate the mic by going through a few simple steps in the app and make sure the levels aren't clipping. Once complete you save the created profile for the instrument you're using. You can have as many profiles as you like.
App
The app is pretty simple and straight forward to use. You have a preamp section (there are three of these: SolidState 1–2 and a Tube version) with various effects like Reverb, Delay, Chorus, etc.) for each version. In front of the preamp is an optional feedback suppressor in case you're playing live with the iRig with a few selectable frequency settings.
There are stomp like effects too. The app itself is free but you'll need to make in-app purchases to acquire the full suite of FX (about $10). The full list of stomp effects covers EQ (Graphic and Parametric versions), Compression (free on registration), Pitch Effects (12-String and Octave Down) and the Body Modeler.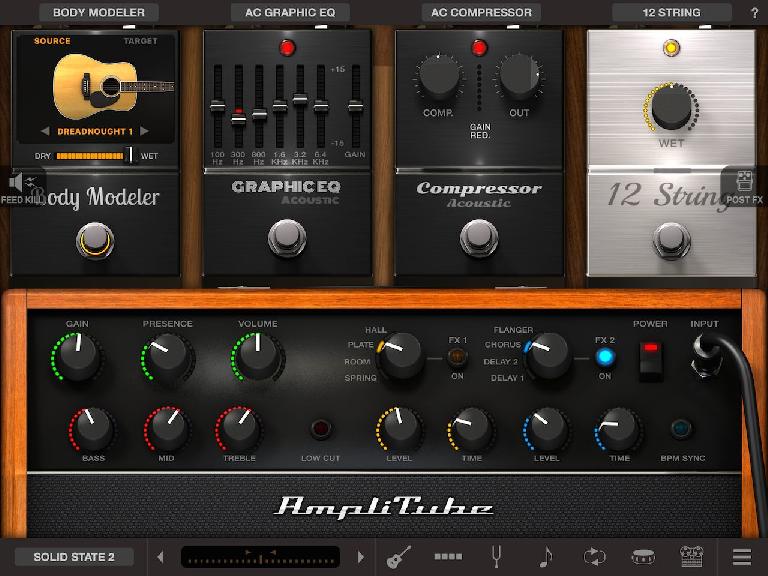 The Body Modeler has a Source and Target. Choose a Source that closest matches your guitar type (there are five choices available Dreadnought 1–2, Jumbo, Parlour and Classical). You then choose a target from the same list. The result is a tonal shift towards the Target. I guess this is done based on your created profile.
I created profiles for a couple of different guitars including Stanford OM, Atkin Dreadnought and a Martin HD-28v. I have to say I got varying results from this effect but when it worked it was pretty cool. One tip is to make sure your profile doesn't end up too bass heavy. I generally kept all the input settings at default for best results when profiling.
There are a host of other features in the app although you'll need to make more in-app purchases to unlock them all (This is mainly for the 8-Track Recorder). The app records at 44.1kHz at 16-bit and you do get one track with the free app. You probably won't need this as the app works well with Audiobus and can feed GarageBand for iOS easily. There is also no reason why you couldn't just pipe the headphone out to your I/O inputs and record to your DAW.
Sound Quality
While testing I found the best results were actually achieved by just running a simple preamp setup. There are some nice presets on offer too though that can enhance the mic sound without overdoing it. Of course you can go nuts if you like!
The built-in Reverbs are quite nice and you have a selection of types to choose from depending on the preamp model you're using.
Speaking of Reverb, there is a small bit of ambient spill from the room you're in if it's quite reflective due to the omnidirectional nature of the mic. I tried the iRig in a few rooms to test this. From a box type room (bedroom scenario) all the way to the live room in Studio 1 at Air Studios (below example). I'd say if you can get in a pretty quiet, damped environment it'll give you the best results.
On the whole I'd say the sound quality is pretty darn good. When I checked back some audio files recorded in the app on monitors I was surprised how balanced and clear the sound was. I think getting the initial profile right is the key.
Conclusion
The iRig Acoustic pickup performs really well and I'd have no problem at all tracking some guitar parts with it. It certainly takes the hassle out of miking up an acoustic. If it had a more universal output jack format option it would be even better as you could just DI into any audio interface.
It's perfect for tracking ideas in iOS or the like and would probably shine live too. It's unobtrusive and never gets in the way. Overall a cool little bit of kit!!
Price: $49.99
Pros: Neat solution for acoustic players. Compact and sounds really good with the right setup in the app. Perfect for music on the go and/or quick no fuss DAW tracking.
Cons: Cost increases with extra in-app purchases. Be careful you don't break the thin cable!