IK Multimedia's iRig 2 seeks to become the go-to mobile solution for getting your guitar in and out of your iOS device. The original iRig was a delightfully easy-to-use interface with a few quirks that were easy to overlook considering the great price point. The second iteration of IK's popular guitar hardware improves upon the original in some truly surprising and useful ways. I took one out for a spin and here's what I found.
What's New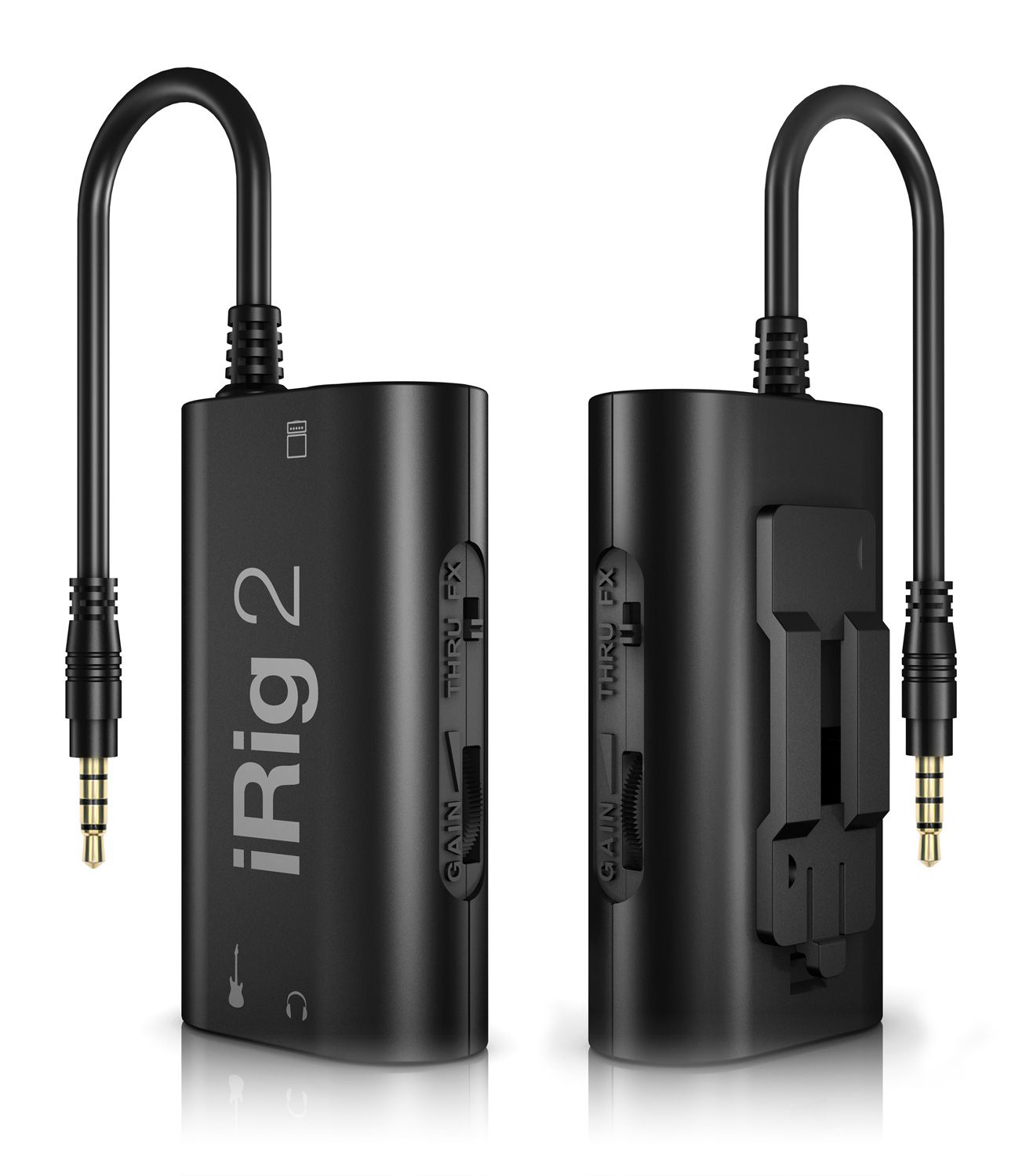 Physically, the iRig 2 is about twice as wide as the original. This is likely to give plenty of extra space for the 1/4" amp output that has been added. This was an extremely welcome addition for me, as it made my dream of using my iPhone as a stomp box with an amp a reality, (as opposed to using the headphone jack to a PA). It's no coincidence that at the same time, IK has chosen to add a clip on the back with a connecting strap. This makes it incredibly easy to attach the iRig 2 to a mic stand when using an iOS device as an effect processor. Make no mistake about it, IK intends for you to use this device live.

A very cool feature that was added in this version of the iRig is the FX/Thru feature. Enabling this mode allows you to pass your guitar signal to both the iOS device AND directly through, unaltered, to your amp. This effectively turns your iOS device into a direct box/recording device of sorts. Your amp gets your unmodified guitar signal and your iOS device gets to record everything you play.
Finally, an adjustable input gain is perhaps the most welcome addition to iRig version 2. Instead of relying on a fixed input level with some kind of digital trim applied, you can now adjust the input stage with a physical gain knob to better match your guitar's output. This also helps avoid some of the noise inherent in the 1/8" analog interfaces. Saturating the audio signal more helps to widen the gap between the guitar and the noise floor.
Using the iRig 2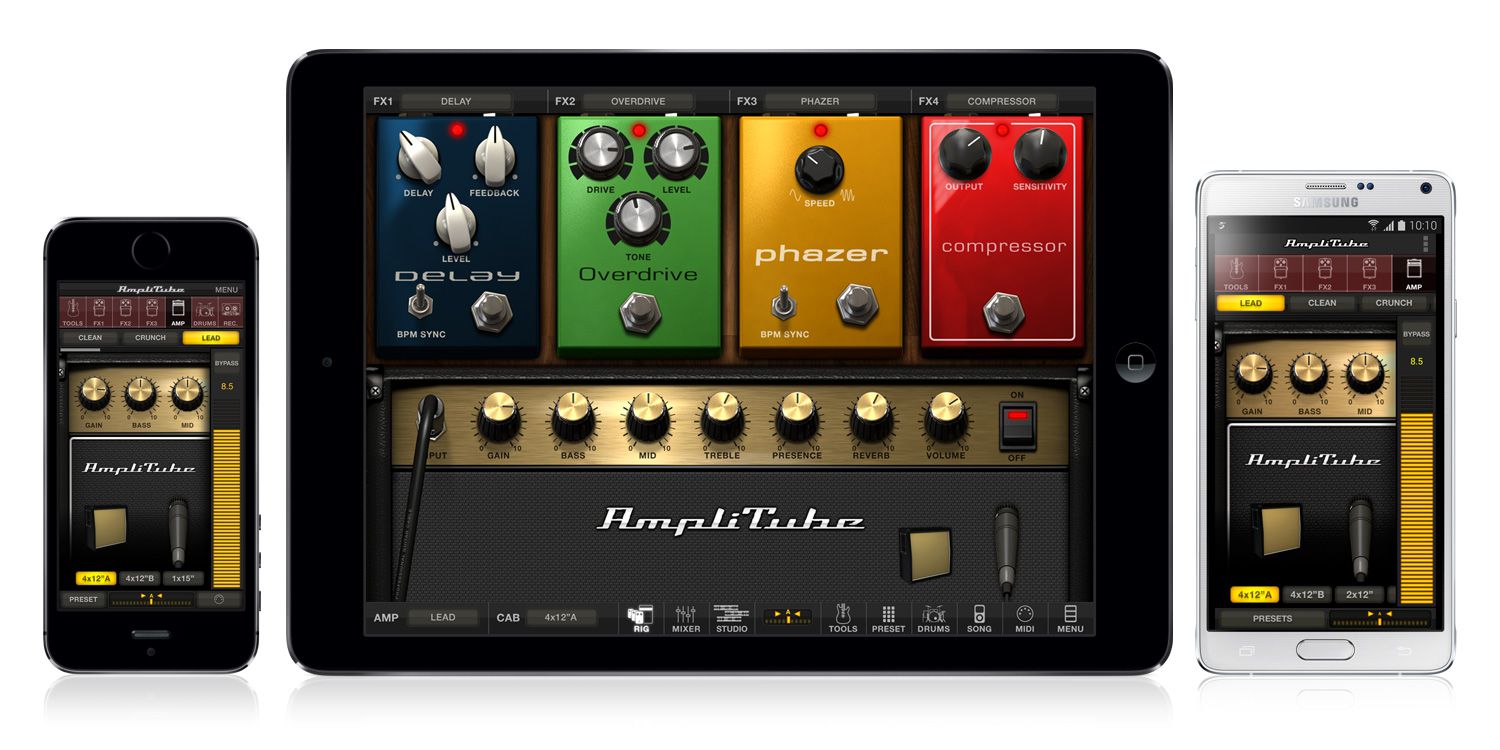 The iRig works with just about any guitar app you can find, including IK's own AmpliTube.
The iRig 2 has extremely low latency with just about every app I tried it with. Of course, IK would be pleased as punch if you used their AmpliTube app—which I did. However, one of the main advantages of using an analog interface (as opposed to a lightning-enabled device like the iRig HD) is the sheer number of devices and apps which it is compatible with. You can plug this into any version of iPod Touch, iPhone, or iPad and achieve good results. You can even use it with a computer or android device!
When using the iRig 2 with an amp, I got my best results when running into a solid state amp with a flat EQ. It took a little while to adjust the input gain to find the 'sweet spot' where the signal truly felt 'full', but once it was there it worked like a charm. There was no discernible latency, and the noise level was acceptable for live performance, especially considering the extremely low price point that IK is offering the iRig 2 at.
Conclusion
The iRig 2 is an incredibly convenient way to integrate your iOS device into your live guitar setup. There may be a couple of quieter ways to get your guitar into your iPhone (including IK's own iRig HD) but few can match the simplicity, ergonomics, and price of the iRig 2.
Price: $39.99
Pros: Adjustable input gain, 1/4" amp output, FX/Thru mode, extremely low price point
Cons: 1/8" connectors are inherently noisier than digital or 1/4" connections.