Review: IK Multimedia iLoud Micro
The new iLoud Micro monitors are tiny, but IK Multimedia explain they sound bigger than they look, and are aiming for the music/producer market. Hollin Jones measures them up for size in our review.
As the spectrum of devices on which people make music has broadened, there has been a gradual emergence of monitoring systems that cater more to the smaller studio and the mobile musician. In the last year or so a number of small powered speakers have come onto the market that combine different types of functionality and aim to cover all the ways in which you might need to monitor your music. IK released the iLoud last year and although I didn't have a chance to test it, it had the look of a consumer Bluetooth speaker, albeit one aimed at musicians.
The iLoud Micro is more recognizable as a musician's product, and IK is clearly gunning for laptop musicians as much as iPad ones with this release. The amount of technical detail regarding its acoustic design available on their site makes that clear. It's undoubtedly true as they claim that many people produce on laptops, often in small spaces with imperfect acoustics. This means less space for monitors and amps, and the vast majority of small speakers are not exactly portable either.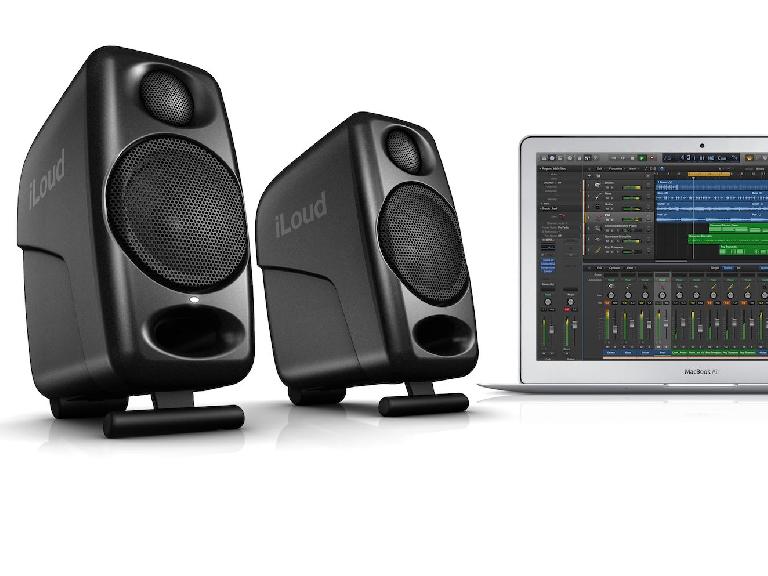 Enter the Micro
The iLoud Micro Monitor sets out to address these issues. How do you get accurate reproduction in a tiny space and also the option to carry speakers with you without too much hassle? The answer, I can tell you, is with a product like this. They are really quite small, and indeed smaller than the press pictures might suggest, though well built and would easily slip into a bag with your laptop and a portable USB MIDI keyboard.
The approach here is one I have seen before, where one speaker contains the majority of the electronics and connects to the other speaker to provide signal and power, in this case over a proprietary cable. They can sit flat on your desk or be angled slightly upwards and have been designed to sound great both at close quarters and close to walls, their front-facing bass ports reducing reflections from nearby surfaces. They also feature standard mic stand screw threads on the base so they can be pole mounted, if so desired.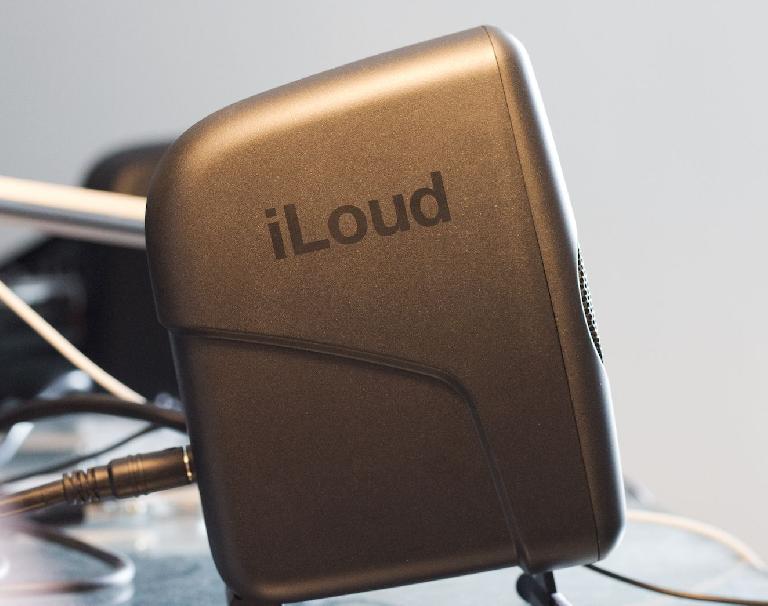 The Details
The main speaker plugs into the power via a bundled PSU, which is external probably due to the small size of the cabs themselves, but also keeps weight and heat down. RCA inputs let you connect your device (a phono to mini jack cable is supplied) and there's also a separate mini jack input on the rear. There are no ¼ inch jack ins or XLRs, again probably to enable the units to be as small as possible. A volume control on the rear might ideally have been placed on the front for easier access but this is again likely a space constraint, and three switchable EQ settings let you tailor the sound for the environment in which you have the speakers set up. These do make a noticeable difference to the sound, so you can tweak them to suit your space.
The speakers also feature Bluetooth connectivity and this works as simply as pressing the button and pairing your device. Interestingly, I found that the physical and Bluetooth inputs could be used at the same time: not that you'd want to play two signals at once, but you might well need to A/B between devices, so this is handy.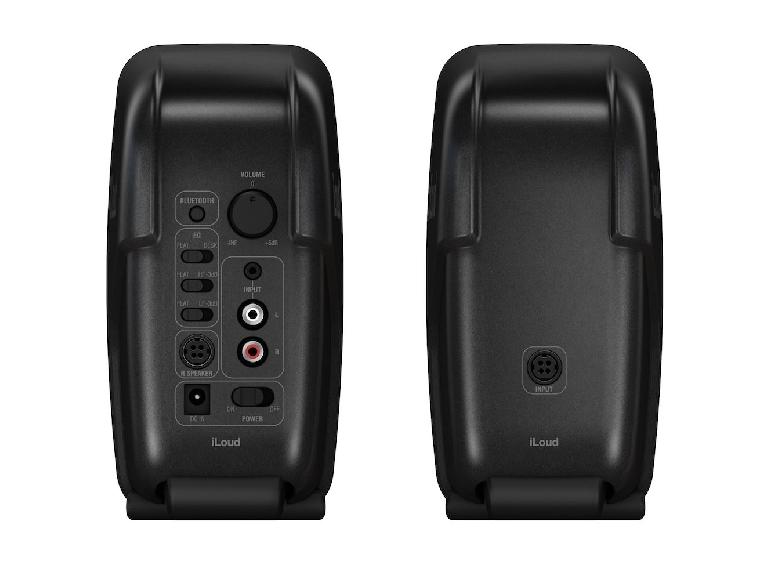 Big Sound
The speakers are bi-amped for better separation and use class D power amps that generate a total of 50W RMS of power across the speakers. These are managed digitally by a 56-bit DSP chip and the enclosure is designed for low resonance. The 3/4 inch tweeter and 3 inch woofer make up the front panel, along with the bass port and this can reach a surprising 55 Hz, which is very low for such a small speaker enclosure. IK claims this is the best in its category.
And so we come to the really important question of how they sound. I was prepared to be underwhelmed because I so rarely hear speakers anywhere near this small that can kick out a powerful and accurate soundstage. Happily, I was proved wrong as soon as I got them up and running. There's a level of clarity and detail here that I wasn't expecting, and a bass far deeper and more accurate than I would have believed possible from such small speakers. They go pretty loud too but as IK suggests, most people are probably not going to be belting them at top volume.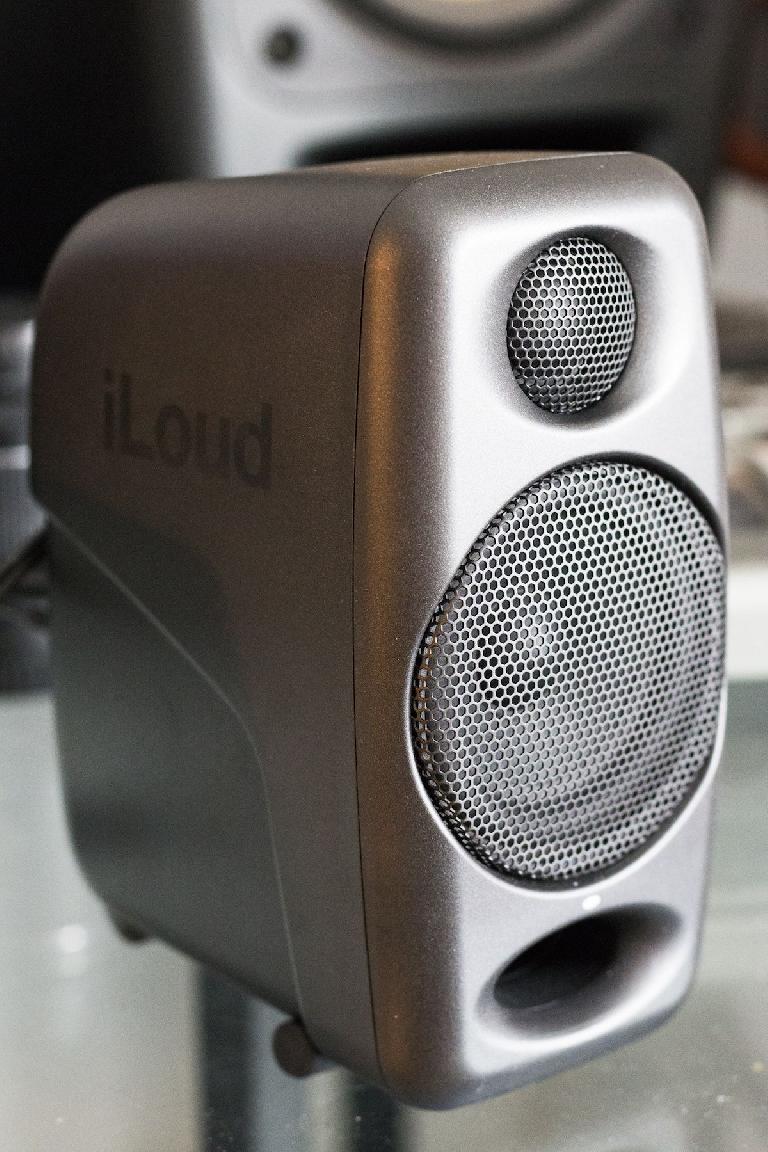 One thing that's interesting is that these are so small and portable that their positioning becomes particularly important. It's not hard to get right, but setting them up in a pyramid arrangement as suggested on the website offers the best direction of the sound. The DSP managing the crossover would seem to do its job very well, because despite the small size of the cones, the low, mid and top ends were remarkably well balanced and it's worth mentioning again how accurate and solid the bass was. I tested a wide range of music from Berlin techno through early R.E.M, dubstep, Spiritualized and intimate 1950s jazz, and the speakers dealt with them all admirably. Even at very low volume levels the balance remained correct and bass was still clear, which is one of my key tests for any speakers.
Final Thoughts
Of course the sound isn't as open as a huge pair of speakers that weigh 150 lb, but then you probably haven't got the space for those, plus you can't move them anywhere. That's not to say the Micros compromise all that much considering their tiny footprint—they put out a way bigger and more accurate sound than you would believe. You won't have difficulty monitoring or mixing on these, or using them for regular music playback, whether you are working with production, film or games. You could master on them at a push, though I have always thought of mastering as the one time you should try to use the biggest and best monitors you can find. Nonetheless, these are excellent sounding speakers and some of the most portable you will ever use.
Price: £299.99 inc VAT / $299.99 plus tax
Pros: Incredibly portable, tiny footprint. Good connectivity. Sound much bigger than they are. Very good bass, accurate EQ response overall. Modify EQ and positioning to suit your space. Remain balanced at low volumes. Ideal for mobile musicians or those short on space.
Cons: Volume knob could ideally be on front panel. No ¼ inch or XLR ins, due to space constraints.
Web: http://www.ikmultimedia.com/products/iloudmm/index.php?pp=iloudmm-info