There's no doubt that IK Multimedia are a company passionate about iOS. They have released a plethora of devices and accessories for the iPhone and iPad based musician and now they have turned their attention to the iOS DJ as well...

The DJ Rig concept
IK has really thought DJ Rig through. Essentially what the software offers is a complete DJ mixing, editing and recording environment, running completely on iOS. It can run on iPhone (3GS and up) or iPad and allows you to use your own local mp3 library.
IK Multimedia DJ Rig!
Although there are other iOS DJ tools on the market, this one is possibly the most fully featured app out there and arguably the first one that's really viable for the pro DJ. Let's take a look at a few features so you can get an idea of what DJ Rig can do.
Installation And First Impressions

Download and installation was a breeze and 100% painless, as you would expect from anything on the App Store. Once installed I was presented with an attractive splash screen, a small load screen and finally an impressively rich GUI.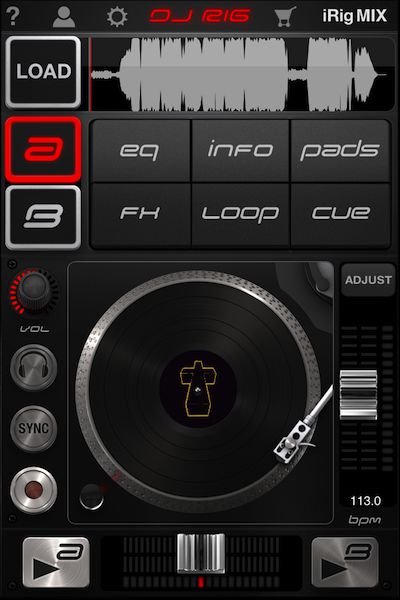 DJ Rig's GUI is certainly graphically impressive
I immediately noticed that flipping my iPhone 4S from portrait to landscape gave me either a single or dual deck view, respectively. This is a neat trick but it's worth remembering that the accessible parameters are cut down pretty heavily in the dual deck view.
I got playing straight away and found that the whole thing was amazingly intuitive. MP3s from my personal library loaded quickly and were analyzed for BPM matching purposes on the fly. The sound quality also seems to be very good, with no unwanted artifacts or degradation.
Another thing that immediately struck me during this quick test was the quality of the virtual deck. IK have gone to painstaking lengths to make DJ Rig sound authentic and both the movement and sound of the vinyl is spot on.
Although I only tested on an iPhone I would imagine that on an iPad the larger surface area would allow much more freedom to scratch and set up Cue points (which are color coded by the way!)
Due to everything working so well and the workflow being so clear I was loading up tracks and recording a rough mix almost straight away...
In The Mix
The truth is I'm much happier behind a mixing desk than a pair of decks but in the first 5 minutes of using DJ Rig I recorded my first mix. It wasn't going to win me a Grammy but I was happy with the results. It really is incredibly simple to create a convincing blend.
Bar a small glitch in the breakdown, due to a '3G-enabled' badge popping up on my screen, the whole thing went very smoothly indeed. The app did everything I asked of it and applying some filtering and delay to the second track was a breeze.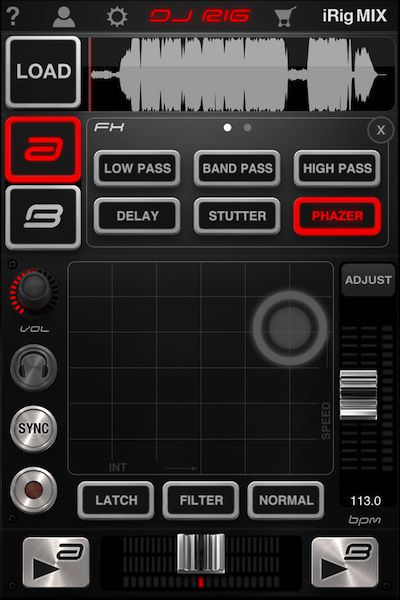 The effects section has a useful X/Y style touch screen
In this short test some of the features went unchecked but I was really glad to see that DJ Rig has the ability to sample, play back effects and even assign its separate decks to various output modes to create cue mixes from a single stereo output.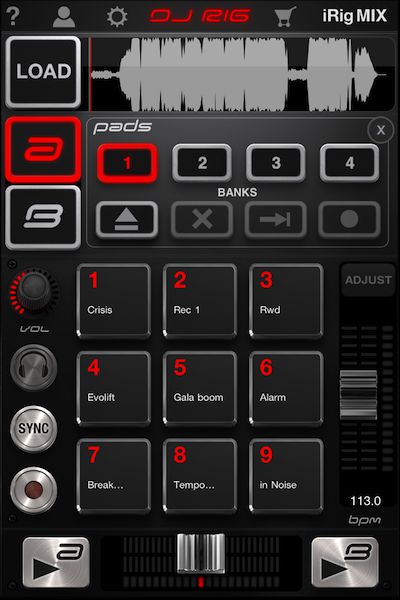 Samples can be triggered from pads
Couple all this with the fact we can expect to see a dedicated hardware mixer for the app at the end of April we may have ourselves an iOS-based digital DJ environment that's actually an option for the pros amongst us. Very nice stuff, can't wait to see more iOS goodies from the IK Multimedia crew.