As iOS devices become more powerful and iOS music making apps gain features at an astonishing rate, the demand for high quality ways to get audio into your device has risen accordingly. While many audio interface manufacturers have begun to offer iOS compatibility to their flagship interfaces, only a select few are focusing on truly mobile offerings on the level of a pro desktop device. I checked out the iRig Pro Duo from IK Multimedia and was pretty impressed with what I found.
Fit and Finish
IK didn't skimp on design with the iRig Pro Duo. This is a beautiful piece of gear in a truly compact size. The face of the iRig is a sleek, glossy black and the gain knobs are flush against the chassis. This may seem like a small detail, but remember this is designed to be portable enough to fit in your pocket or a small bag, and extended interface knobs would just be begging to be snapped off. It's only one of many thoughtful design decisions with the iRig, and it's a sign that IK really did their homework in terms of what users will be doing with this thing.
The iRig Pro Duo connects to both lightning (iOS) devices as well as USB devices such as a Mac/PC or Android device. You can even connect it to a legacy iOS device with an optional 30-pin cable. The dual XLR jacks on the iRig Pro Duo are phantom powered by batteries, significantly reducing the power draw from the connected portable device.
The Sound
I'll 'pull back the curtain' here a bit and tell you that I sought this piece out for this review. I had been looking for a long time for a truly portable audio interface that offered me XLR inputs without sacrificing portability. I've got some fantastic iOS microphones, and they're great, but when I'm doing mobile video work, sometimes I just want to capture a direct feed from a mixing board or some house mics. The iRig Pro Duo seemed to fit this bill perfectly, and my expectations were cautiously high.
I'm happy to report that the iRig Pro Duo not only met my expectations, it blasted right past them. Paired up with my iPhone, the iRig Pro Duo simply took over the mic input for any audio app I pulled up, including the built in camera! I tested it out with a Facebook Live video and it performed admirably. I was able to take a stereo direct feed from my home studio setup and broadcast at an audio quality that was significantly higher than simply using the built in mic.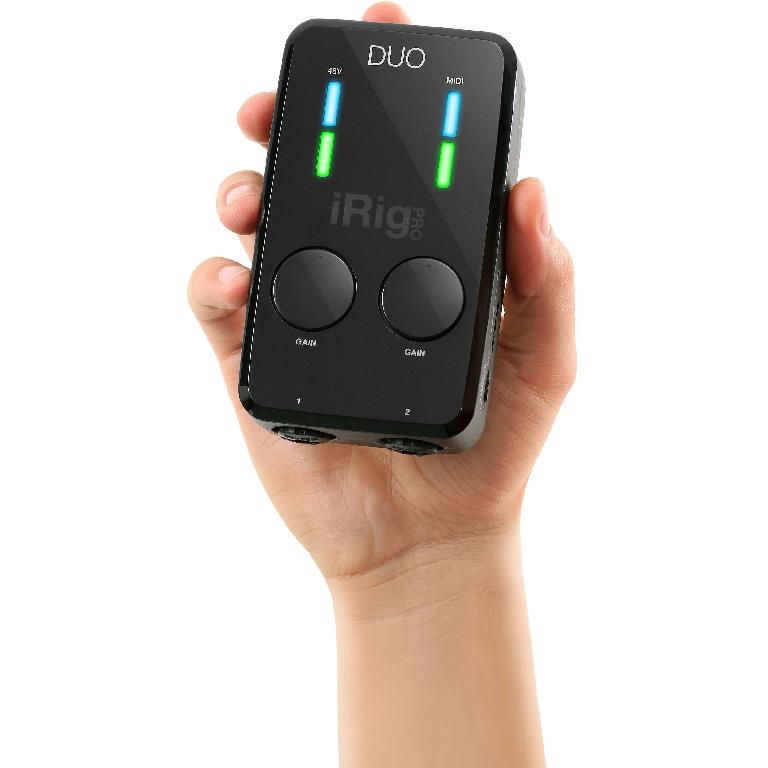 The Bonus Round
After ascertaining that the iRig would do everything I needed it to, I began to dig into some of what I considered 'bonus features'. The iRig Pro Duo includes MIDI in/out via 1/8" TRS to MIDI included in the box. This allows you to utilize your iOS device as a mobile sound module with 1/4" outputs - no more dinky 1/8" mini to 1/4" pro converts (not that you could do that anyway if you are utilizing an iPhone 7 or later… ahem).
The Conclusion
The iRig Pro Duo has a fantastically quiet audio path. It's self-powered with batteries, saving you from any significant mobile device battery impact. It gives you dual 1/4" balanced and noise free outputs. MIDI input and output, individual input gain, and a truly mobile physical design. All this and it's at a pretty reasonable price point. What more could a mobile musician want?
Price: $199
Pros: Beautiful and thoughtful design. MIDI in/out. Super quiet pres. Self-powered. Dead simple to use.
Cons: Lightning / device cables have a proprietary connector - don't lose 'em!