There's no doubt that there are a lot of DJ tools out there, at this point in time. Not only are there several different forms of software for computers and portable devices, but there are many, many hardware devices that seek to take the place of the classic configuration with a couple of turntables and a DJ mixer.
Replacing the classic configuration has not been an easy task for manufacturers trying to bring new technology into a school that prides itself on nostalgia.
Numark, one of the classic names in DJ hardware, has recently released the iDJ Pro, a new device that seeks to bring the classic DJ setup to a whole new level as a controller for the popular app, djay, by Algoriddim.
How did they do? Let's take a look.
Pulling it Out of the Box
First off, the build quality is excellent. The buttons, pots and faders feel nice and firmly embedded in the sleek, black matte finish over aluminum. Far from the flimsy, 'sneeze and it might fall off' pieces of gear that I've been greeted to in the past. Keep in mind, I'd still treat it with care! If you're playing out a lot, Numark makes a case for it, and I'd highly recommend it. With care and love, it seems like this controller will hold up for quite some time.

Pushing in the iPad
When I finally got the wall wart plugged in that came with the iDJ Pro, it came time to open the back enclosure and plug my iPad in, pre-installed with djay, from Algoriddim. With the djay app running, my iPad instantly stated 'Numark' on the screen, and then reset itself with the way it should look, from horizontal to vertical. At this point, everything was in working order.
One thing I should mention is that there's a velvety, fabric material that houses the inside enclosure for your iPad. This is wonderful, and it's got enough cushion to keep your iPad from being jostled around, and protects it well from scratches when you insert your iPad. Very thoughtful work on this. It should also be mentioned that there are 4 velcro strips meant to facilitate the different widths of the different iPads out there. I have an iPad 1, and found out quickly to remove the strips altogether, as it wouldn't fit while they are in.
Djaying with iDJ Pro
With everything in order, I spent quite some time working with the loop features, crossfading, testing the big, aluminum volume knobs, and effects. I'm pleased to report that this device does everything, and more than I would've imagined. There was no extra setup involved, everything worked flawlessly. I had expected there to be some sluggishness from my older iPad, but this wasn't the case. The performance between the iDJ Pro and the iPad was really amazing to behold and over a few hours, it began to seem like they had become one piece of hardware. Even the filter knobs worked perfectly going from Hi-pass to Lo-pass.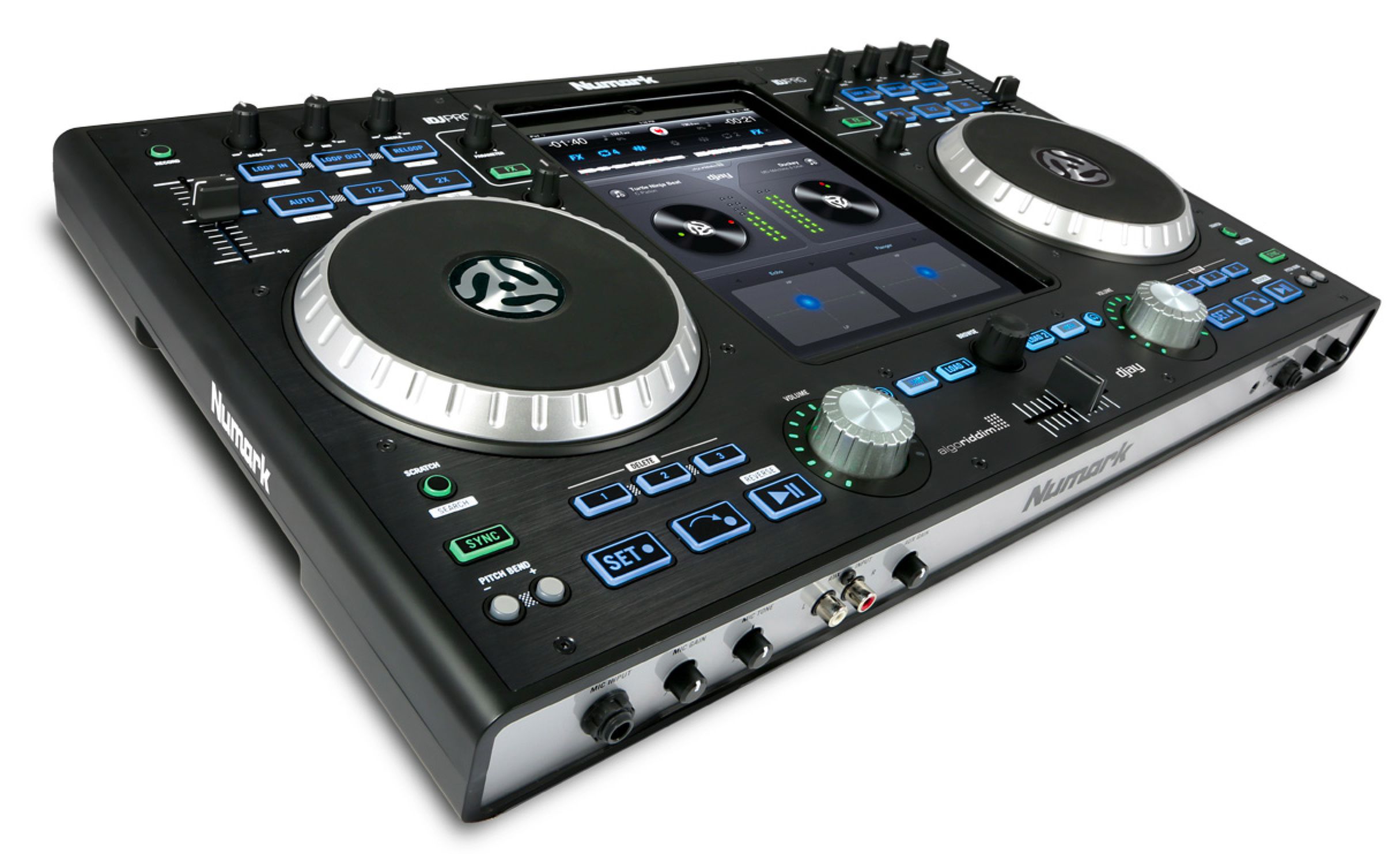 Conclusion
I really, really looked for some flaws with this device, and probably the only thing I could really say in closing is that the crossfade knob on the bottom of my unit seemed a little looser than the rest of the faders. But, at the same time, it was still very responsive and showed no signs of coming totally loose.
At the end of the day, this is a very, very cool device that could easily rock any club that you drag it into, drop some jaws, and maintain control the whole night through. Numark definitely did their homework when building the iDJ Pro.
Visit Numark to learn more about iDJ Pro.