As a musician who relies heavily on iOS devices, I was very excited to have the iConnectAUDIO2+ in my hands for a review. I had a little bit of time to preview the device at NAMM, but the passing glance and hectic atmosphere is no substitute for some hands-on music creation in the comfort of my home studio. Here's what I thought of the latest from iConnectivity!
The Build
The iConnectAUDIO2+ is similar in build to its older sibling, the iConnectAUDIO4+. If you're familiar at all with the line, you know this is a good thing. The iCa2 (my new nickname for it, you're welcome) is absolutely built like a tank. The good folks at iConnectivity know that if you're using this device, you're likely taking it out on the road and they've built it to last.
The capacitive touch display is highly responsive, and the main knob is solid and easy to rotate.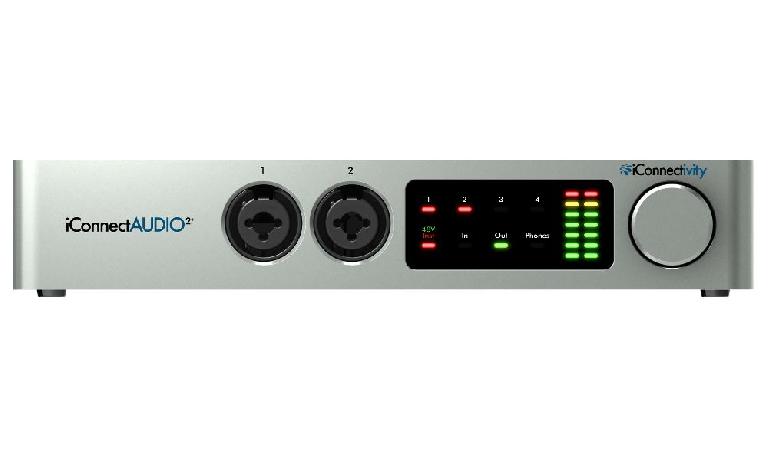 There are 2 XLR combo input jacks on the front of the device, and 4 1/4" analog outputs on the rear. You've got MIDI in and out, as well as a dedicated 1/4" headphone jack. In terms of digital connectivity, you have access to 3 USB ports that are configured in various ways to allow for connection of 2 computers and 1 mobile device. That's where the iCa2 shines, they don't call their company 'iconnectivity' for nothing!
Connections
The iConnectAUDIO2+ is an audio control freak's fantasy come true. You can literally route anything to just about anywhere. With the ability to simultaneously connect 2 computers or a computer and an iOS device, you can now use iOS devices and other computers as virtual instruments or inputs in your DAW of choice. Want to use your favorite iOS app like GeoShred and have the output go directly to Logic through the iCa2? No problem. Want to record with your favorite condenser mic into your iPad and monitor without latency in your headphones? Piece of cake. Want to connect a MIDI controller to your iPad and use a Moog app and have the sound come out of sturdy, reliable 1/4" jacks? Done.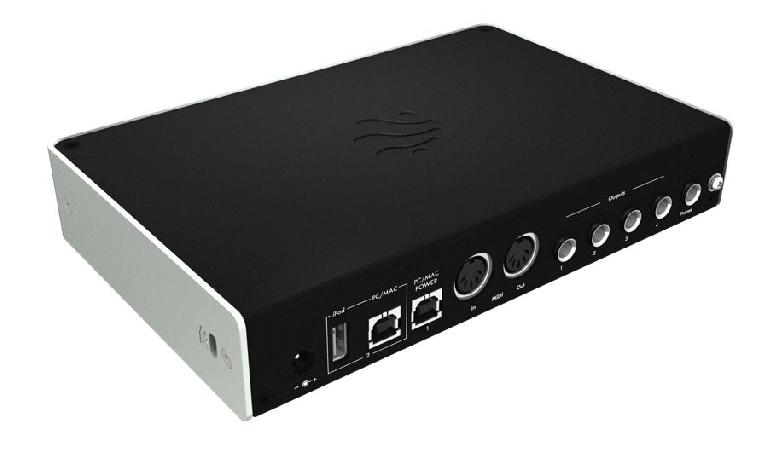 Get on the Bus
For me, the flagship feature of the new iCa2 is the bus powered option. One of the USB ports on the rear of the iCa2 is now bus powered, and you can now use a high-quality audio interface with XLR and 1/4" ins and outs right from your computer with a single USB cable. This makes the iConnectAUDIO2+ the ultimate portable audio interface and routing hub. Compared to the iCa4, I was more than happy to trade 2 XLR inputs (especially since I seldom used more than one on the go) for the bus powered option. Laptop in the bag, iPad in the bag, iCa2 in the bag, and I'm out the door. I couldn't possibly be more content.
Conclusion
I loved the iConnectAUDIO4+, so it was really no big surprise to me that I loved the iConnectAUDIO2+. Taking one of my favorite audio interfaces and making it even more convenient with bus power was a no brainer. If you use apps like Bias, GeoShred, Animoog, Moog Model 15, GarageBand, Cubasis, or Auria, you owe it to yourself to pick up an iCa2. It's affordable, built to last, sounds great, and extremely convenient.
Price: $249
Pros: Bus powered for computers, charges an iOS device when plugged in, connect iOS devices to your computer directly, rugged and reliable way to get pro audio in and out of your iOS device, extremely configurable.
Cons: The routing software can be a bit tricky at first, but the sheer possibilities of where you can route audio to offset this. Once you learn how to use the iCa2, this thing is a BEAST.
Web: http://www.iconnectivity.com/products/audio/iConnectAUDIO2plus