The DPA d:facto II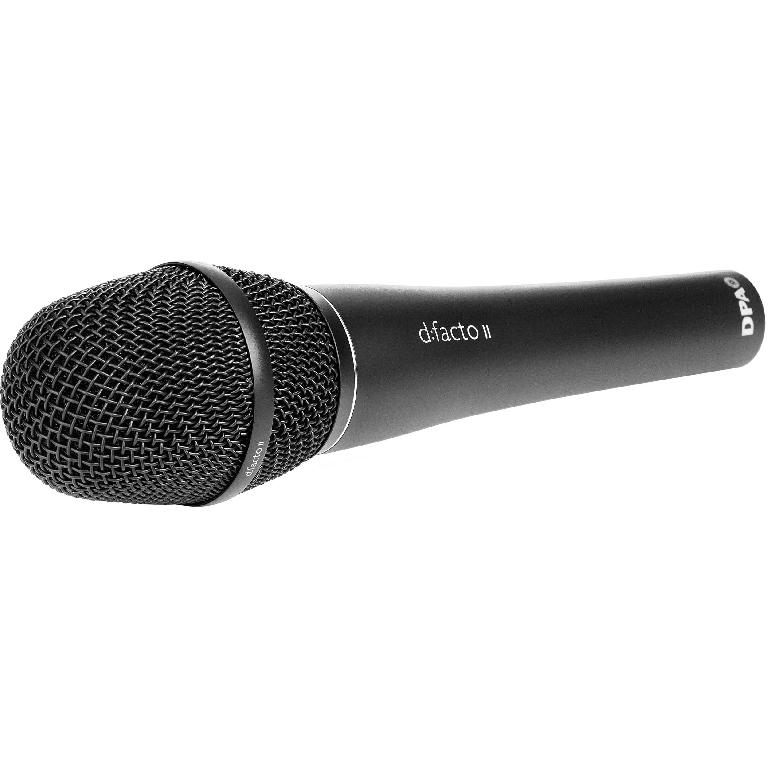 I had the pleasure of reviewing the d:facto 2 a little while ago. I used it on a live video shoot and couldn't have been happier with its performance. The d:facto can handle an incredible 160 dB of SPL. This is key for me, as the last thing you need when recording a band is for the vocal microphone to peak… ugh! I found the response to be quite linear, with no unwanted coloring happening in any area whatsoever.
One of the unique features of the d:facto system that you can utilize it both as a wireless system AND as a wired system. Essentially, you can take the capsule portion of the microphone and attache it to a number of popular professional wireless transmitters. This allows you to take a wireless handheld microphone that might have a frequency response you're unhappy with and turn it into a studio-quality powerhouse!
In my testing I found the d:facto to pair up perfectly with my Shure ULX wireless system. I'm a big fan of the Shure wireless units, as they tend to be rock-solid in terms of transmitting and avoiding interference. Pairing up the DPA with the Shure system gave me a wireless microphone that sounded like a studio condenser and I couldn't have been happier with the result. Then, when the gig is over, you can simply attach the capsule back to its handheld base and have your high-quality wired vocal mic back! It's truly the best of both worlds.
The Shure GLX-D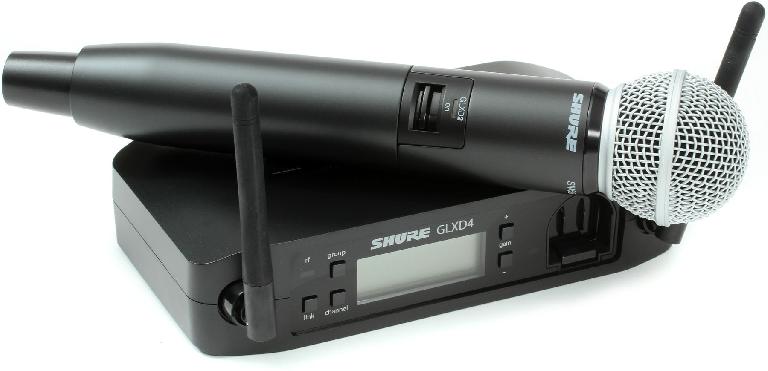 I have been a long time user of Shure wireless systems in my performance setup. From the PSM in ear monitors to both SLX and ULX wireless mic systems, my Shure gear has yet to let me down. I actually own a tiny 'fleet' of ULX Beta 87a mics (6 of them!) that I use for live performance with bands and I've never felt the need to look at anything else. That is, until the GLX-D series was announced…
The GLX-D mics are simply fantastic. I had the pleasure of using a bunch of them recently recording a music video for a band playing at a live event. We had to tackle the live audio as well as the video, and the band came in with 4 GLX Beta 58 mics. The first thing that stood out to me was that the GLX has its own swappable rechargeable battery that lasts for 16 hours at a full charge. You read that right. You can get 16 hours of use out of this wireless microphone, enabling you to turn them on at sound check and just leave them on the entire time through the end of the gig. No more worrying about if a mic is 'on' or not.
But wait, there's more! The batteries can even be charged by connecting the microphone right to the receiver base. There's an optional battery dock, or you can simply plug the mic into a standard USB port. With only 15 minutes of charging time, you can grab 90 minutes of use. Even if you forget to charge them before the gig, plug 'em in right after sound check and you're good to go. It's pretty unreal. I can't believe they packed this much into a sub-$500 system.
The mics themselves sound great, too. The look can be customized in the Shure Design Studio to give you a cool aesthetic, and of course you can swap in your aforementioned d:facto capsule to get rock solid wireless with recording studio quality sound.
The Sennheiser EW D1-835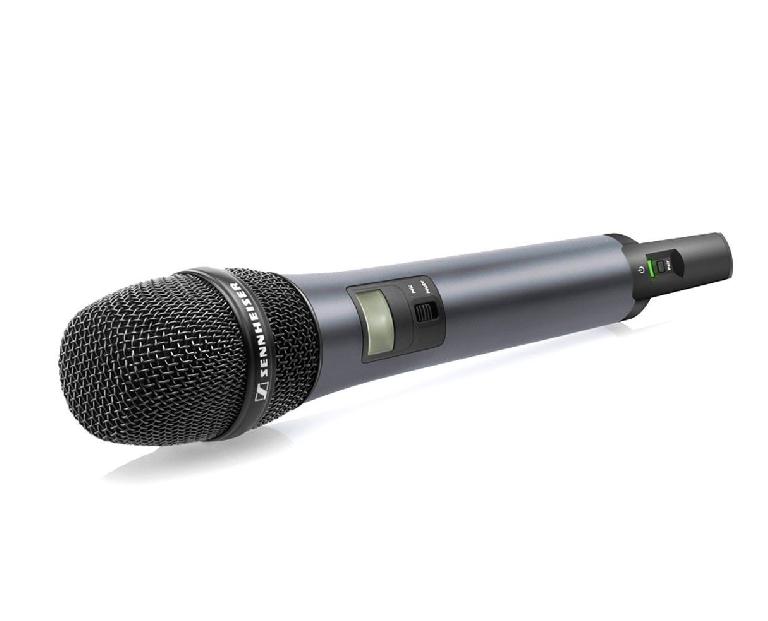 It's nearly impossible to go into a theater in the US without encountering a Sennheiser wireless system. They have quite the lock on wireless lavalier systems for plays, musicals, and the like. Many theaters will also augment the lavs with Sennheiser handhelds that work with the same receivers. I've encountered just about every model of Sennheiser wireless mic in my travels and my favorite has got to be the newly introduced EW D1 series.
The D1 series is absolutely crystal clear, as I've come to expect from a Sennheiser system. One of the things I find unique about the D1 is that you can pair it with a huge suite of capsules directly from Sennheiser that are specifically tuned to certain sources. From the e835 to the e965 you'll get extended presence, detailed nuance, high SPL, more sensitivity… the list just goes on. There are many options to choose from when configuring your system, and it behooves you to choose carefully. The D1 is a really subtle system which truly allows you to tailor your wireless to exactly the type of source you'll be using.
The scanning and pairing of the system is incredibly simple, with most functions taken care of automatically with the touch of a button. Sennheiser also includes an iOS app, though, which really takes the hassle out of managing frequencies and such. It's quite a forward thinking system.
The Sony UWP-D16/30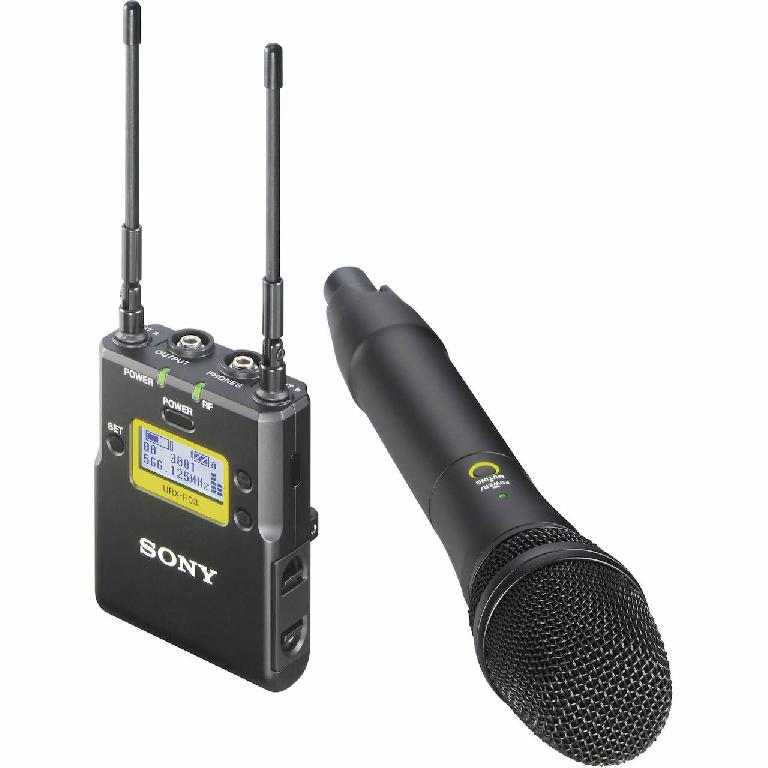 The Sony UWPD system is a bit of an 'outside the box' inclusion for this article, but I thought it important enough to include. The UWPD system is perfect for DSLR and mobile video shooters, as it has a camera 'hot shoe' mount for its receiver. If you're shooting live video, you can now easily utilize a wireless mic as your audio source without having to bring a mixer, conversion cables, plugin power, and all the other gear required for a wireless system to work.
One of the coolest features of this system, is that it includes a handheld adapter that works with a standard XLR microphone. This means you can plug in your favorite mic, even mics that require phantom power, and turn it into a wireless!
The Sony lav itself has become a bit of a standard amongst the film/movie industry. You can find a few ECM lavs on almost any modern movie set. The great thing about this system is that you can switch from a lav to a handheld mic instantly, and you can utilize just about any mic in your cabinet and make it wireless!
Wrapping it Up
There has never been a better time to upgrade to a new wireless system, and the variety of choices out there is only benefitting us, the consumers! Batteries are lasting longer, receivers are resisting more interference, and configuration/setup time has been reduced to almost nil. There are many fine choices out there for your wireless needs, but these 4 companies are really paving the way for a variety of applications!