It seems like Kontakt libraries are getting more and more competitive, every day. This isn't just regarding sounds either. GUIs are getting deeper, more animated, more exciting. However, I haven't seen any library that visually, and audibly comes close to Vocalise from Heavyocity. In this review, I'd like to tell you why Vocalise is a Kontakt library you do not want to miss.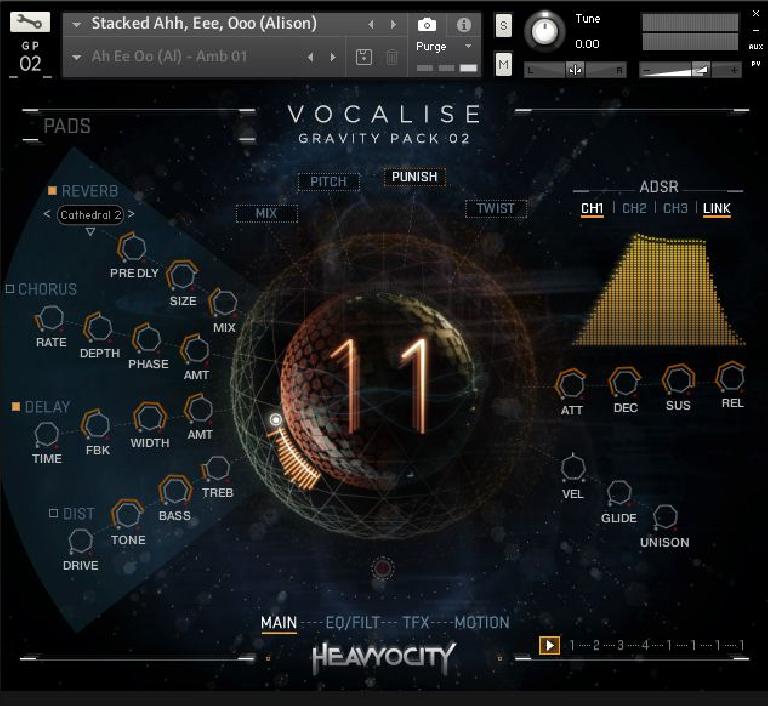 Love Me Some Choirs
I'll admit that I am a bit of a choir fanatic. A Roland Super Jupiter introduced me to the concept of synthesized vocals at a very early age. I've been zealously adding choir patches of all forms to my library ever since. At first, I got a little nervous when I heard about Vocalise as I've been bitten by grand choir collections that never really deliver. In fact, I have seen very few of them deliver.
Vocalise is something different. I found this out very quickly after the almost seamless installation that I never really sat there for. Seriously, you just download the Connect installer, type in your Auth code, and then the installation pretty much takes care of itself. Minus—having to point Kontakt to the install directory.
After booting up my DAW, and then getting Vocalise fully functional, visually, I was stunned. Moving, animated waveforms wind between knobs and act as the gravitational center for an audio galaxy that continually expands before your eyes and ears. And what's crazy is there are more than a few pages with this instrument, and they all animate.
Tools for the Trade
Vocalise as a library is made up of 4 GB of uncompressed audio, featuring vocalists like Siobhan Magnus, of American Idol Season 9. In addition to Complex Pads, 120 Single Pads, 16 Sustained and Moving Vowel Pads, and 16 Performance Palettes. But we can't just limit it to patches.
Part of what separates Vocalise would be the unbelievable amount of modulation that can take place through the Motion and Tilt Pages. Through an octave put aside by the developer, key mappings allow an incredible amount of performance options which really do induce massive changes. For example: Just on one of the stacked choir patches, I can trigger C7, B6 and A#6 and suddenly the Motion sequencers on the Motion page come alive modulating not only volume, but also pan and pitch, if I so desire. The choir is suddenly part of my rhythm department now, because I've got gating going on, and movement.
Over in the Trigger FX page, you can not only see which keys trigger which functions, which consist of Distortion, Lo-Fi, Filter, Panner, and Delay. Each effect channel can be individually triggered via MIDI notes. And each channel also gives you additional access to step sequencers so that each channel can be further modulated in some very exciting and creative ways.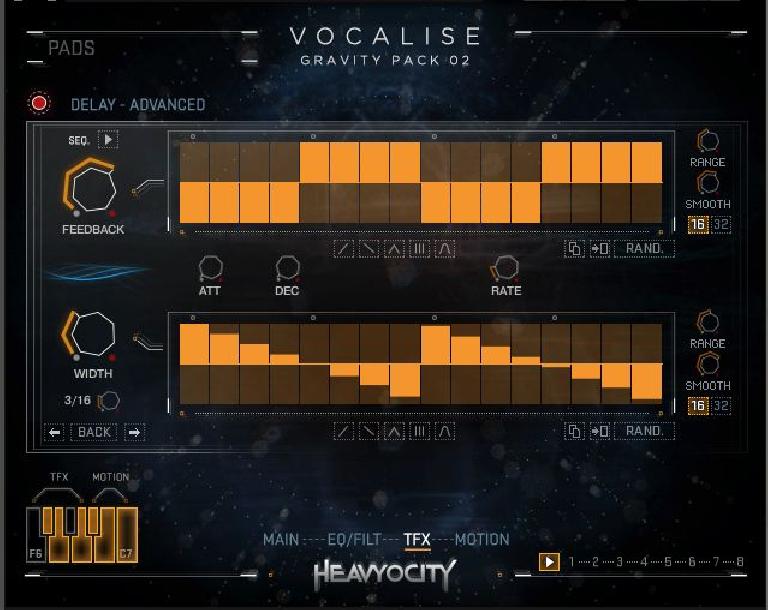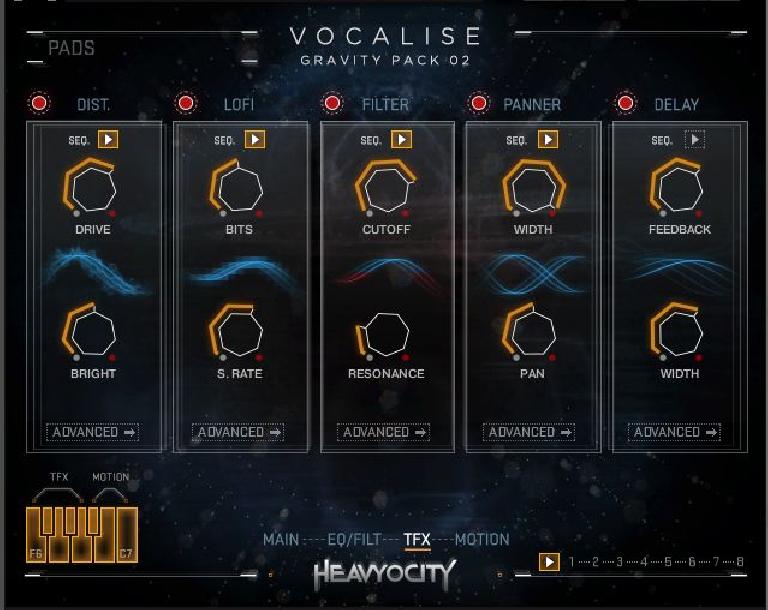 Game Away
While all of this might sound a little complicated, I'd like to deeply express how intuitive this whole, graphical workflow really is. Everything that you'd think to pull another effect plug-in for, or complicated effects chains that you might normally use to create some of the scenes that can take place here, are easily had through either a key press, or some minor step sequencer patterns of your own. But what I thought was really fascinating was the huge amount of patterns that are available for each step sequencer. No big deal.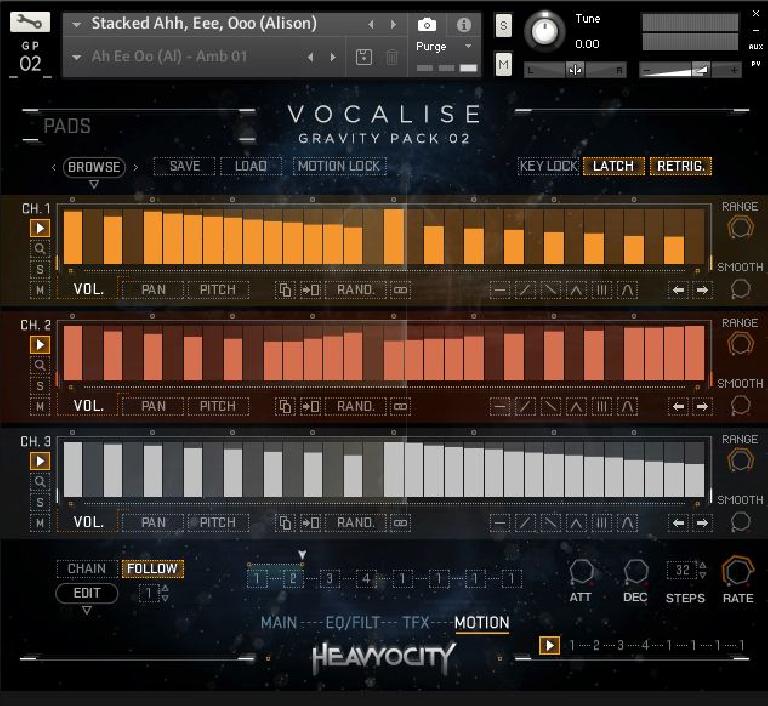 A part of my frustration with some of the Kontakt pattern sequencer utilizations by third-party developers would be that the routings are there, and the capability is in place, but there's hardly any example, or just generic patterns that come in very handy for film, TV or game composition for creating adding mood and tension, and rhythm into a voice. Vocalise feels like you've got an engineer with you, who already made little diagrams of how things work. You can just sit back and conduct. And, when you need to add a few tweaks of your own in, the notes are there, just in case you get lost. But patterns don't really begin to cover this sequencer. You can chain patterns, you can program when and how long specific patterns will play. And you get up to 32 steps per pattern. And much more! Vocalise is a monster.
I was also very impressed with the EQ section, which lets you tailor the output of your choir. It might seem like a gimme type thing, but the little bit of polish and care really put this package over the edge for me.
Money Shot
The Complex Pads are amazing. And while they are gorgeous to listen to, they are also neutral enough, or can be neutral enough, with some easy tweaks to keep things epic, but keep things in epic proportions, if you get my drift.
The Performance Palettes are a ton of fun, and I think these will blow over well with bedroom musicians who really like having some great vocal licks, especially female oohs, and ahhs, but do not really care for working with other people. Trance, EDM, House, Goth, EBM, and Industrial cats will all be down for these. Especially with custom effects like Punish. This knob in particular controls saturation and compression effects simultaneously, giving you a nice blend of hard and soft with your little voices. As well as the Twist knob that is animated both in sound and in visuals, if you decide to enable its quick, animation controls.
Conclusion
Vocalise is amazing in the sense that it is a tweaker's instrument, but it's designed for anyone to tweak. You do not need to be a gearhead to make it work. The workflow is extremely straightforward. And, every time you think that you've finally found something it does not have in terms of modulation, or even an internal effect, you'll often find later that it does have that effect, parameter, or routing.
And, in terms of whether or not this package really will help a budding composer, I would emphatically say yes. Even sound designers will enjoy this, as female vocal blurbs are great for horror games, as well.
Price: An amazing $100
Pros: Powerful Kontakt based instrument that gives you some incredible sampled choirs and gives you the means to manipulate the hell out of them. Suitable for many kinds of performers.
Cons: 4 Gigabyte download, if you consider that a con.