I made it no secret that I was a big fan of Heavyocity's Gravity. We reviewed it here on AskAudio when it first came out and I was quite impressed by the balance that Heavyocity struck with quick access to preprogramed loops and playable patches. Often, in a cinematic library, you have to settle for one or the other. Heavyocity Scoring Guitars is proof that you don't have to compromise, and if you're looking for a tool that will help you build film cues quickly, this is a great one to have in your arsenal.
Phrases and Pads and Palettes… oh my!
There are quite a few ways you can make sound with this Gravity pack. With the guitar as the starting point in the sample category, Heavyocity has developed an extremely large library of both clean and heavily processed sounds. The guitar sound can range from 'lovingly sampled' to 'seemingly unrecognizable' and that's a good thing.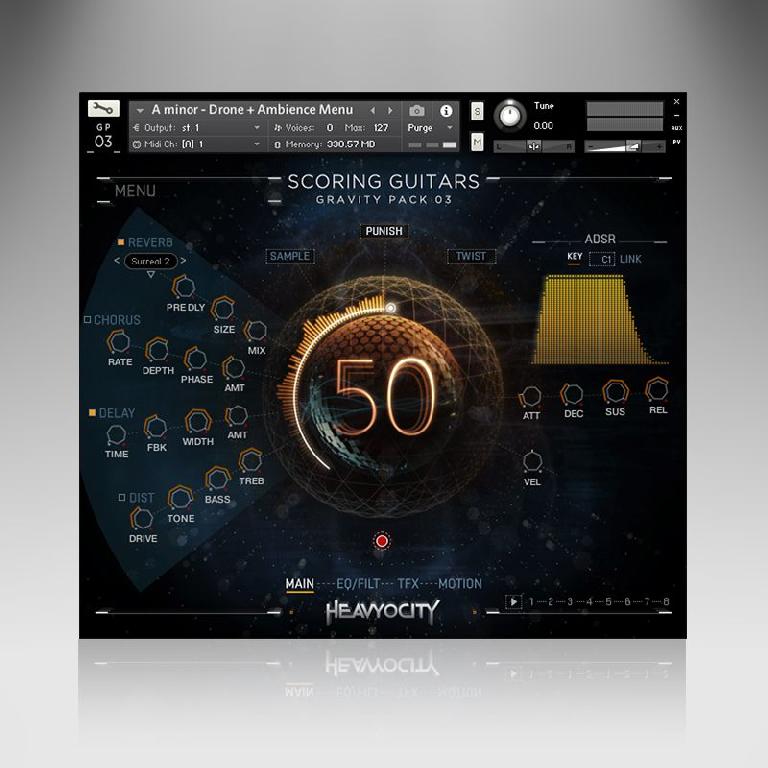 With the 'Performance Palettes' and 'Melodic Pulses/Phrases' categories you can instantly call up phrases and sounds that will make your compositions sound like you hired a slick session guitarist. They're realistic, contain great effects, and the power of the Gravity engine allows you to customize them to match the vibe of your track. You can add ethereal reverbs, funky filters, distortion, panning and even trigger said effects with keyswitches. You get the same sonic control that you're used to with Gravity, but with some really fantastic source material with the guitar.
Because I'm such a control freak, I have a hard time investing emotionally in any library that is strictly made up of loops or phrases. That's why I'm always pleased when I see a library that contains both preprogramed phrases and playable instrument patches to augment the preprogramed content. Scoring Guitars comes with a great selection of pads that range from rich and harmonic to twisted and terrifying. This is great because I typically like to be able to augment the looped content with my own melodic ideas from the same engine or library. In the words of 'the dude', it really ties the room together.
But Wait, There's More
One little trick I was fond of was Heavyocity including reversed versions of all of the phrases in the various melodic pulses libraries. It was a nice touch that added another layer of diversity on top of an already strong library. Love the guitar sound and effects but the phrase is a little too 'on the nose' for you? Simply load up the (rev) version of the same patch you are using, hit the same trigger note, and you'll hear the same exact riff… but in reverse. It's trippy, ambient, and I love it.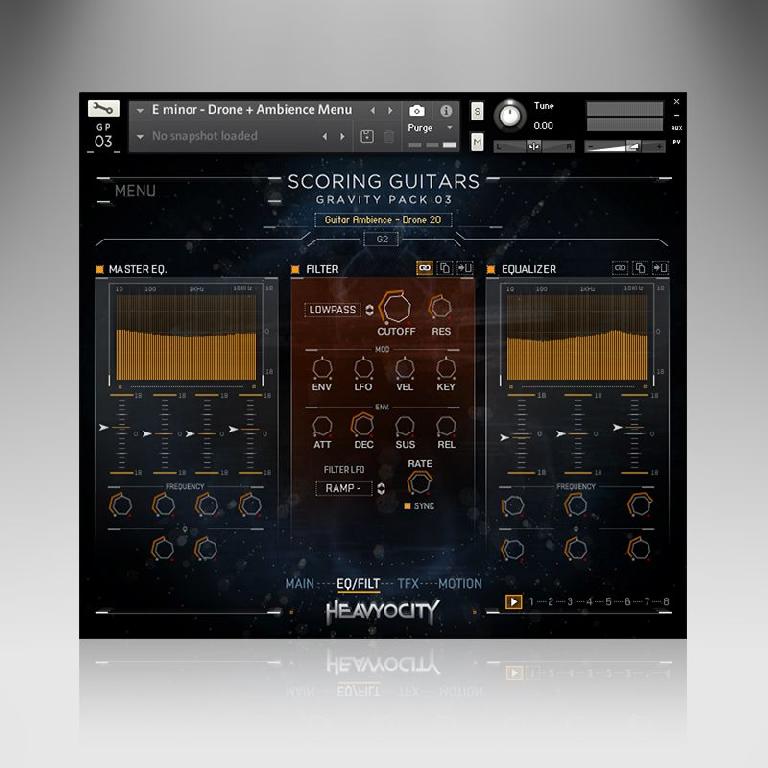 All of the melodic phrases are in minor keys. You can often transpose the root note easily using keyswitches, and I suppose the minor key choice is by design. This is an ambient scoring library, and the phrases reflect that. Still, I would welcome a few major key choices in addition to what's there… maybe in version 2!
Conclusion
Once again, Heavyocity has released a tool to get you from A to B in the film scoring world more quickly and efficiently. Whether it's because the sound you need is already tweaked to perfection or because you were a tad low on inspiration and playing around with SG fired you up creatively, you'll be happy with the results you get from this instrument.
Price: $79
Pros: Diverse presets, Excellent use of the Gravity engine, meticulous samples, interesting phrases, great control of phrases and effects, excellent use of keyswitches.
Cons: All melodic phrases are minor or ambiguous.