In the time since Heavyocity released the Gravity engine for Kontakt, they've developed quite the large suite of 'packs' that stand alone but utilize the user interface and setup of Gravity. Scoring Bass is their latest offering, and probably one of most surprising feats that the venerated instrument maker has been able to pull off.
The Lowdown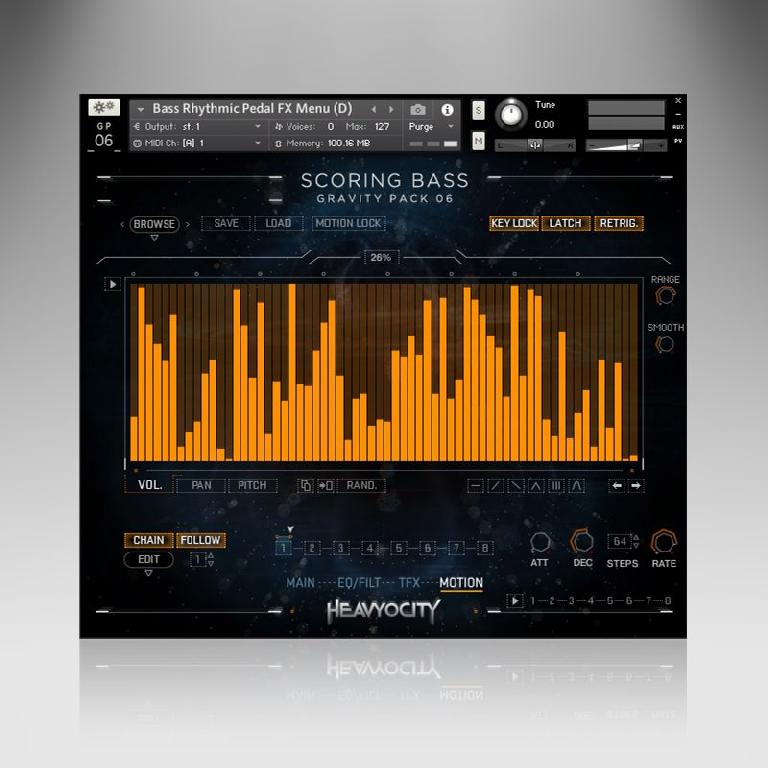 Scoring Bass is powered by Kontakt, so you'll need the Kontakt 6 player or later. The library itself is NKS ready with full Komplete Kontrol integration (thanks for that, Heavyocity). There is just about 4GB of sample content with well over 500 presets. These presets range from fully playable multi-sampled bass guitars to completely warped atmospheres that only faintly resemble a standard four string. The samples are packed into the Gravity engine, so your ability to twist, punish, contort, and otherwise sonically re-sculpt these sounds is vast and welcome.
The Sound Of Science
If you're not familiar with Gravity's interface, the basics are fairly evident by the knobs and such in front of you. You've got the ability to quickly tweak the sample by adjusting start point, level, pan, envelope,and basic effects. There are 2 proprietary algorithms lovingly called 'punish' and 'twist' that will allow you to really shape and drive the sound from subtle to… er… NOT subtle effect. There is also an extensive motion engine that allows you to modulate quickly and with an impressive amount of steps.
To start, I loaded up the basic 'playable' bass sounds. These are the fundamental samples that don't have most of the Gravity engine twisting and warping things. I called up the Warwick model and played a few notes.

Warwick bass
It sounded fine, and at first I had forgotten who I was dealing with here in terms of sound designers. I started to think, "This is nice, but I've got plenty of bass instruments already" until I dived a little deeper into the sub categories and picked a sound with some motion.
Motion pad
Now THAT'S the stuff! This instrument was starting to sound a lot more than a simple bass guitar. I started to think, there's so much sonic possibility with a guitar, but how much diversity can they really get out of a bass? That's when I opened up the 'element menu' and played a few notes.
Element menu
This patch had an entire keyboard's worth of different attacks and playing styles, and you use the left hand lower octave to choose the notes you're playing. It was wild. The amount of creativity and sound design options in a single patch was just staggering. Inspired, I kept on moving and checked out what happened when I engaged some of the purple colored notes at the top of the keyboard (stereo speakers are the best option here)
Twisted panning
The purple notes at the top engaged a variety of momentary effects that you can activate mid-phrase if you want. The one I chose engaged an auto-panner, but there were a bunch to pick from! Finally, I found my way into the rhythmic element category and stumbled on a patch that really got me excited:
Rhythm Pattern
s
It became very clear that this instrument had a lot of potential to inspire entire compositions. Scoring Bass is the type of library that makes you want to score out an entire song just to feature the bass during a break in the action.
Conclusion
I really enjoyed Scoring Bass, and it truly is the perfect companion for the Scoring Guitars library. Locking in the rhythmic elements of these 2 libraries creates some real magic, and the instrument is conservatively priced. If you're looking to turn heads with your compositions using some low end power, look no further.