If there is one thing I can take away from my week-long testing of Ensemble Drums it's this—you don't know what 'big drums' are until you've heard these. Take the biggest drum you can think of, hit it with a sledgehammer and pitch it down an octave. Now you're just scratching the surface of the kind of power Heavyocity is giving us with Ensemble Drums.
Go Big or Go Home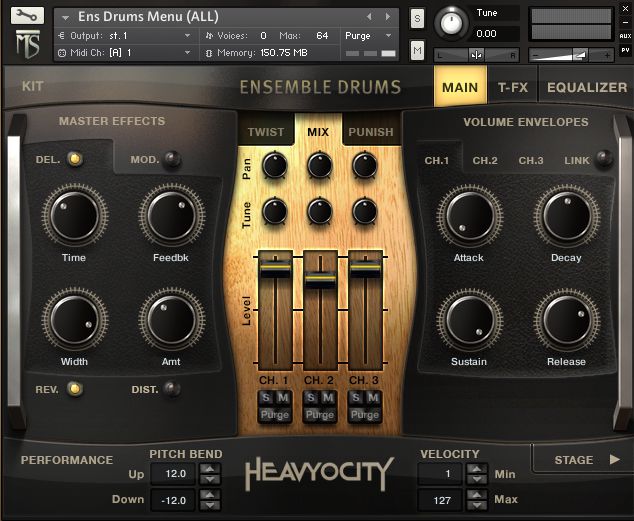 Even the knobs and sliders are big!
Master Sessions is a line of instrument-specific tools that are geared towards composers and sound designers. The entire line runs inside of the Kontakt engine (note: you will need the full version of Kontakt in order to run Ensemble Drums) and Heavyocity has included both individual instruments and multis for you to use.
From the minute you load up the interface, it becomes apparent that Heavyocity is thinking big. Even the interface has knobs and sliders that are just huge. I loaded up the first multi I could find and immediately woke up the neighbors. These drums are just… epic. Think huge, tribal sounds that you would hear in the chase scene of an Indiana Jones movie that was part of a thrill ride at Disney World.
A Plethora of Options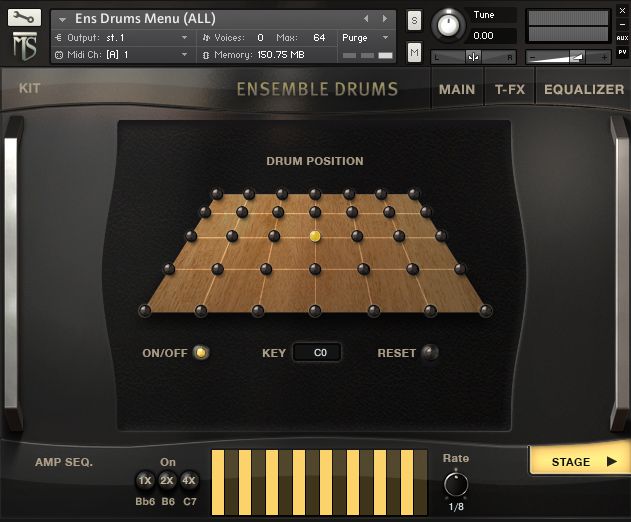 Stage allows you to place your drums ANYWHERE in the stereo field.
There are a bunch of tools provided for tweaking the drums themselves as well as the placement of them in comparison to each other. You can twist, mix and punish (all actual interface terms) your drums to your heart's content. The sonic possibilities before you even get to the FX engine are just staggering. Adjustments to the volume envelopes, pitch, tuning and pan can all be made with ease. Add to that Heavyocity's 'secret sauce' of the twist/punish buttons and you can truly filter and distort these pristine sounds to be completely unrecognizable as drums.
The FX Engine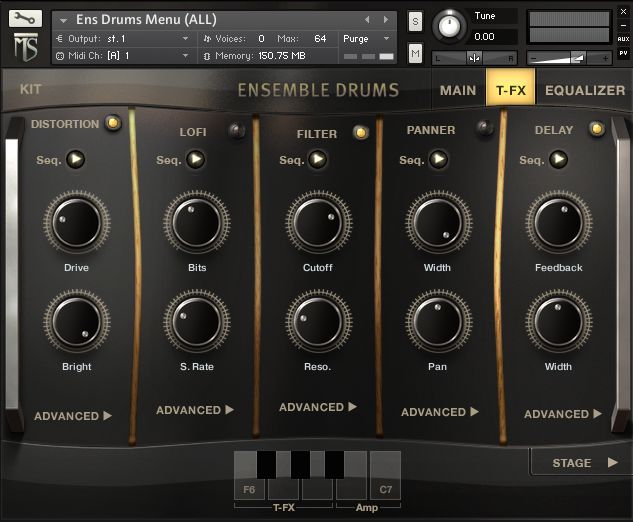 In addition to the custom sound 'warping' options, there is a whole host of traditional effects as well.
The FX engine is located in the upper right area of the instrument and is easy to find. The distortion, lo-fi, filter, panner and delay effects are all highly customizable. Not only can you add in a bunch of cool effects, but you can automate their parameters with a 32-step sequencer. This helps to really make the drum effects evolve over time and keeps your driving, tribal rhythms interesting.
Loops for Days
In addition to the solo instruments and multis, Heavyocity has provided an insane amount of loops. The loops are conveniently mapped to keys as .nki instruments and it's easy to find the groove you're looking for. Just load up an .nki like 'Straight 8ths Breakout' and you have access to a different pulse-pounding loop for each key on the keyboard. I was really impressed with how many there were, I kept moving up and up on my controller thinking I'd run out soon and was pleasantly surprised to find the loops were both plentiful and diverse.
Conclusion
If you are a cinematic composer or sound designer, you can't go wrong here. Ensemble Drums can give you that HUGE tribal sound within seconds. It's easy to use, provides a lot of content, sounds great and is affordably priced. Pull the trigger on this one and make some noise!
Price: $149 for the collection / $89 for the kits or loops separately
Pros: Pristine sound quality. Custom sound shaping tools are top notch. Wonderfully configurable. Lots of ways to make big drums sound interesting.
Cons: None.