Film scoring libraries and tools are being developed in droves these days. More and more virtual instrument companies are developing smarter and more efficient programs for assisting composers and sound designers in their work. Heavyocity's latest offering attempts to put a sound designer inside your computer, wrapped up in the Kontakt engine. How does it sound? Quite well, actually!
Going Deep
Heavyocity makes the claim that Gravity is like having an entire team of sound designers at your very fingertips. I found this to be a fairly accurate claim. The sheer number of presets across all the different categories is simply staggering. Presets, for an instrument such as this, can make or break my relationship with a program. Let's be real here, this program is supposed to save me time. I want to use the presets and generally avoid having to 'tweak' too much if it's going to be of any use.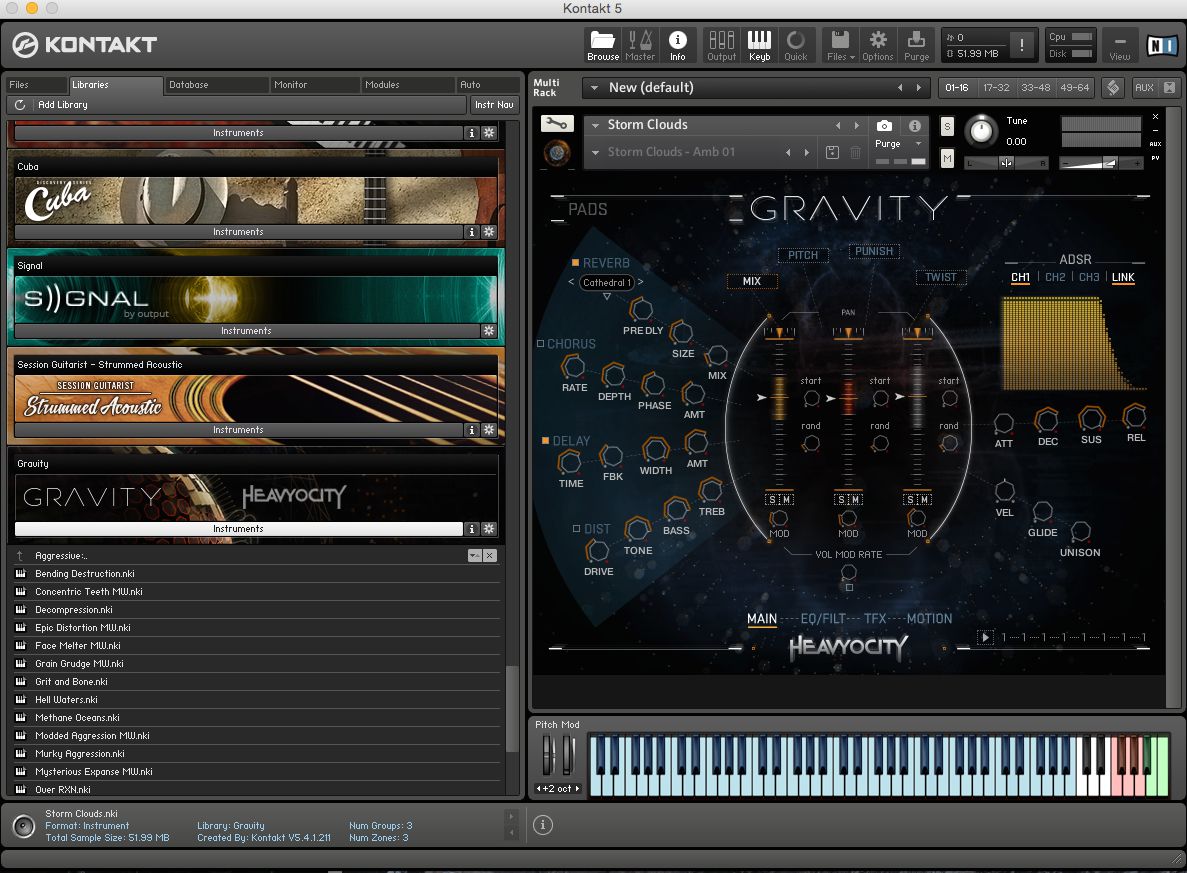 In this respect, Heavyocity nailed it. Gravity comes with a bunch of truly inspiring sounds across four major categories: Hits, Pads, Risers, and Stings. Each of these categories has sub-genres such as aggressive, ethereal, experimental… the list goes on. It makes it easy to navigate and find the sound you're looking for. Gravity is also a 'wrapped' Kontakt instrument and it works well with Komplete Kontrol once you've imported it. The keyswitches are mapped properly to the keyboard and are very useful.
While we're on the subject of keyswitches, that's something else I found really cool that we can file in the 'why don't more developers do this' category. Gravity's robust FX engine as well as the 'motion' engine are both trigger-able via keyswitches. It's a great use of the extreme upper and lower range of the keyboard which is typically un-usable for pitch on an ambient instrument such as this.
Perpetual Motion
Remember that motion engine I just mentioned? Let's go back to that. It's actually quite cool—kind of like an arpeggiator or step sequencer on steroids. You can sequence volume, pan, and pitch in a number of different stepped patterns. There's a randomization function that can harness some lovely chaos to your advantage, and the resolution of the motion engine is so fine that it has the ability to sound a lot more precise than your standard arpeggiator. You can graph out some truly wonderful swells and modulations with the motion engine. There's even 8 chain-able pattern slots to use for some really complex sequences!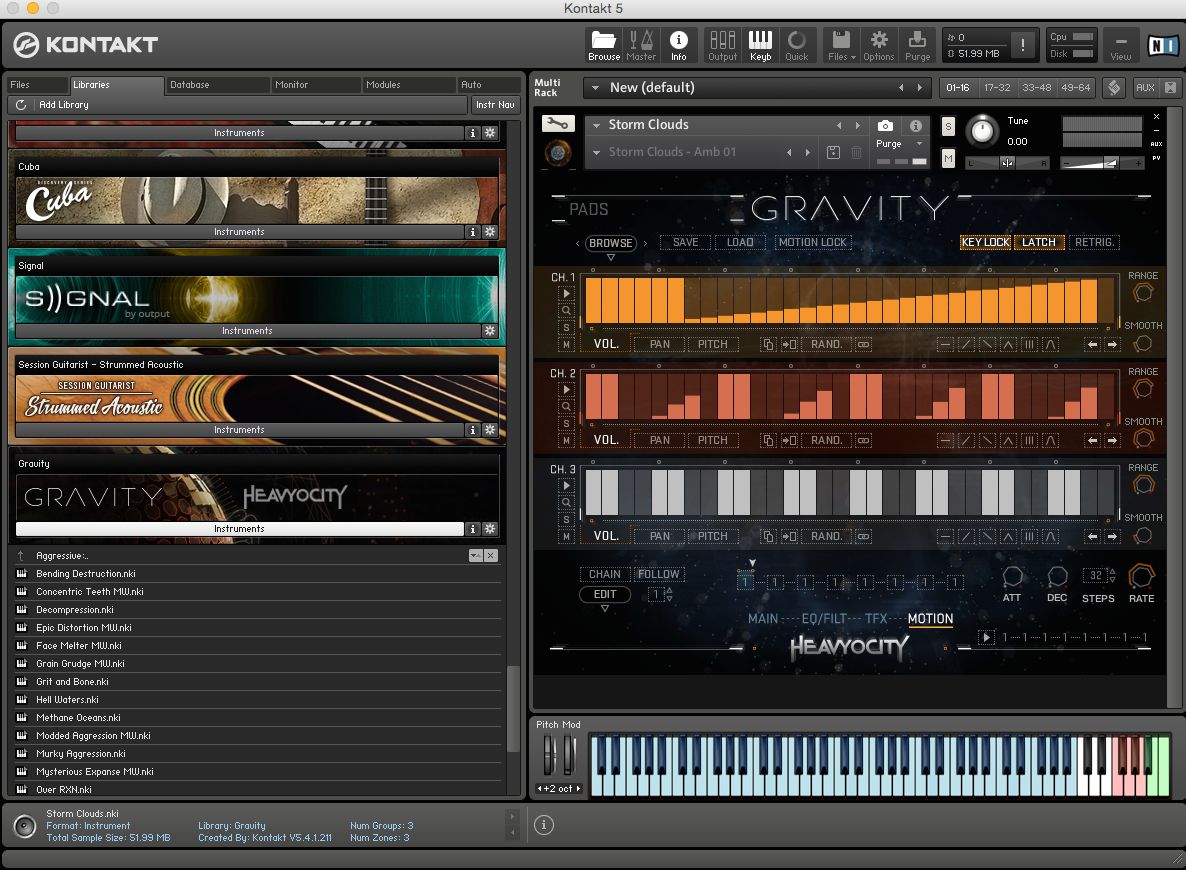 EQ, FX, and Filter
The EQ, FX, and filter engines are all quite robust. They have separate areas and the visual aesthetic somehow strikes a balance between looking really cool and actually being useful. One of my biggest criticisms of many modern plugins is this trend towards steampunk or futuristic beyond the bounds of usefulness, but Heavyocity managed to avoid that here. Actually, the EQ, as cool and futuristic as it looks, feels wonderfully musical and precise for a 3-band module. I'm guessing the internal resolution of the EQ/FX engine must be very high, because every adjustment felt extremely smooth.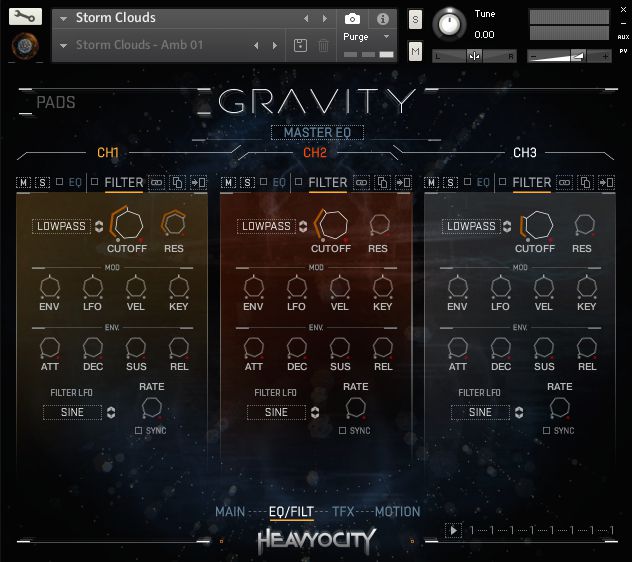 Me Likey
I found a lot to like about Gravity. More than just a collection of textures, Gravity has quite the library of musical pads, elements, rises, and stingers that will save most film composers and producers quite a lot of time. I was especially happy to see so many pitched elements that can be worked into songs rather than just sound effect beds that are fairly isolated. Gravity truly is an instrument, and a diverse one at that.
Price: ($369 at launch / $449 normal)
Pros: Diverse sound set, Smooth controls. Quality EQ and effects. Robust and unique motion engine. Well-organized presets.
Cons: Maybe a little too organized, there are quite a lot of sub-folders in the presets menu!
Web: www.heavyocity.com
(in the UK? Get it from Time & Space)