I think everybody is by now familiar with the kind of thing Heavyocity do. I also think that everybody knows what kind of standard to expect from a Heavyocity release. So with this in mind I'm just going to dive right in and tell you all about DM-307. I mean let's face it, we know it's going to sound awesome already...

Overview
DM-307 is a new advanced drum library and 'Modern Groove Designer' for Kontakt. The 8 GB library consists of two main parts: Kits and Loops. There's some familiar interface elements from Damage and Aeon and also some cool new features too.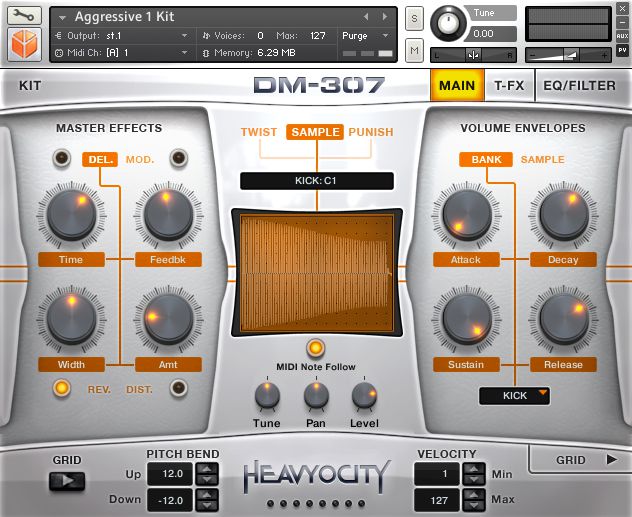 The library content covers a wide range of electronic and processed drum sounds, FX and percussion suitable for any modern music production. For me, probably the best and most noticeable improvement from Heavyocity in DM-307 is how the content is organized and mapped out which I'll discuss later.
All the instruments feature the same basic UI layout with Main, Trigger FX and EQ/Filter tabs which should be easily recognizable if you own Damage or Aeon.
The Kits
In DM-307, Kits are a collection of single one-shot sounds split into five separate Banks across the keyboard. Each Bank spans one octave. There are four categories of Kit in the 'Kits' folder.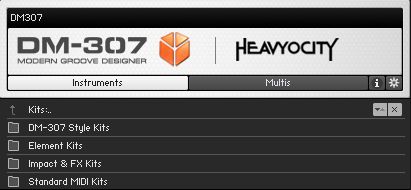 DM-307 Style Kits - Stylistic kits containing Banks of kicks, snares, hats, percussion and cymbals/FX.

Element Kits - Kits containing one kind of sound (e.g., kicks, hats etc.) split over five Banks.
Impact and FX Kits - Various FX categories like dives, reverse and analog hits. Banked and non-Banked versions.

Standard MIDI Kits - A collection of kits mapped to (or as close to) standard GM mapping. Can be easily used with preexisting MIDI files.

The concept of Banks is quite important as you'll come to see. For Banked instruments, Volume Envelopes are available per Bank or per Sample, and Filter is assignable per Bank. On non-Banked versions, these features are available per sample. Regardless of this, all samples have a uniquely programmable EQ.
There's plenty to choose from with a wide selection of highly useable, fantastic sounding drums that have that great Heavyocity-style edge to them. All killer, no filler! You could (if you wanted) think of DM-307 as an un-cinematic percussion version of Damage as it's geared more towards Electronica.
Grid Mode
The big new feature in DM-307 is the introduction of 'Grid' mode. Here's where Banks come into play. The Grid page features a 5-track, 16-step sequencer (or a user definable step count per 'Pattern' between 1-16). You can 'Chain' up to eight Patterns allowing for 128 steps in all. Using the 'Chainer' you can select how many Patterns you want involved and even sequence the order of the Patterns.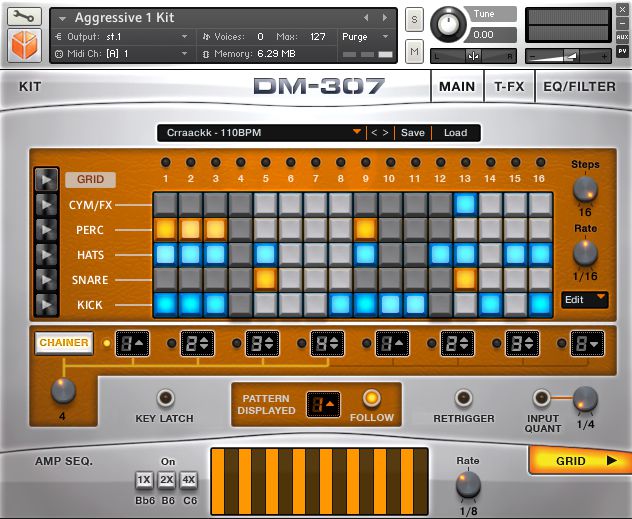 Each track has its own trigger key, or you can trigger the whole 'Grid' with a master key on A#0. Each track can sequence any sound within its corresponding 'Bank'.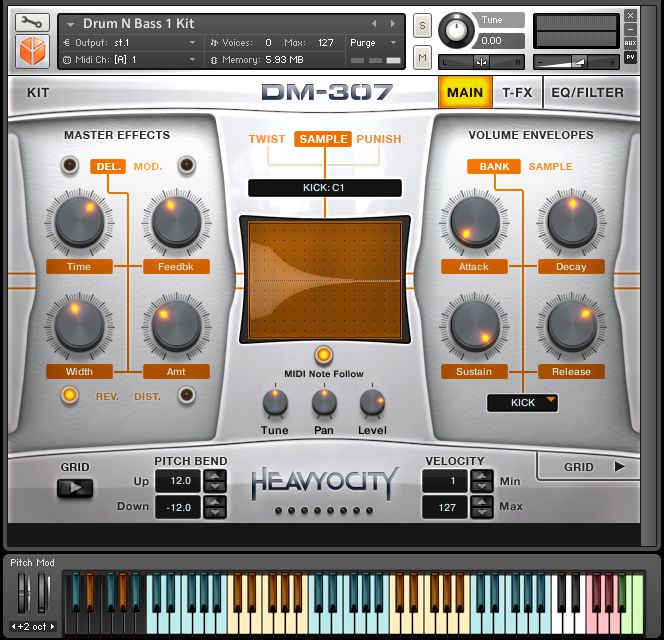 For instance, the 'Style Kits' have five Banks for Kick, Snare, Hats etc. The Kicks (Bank 1) are mapped between C1 and B1. Clicking the track for Kick brings up an advanced window for both 'Step' sample selection (where you can choose any sound within that Bank) and 'Step' velocity. Each Track has its own Humanize and Swing settings too.
There are features for Step Rate, Input Quantization (for key triggering), Latching and a menu to Copy/Paste/Clear and Randomize your Patterns or Tracks (when highlighted). There is also a fully featured Preset browser containing full Patterns to single Track elements. You can also store your own Presets here too.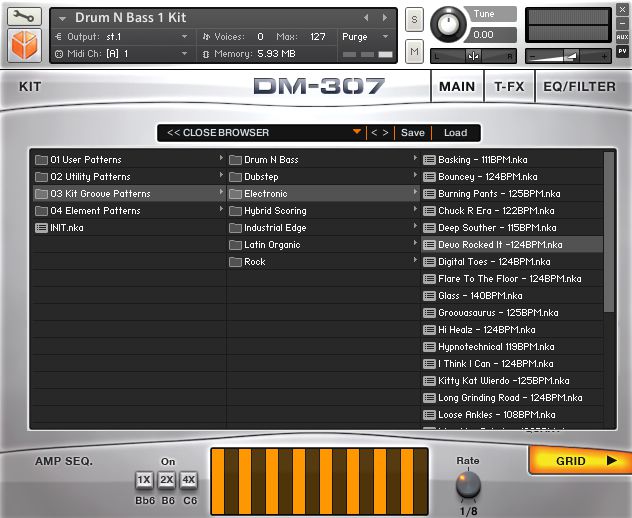 Kit Grooves
The Kit Grooves folder houses a bunch of genre defined pre-sequenced kits. These are made using the Style Kits with pre-made Grid setups and custom effect tweaks. There are seven categories. Drum N Bass, Dubstep, Electronic, Hybrid Scoring, Industrial Edge, Latin Organic and Rock.
Again, DM-307 has a lot of content and these can be a great launchpad for ideas. You really get a taste of what this instrument is all about!
The Loops
There is also a great deal of very cool loop content in DM-307. This is broken into six categories: Electronic, Ethnic Mashup, Hybrid Scoring, Industrial Mashup, Urban Mashup and Utility Elements. Additionally, loops are split into two formats, Loop Menus and Single Loops.
Loop Menus is where Heavyocity have really got it together. For each category in Loop Menus, you get a patch of 'Full loops' that are a composite version. These span four octaves giving you 48 loops per category. You then get four 'Breakout' patches that deal with each of these four octaves. These contain the composite loops in the first octave. In the next octave you get the Kick elements for the 12 loops. Next octave up is the Snare elements, then Hats, then FX.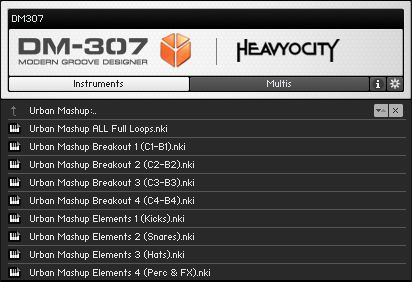 The best thing about this is the elements of the loops are all mapped to logical keys. All the parts for Loop 1 are on all the C keys, loop 2 parts are all on C# keys, etc. At last!! My only gripe with Damage was that you were never sure which loop elements made up the full composite one.
There are also another four 'Element' patches that contain just Kick, Snares, Hat parts etc. All these patches make mixing and matching loop components a breeze, plus all loops have their own individual filters and EQs.
All the loops from the Loop Menus have single dedicated patches that can be found in the Single Loops folder. These patches are 'sliced' and allow you basic control over tuning, pan and level for each slice via the Advanced Loop page. You can drag and drop a MIDI file for the sliced loop into your DAW just like a REX file.
Again, care has been taken to name each loop so you know exactly what you're getting. This touch alone can take hours off auditioning times.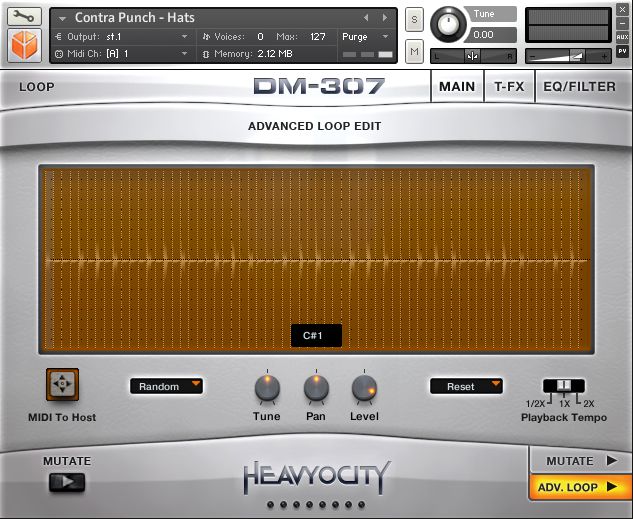 Loop Mutator
All loops feature the Loop Mutator which was introduced in Aeon. This is essentially an advanced arpeggiator/sequencer that allows you to rhythmically trigger loops or slices based on offsets (+ or - 12 semitones) from the currently played key position. This is an immensely fun tool and a virtually unlimited source of creative loop mashing!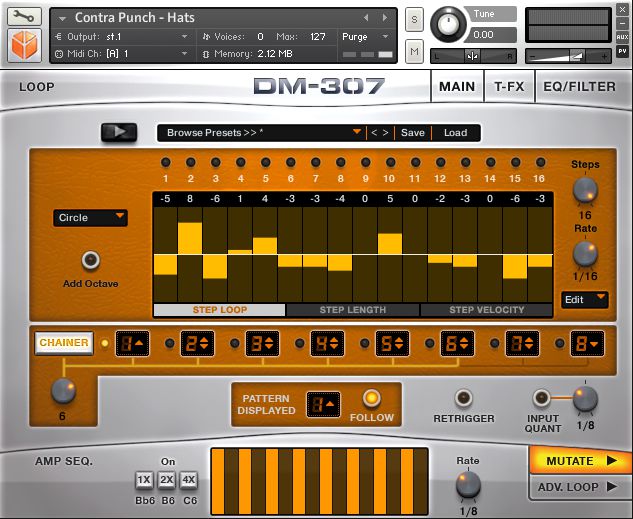 Multis
DM-307 comes with 250+ multis as well which is a first for Heavyocity instruments. The Production Multis contain various pre-made kit combinations while the Performance Multis are pre-sequenced kit combinations using Grid. Lots to explore here too!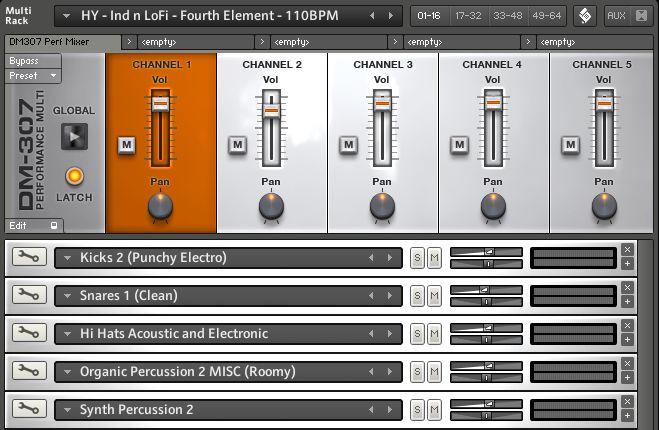 Effects
All patches for Loops and Kits have common features mainly in the effects department. On the Main tab, you'll find master effects like Delay, Mod, Distortion and a nice Convolution Reverb. You'll also find the familiar Twist and Punish in the center panel.
There's also the Trigger FX (triggered from F6-A6) which can be fully sequenced and the Amp Sequencer (Bb6-C7) for gated FX.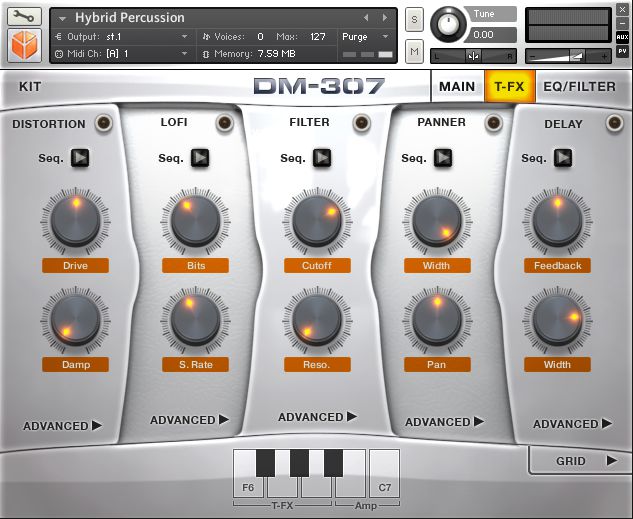 Conclusion
I can only say that DM-307 is freaking awesome! It's the perfect companion to Damage as it has everything Damage didn't fit in, while remaining consistent with the cutting edge Heavyocity sound. From classic electro sounds to funky grunge to great sound design effects, DM-307 is a genuine modern drum & beat production workhorse. A total winner! But you knew that anyway, right?
Price: $299 (with a 2-week introductory price of $279 for owners of any Heavyocity product or Native Instruments Komplete Ultimate 8 or 9).
Pros: Great cutting edge sounds and nearly endless tweakability with included creative tools.
Cons: I can't think of any! Seriously!