Review: Glou Glou Rendezvous Boutique Phaser & Filter
If you thought phasing was a basic effect, the Glou Glou Rendezvous Boutique Phaser & Filter is just the thing to change your mind. Rounik Sethi took a trip with it...
EDITOR'S NOTE:
Glou Glou
are running a 20% discount on Black Friday which brings the price of Rendezvous to just €470! We'd highly recommend checking it out at this price!!
So you like guitar pedals? Partial to phaser and filtering effects? Do you also enjoy pushing your instruments (synths, drum machines, etc) through interesting effects units? Of course. Yet it's quite likely you've not come across the small, boutique French company Glou Glou before. If you're into analog filters and phasers with tons of modulation options to give you full control over your sounds from the subtle to the sublime, then you'll probably enjoy Glou Glou Rendezvous. A lot.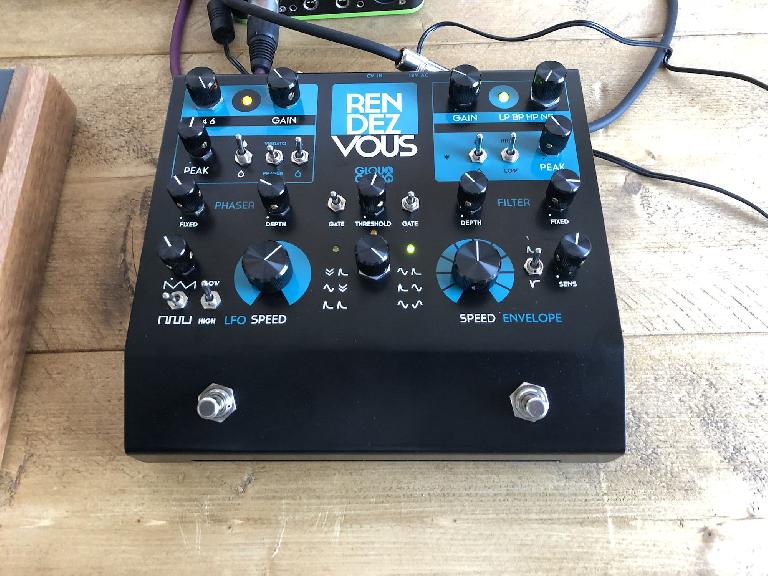 Although I plugged in an electric guitar during my review, my main focus was to experiment and get a sense of how well Rendezvous handled two of my favorite analog machines, the Arturia DrumBrute and the Critter & Guitari Pocket Piano.
Rendezvous provides a wide array of modulation control to make sounds from the subtle to the sublime and everything in between.
In The Box
I'm going to come out and say it. The Rendezvous screams quality. From opening the box to getting hands on with the unit itself which is sturdy, silk-screen-smooth and well designed, it's obvious this is a well-built effects unit. It's as comfortable being by your feet as it is occupying space on a studio desk. Some of the knobs are less easy to turn than most desktop machines, but on the other hand it makes the unit rugged and you're less prone to moving a knob or switch accidentally.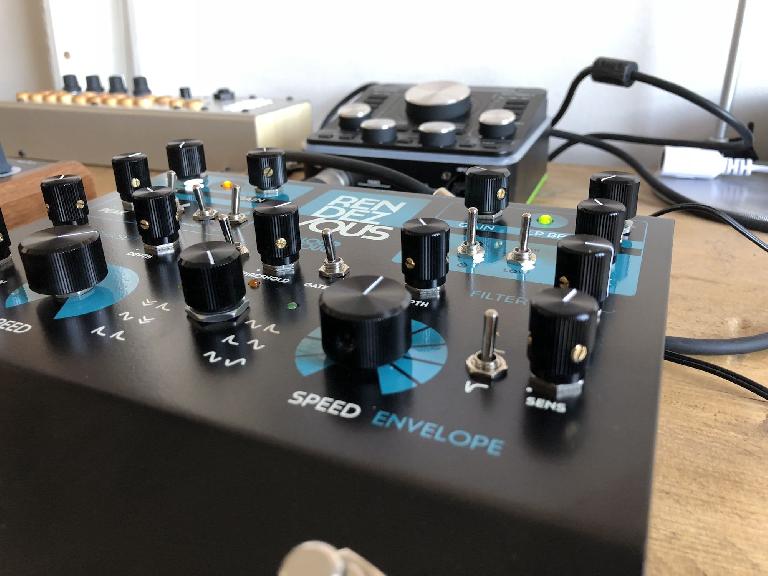 At first glance there's a lot of controls on the Rendezvous. If you're expecing a simple phaser-only then prepare to be lavished with more modulation controls than you can throw a stick at. Along with the unit itself there's a short but useful guide on what all the controls do and how they interact. Like many of you reading, I dove straight in without consulting the manual first and. I didn't have great expectations but was pleasantly suprised. Then, on going back through the manual I discovered there's more to explore than I originally thought.
Here's a video demo of the Rendevous in action with the Arturia DrumBrute and the Critter & Guitari Pocket Piano recorded through Arturia's AudioFuse audio interface (skip to 1:54 to get to the sounds section):
In Control
Rendezvous features two primary sections: a 6 stage phaser which can be switched to a vibrato - and which despite the top knob displaying only 2, 4 and 6 stages can 'secretly' be set to 1, 3 or 5 stages too. You can adjust funky things like inverted and non-inverted feedback, in or out of phase dry signal, and choose four phaser types, from classic to Mutron-style and chorus effects.
On the top right you find the Multimode Filter. This can be enabled along with the Phaser section or independently. You've low-pass, band-pass, high-pass and notch pass main settings to choose from. There's a resonance control, bass setting, and the filter itself can be put in or out of phase with the Phaser section.
Rendezvous can help with everything from classic phaser sounds to much more unconventional ones.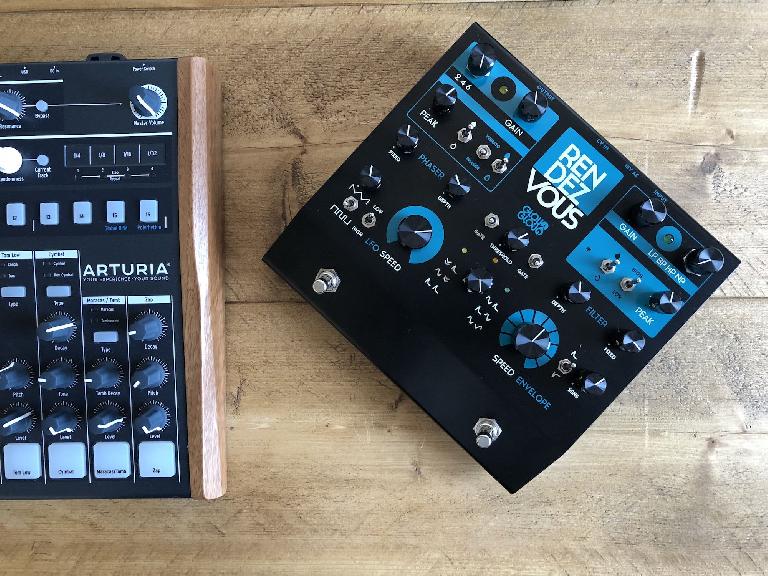 The LFO and Envelope can be mapped to either the Phaser or Filter section. If you're familiar with the Korg MS-20 LFO, then you'll warm to this one immediately. Rendezvous' LFO does what you'd expect and allows you to choose between saw, triangle, inverted saw or variable width square waveforms, adjust the speed and even get some interesting crushed distorted effects by changing the speed range to High. It's a lot of fun playing with this LFO.
The Envelope is more unusual than I first thought. The Speed dial has 11 rates to choose from and I'd highly recommend spending some time experimenting with each, as it can help with everything from classic phaser sounds to much more unconventional ones.
Out of Control
The Modulation Matrix is what takes the Rendevous from an excellent sounding phaser and filter to something useful for multiple instruments and sounds. Here you can decide whether the Phaser and the Filter have the LFO and envelope routed to them. You have six choices and can also bring external CV into the picture to provide futher modulation maddness.
Rendezvous is an analog hardware effect that'll provide instant sonic joy no matter what sounds you choose to run through it.
The modulation Gate allows you to gate the modulation and trigger the effects depending on how you set the threshold. It's a nice touch having a gate per Phaser and Filter section and allows for subtle or not so subtle sounds as desired.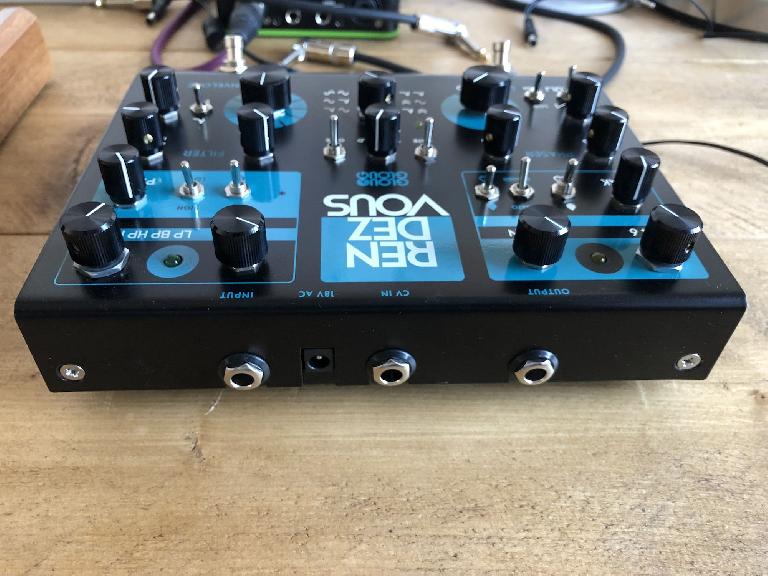 The Verdict
The Rendezvous is capable of deep bass, classic phasers, decimated tones and everything in between: velvety smooth to quirky and unusual. While you could in theory get two cheaper individual phaser and filter pedals than one Rendezvous, Glou Glou have made a parallel phaser and filter box with sound and routing capabilities that are difficult to ignore.
Yes, there are other good sounding pedals and effects boxes out there, but there's something about the Glou Glou Rendezvous that makes it hard to put down. It brings depth, warmth and interest to even the simplest of sounds which makes me want to experiment some more and run all my instruments through it.
Rendezvous is satisfying to tweak and play with and provides a wide variety of modulation options and routing possibilities. With the number of controls and therefore possibilities available, you'll need to pencil in settings for your favorite 'patches' on the paper sheets provided. There are no presets here of course. Rendezvous is an analog hardware effect that'll provide instant sonic joy no matter what sounds you choose to run through it.
Price: €590 EUR (Black Friday sale: 20% off: €470!)
Pros: Sounds fantastic. Tons of modulation options. Great sounding phaser and filter. Enhanced Korg MS-20 LFO. Makes any dull synth sound come to life.
Cons: Might be out of the price range for some (but worth it). Recalling settings without presets might not suit digital musicians.