Glitchmachines are known for making cutting edge sound effects libraries which usually focus on the more abstract side of sound design. Well now they've come up with Polygon, a virtual instrument which is geared towards giving you a set of tools to make your own composite sound effects.
Polygon ships with a 1.2 GB sound library full of useful source material including precessed and raw foley material. In fact I'd say the included library is worth the price on its own, which would make Polygon the huge glob of tasty icing on a very strange cake!
Polygon
So what is Polygon? Well it's basically a compositing tool. It comprises of four sampler modules and a sub oscillator. Each sampler features independent controls for sample start/stop points, loop points, playback control (one shot, forwards/backwards etc.), envelope and granular synthesis options.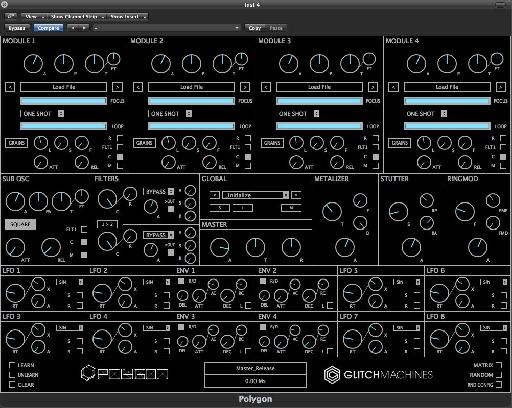 All the sound generators can be routed to the Filter section which comprises of two multimode filters which can run series or parallel. These also house sends to three effects. A Metalizer (a flanging type effect), a Stutter effect for glitchy sounds and a Ring Mod.
All of the available parameters can be modulated via four Envelopes (with variable curves and looping functions) and a whopping eight LFOs!
Modulation can be set up using the Matrix page which houses 36 modulation slots with Source/Destination and range controls.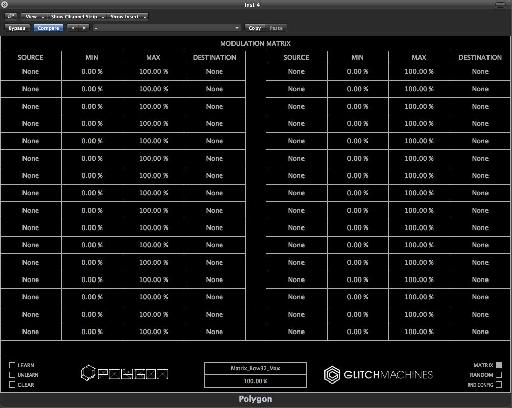 For total experimentation there is also a Randomize button and the Random Configuration page where you can select what you'd like to randomize which is very helpful.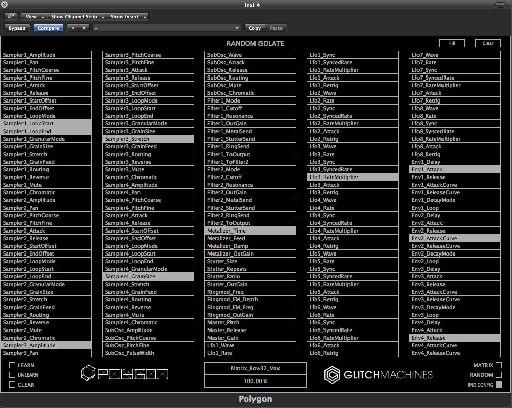 What does it do?
Polygon is capable of creating some very strange noises indeed. From Sci-Fi machines to impacts to glitchy stuttering madness.
Just starting from an initial patch and loading some of the library samples, you soon end up with some really unique material.
Of course though, it's totally dependent on the sample fodder you feed it. The default library of samples and preset library are geared towards more abstract sounds. You can of course load any sounds you want into it which opens up a whole new and creative side to Polygon. Drums are an obvious example, but you can also load synth waveforms and instrument samples to create some really interesting patches. With all the modulation options available it's pretty deep!
One feature that really stuck out for me is the Metalizer. This is capable of some really killer flanging and detuning effects.
What doesn't it do?
One consideration with Polygon is that you get one composite sound per instance of the instrument so you'll end up using a fair few for more complex arrangements.
Although it's geared towards creating one-shot effects, it's capable of going way beyond its original intention in my opinion although it does lack some important features. One of these is there's no Mod Wheel source assignment in the Matrix page (just Pitch Wheel) which would be very useful. There is MIDI learn but for modulating multiple parameters the wheel is king.
I also noticed the Square wave LFO was causing glitches with some clicks and pops at high depth settings when creating tremolo effects. Adding some smoothing might sort that out.
One feature I'd also love to see is tempo synced loop lengths!
Conclusion
If you're making country and western music, then I'd say Polygon isn't for you. However if you're scoring a film about a country and western band that's being hunted by cybernetic aliens in a dystopian future then Polygon might be right up your street!
The sound design features are well suited to what Polygon is made for and it will deliver weird and wonderful sounds in spades. The supplied effects are creative and it's got more modulation options than you can shake a stick at!
On the whole a really interesting bit of kit that I hope keeps evolving!
Price: $49 USD
Pros: A great sounds design tool and the supplied sample library is worth admission alone!
Cons: No Mod Wheel assignment. Some audio artifacts when using Square wave LFO.