They say that the proper tool will always appear when the time is right. And that's exactly what happened for me with Fracture XT- A, a new plug-in from monster makers Glitchmachines. Does it break my sound in half, or is it really just a Fracture? Let's dive in and see...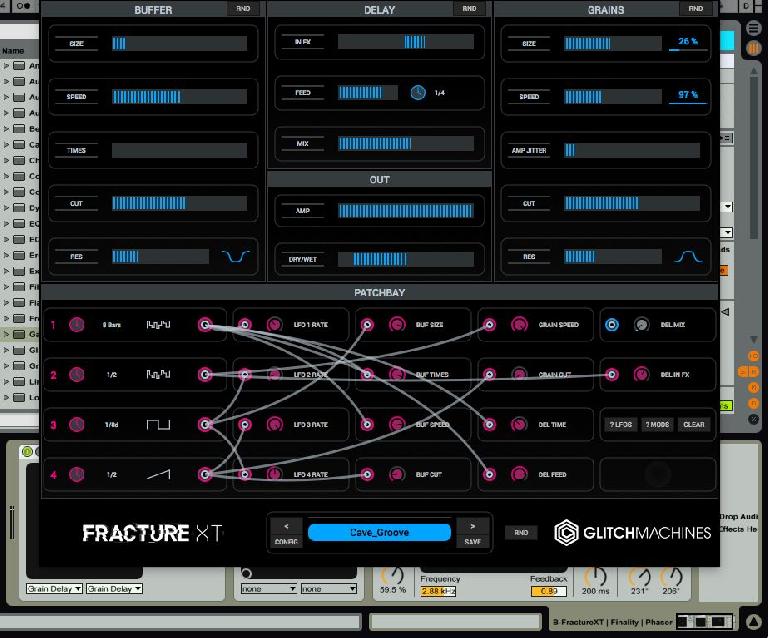 Tools of the Trade
One thing I love about my job is getting the inside scoop on cool plugs. And I especially love it when I am in the midst of a song that is really screaming for the plug-in that I'm being made privy to. And it's even better when it actually does the trick.
Scenario: I love using my return tracks in Ableton to build complex effects environments, and this particular evening that's exactly what I'm doing. However, it's one of those nights where all my usual tools really aren't doing the trick. I've got a reverb, vocoder, a delay, and, some huge pads bussing through, which happen to also be my vocoder's modulator. Meanwhile, drums are also going through as the carrier signal, along with the synth. It's just getting nuts. You'd think that this would sound cool (and it normally does), but I'm just not feeling it.
Here's what I mean... It's just a little vanilla.
In the midst of it, as the tears are literally falling from my eyes, "Why can't I get this to sound good... again. " I get the email with the installer.
Let's Go!
Fracture XT comes in swinging, and literally pushes a few plug-ins out the door, once I hear what it's got going. What it is—a Programmable Sample Buffer, a Delay, and a Granular processor. This builds upon the original Fracture, which was originally a free plug-in, and is only a buffer effect.
However, one little feature that ties the whole thing together in a brand new, big, bad way is a modular patch bay at the bottom that allows you to route in, in many different ways, four very assignable, syncable LFOs.

With the help of all the above, my session went from predictable, and quaint, to a new, alien environment, where random events occur, all over the place, and things sound much less... programmed.
Like this:
Patches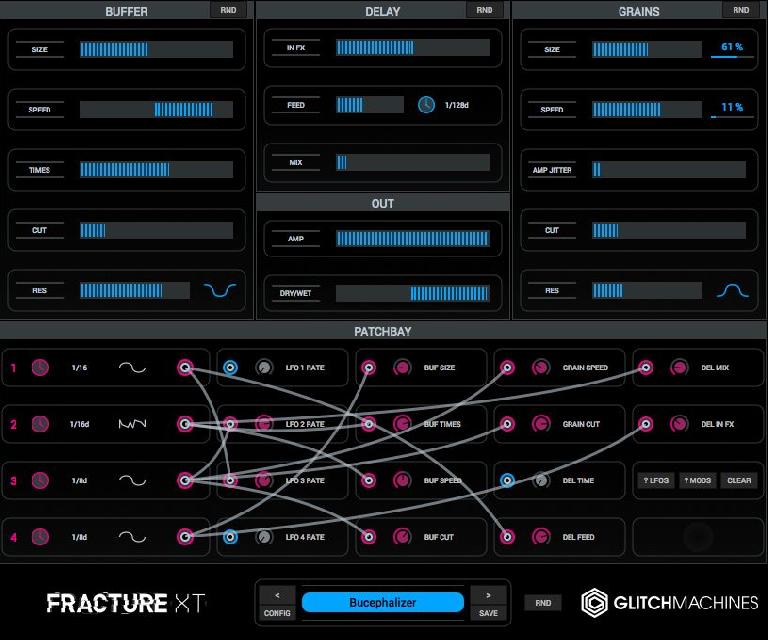 Of course, there are plenty of presets, and this was an instance where I really did sit back and listen to a few, and even build out of them, rather than start from an initialized patch like I usually prefer.
While many of the patches cater to more Glitch friendly sounds, do not discount the madness as a source of inspiration that only lends to more esoteric blends of electronica. Actually, the randomness is very welcome, as a return, because you are able to make these insane atmospheres that your guitars, basses, orchestrations and more can run blended with, or around. Depending on settings, small blips, glitches, and beeps are produced, that when blended with a little light reverb sends the plug-in right over the edge into downtempo, chill, new age and ambient. And, did I mention there's a Random button on almost every part of Fracture XT? Yep, each section of Fracture XT, like the Buffer, Grain Processor and Delay all have individual Randomizer function buttons. There's even a master Randomize button that randomizes all the above and randomizes modulation routings as well.
That's no small feat, as the LFOs within Fracture XT are both syncable, as well as capable of running on their own internal clock, and feature some very, very high resolutions.
Conclusion
Fracture XT is an excellent tool/effect for any producer that wants to add some small, or huge layers of ambient, destructive, glitchy blips, shifts and swoops that can safely, and quietly just fill in as a texture in the background. Or it can be a constant source of infinite, original electronic textures that would be excellent for both crazy club performances, as well as video game sound design.
Price: $29 USD
Pros: An amazingly route-able, multi-FX plug-in with a modular patchbay that's light on the processor and full of life. Highly MIDI mappable!
Cons: There's a little bit of a learning curve.