Recently, Convex was placed in my hands by the good people at Glitchmachines.com. And, I was informed that it was 'my kind of thing'. So, once the night had calmed down, and my laptop gave me the familiar wink, wink, 'Come on over look', I installed and broke me out some Ableton, and rocked a little beat milkshake, I whipped up myself. With more complicated, randomizer plug-ins, I always enjoy throwing in really simple beats, with the idea that if a plug-in can make a really simple beat sound interesting, then it should be explored. Convex made beat making really interesting.
What it Is?
Convex is a really processor-friendly multi-effect plug-in that features a really nice filter section, a beautiful pitch shifter, and a delay so programmable that you'll be uncovering rhythm tricks, stutters and glitch effects for years. The reason that I say years, is that while Convex is a great multi-effect plug-in, that's not its true strength. Its real strength lies within the insane possibilities of modulation provided through four LFOs, two envelopes, two multipliers for convolving modulators, and two modulation mixers. Trust me, you're going to be busy a while, because everything can modulate everything in Convex.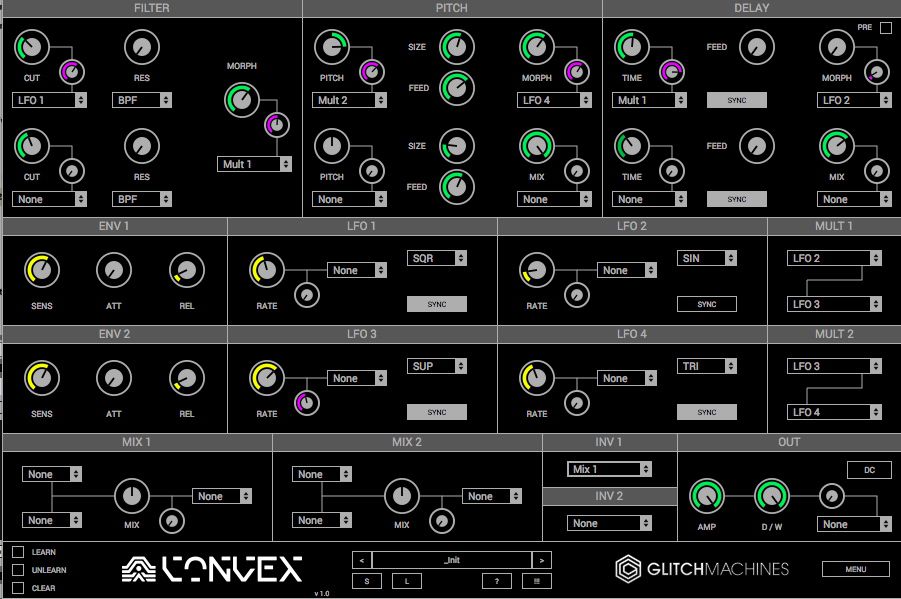 However, what really excited me, even as I just perused the presets, that the combination of effects being created and employed in Convex really have a signature of their own. My beat wasn't destroyed in all examples. As a matter of fact, certain presets, through the use of pitch modulation created a convincing perception of a synth, playing along within a beat, whose source merely consisted of kick and snare:
With:
Without:

And, it's in the word 'signature' that I'll really lay out my excitement. I already have a few plug-ins that I go to for destruction, that work for me. Because Convex supplies a sound that is kind of its own thing, it blends perfectly with staple Glitch plugs like Glitch, Stutter Edit, BreakTweaker, Trash 2, and so on. In short, It's like adding a new color to a very destructive rainbow.
Make it My Own...
Once I got familiar of a little bit of what to expect from Convex, I threw up the Init preset, and broke out on my own. I'm a delay junkie, so that's the first place I went. Two actual delays live within the Delay section, with one mix knob. So, the Morph knob is extremely helpful, as it allows you to crossfade between the two Delays. Because the Morph parameter can be modulated by anything in Convex, you can get some really interesting beats, textures and so on.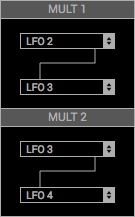 The Morph knob also resides in the other effects of Convex, as well. Along with being able to modulate the pitch, cutoff and resonance from the Filter and Pitch section, you can have two pitch shifters and two filters cross fading, randomly, as well. And, it's in the second two set of effects, especially the Pitch section, where Convex starts to differentiate itself. Both pitch shifters sound incredible, and because pitch can be modulated through so many channels, and modulation can be modulated through so many channels, sounds emitted wind up being very otherworldly.
This is where the Multipliers come in and the Mixers. You can literally mix multiple modulation sources and route them as a hyper modulation source for effects like delay, pitch and filtering, all at once.
Conclusion
Convex is a light audio effects plug-in that delivers a great sound, while at the same time offering modulation capabilities that really go beyond many of the supposed 'modulation crazy' devices that are out there. But, what makes it so fascinating is how much fun, and how easy it is to use Convex. A simple session of knob tweaks will yield immense results to the novice. And, the experienced plug-in pilot will enjoy a device that can hold up.
Price: $29

Pros: Amazing audio effect plug-in that doesn't kill the processor, excellent value for money, fun to use.
Cons: GUI is very minimal.