Ableton Live is robust and exciting DAW to create music in. But every once in a while, you might get that "I wish I could…" feeling. Fortunately, there's a solution for that! Max for Live allows users to essentially "hack" into the software and create their own devices. If you are a programmer, then this is a dream come true. But you don't have to have a degree in engineering to enjoy the benefits.
Bit Voltage has been creating interesting Max for Live devices for quite some time. Today I'd like to introduce you to a collection of devices designed to help create glitch sounds and music.
A Click Goes a Long Way

Click Glitcher is proof that you can do a lot with just a simple clicking sound. The device allows you to create clicks and glitches at regular musical intervals and process them through different filters.
You can then randomize the way those clicks play back, as well as how the filters move. Add a little reverb or delay and you can start building interesting and evolving percussive parts or lay the foundations of a minimalist glitch track.
Same Idea, This Time with Samples

Sample Glitcher and Audio File Cutter are very similar to Click Glitcher, except that they allow you to use your own samples instead of a click noise. I find these devices to be pretty exciting because they create more musical results. They will rapidly slice and dice your samples at the rate you've chosen, and just like in Click Glitcher, you can randomize the slicing rate and the filters.
You can purchase these devices separately or get them in the Glitcher Suite, which also includes FilterTron, which is a set of 11 notch filters that can be automated and randomized. It's a great way to add everything from subtle harmonic movement to total insanity.
Bit Voltage Glitcher Suite:
Price: $15.00
Pros: Lots of cool sounds and interesting possibilities
Cons: A little bit of a learning curve with the interface
Clip Recorder Device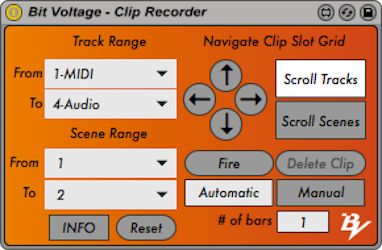 BV ClipRecorder Interface
The Clip Recorder device allows you to streamline the way you record clips into Live's session view. It allows you to MIDI map parameters that can be used to select clip slots, which is perfect for doing improvisation and live looping. There's a little bit of setup involved, but once you get it going, you can focus getting your performance just right without being distracted by hitting stop and record in between. Check out the video for a demonstration and walkthrough of features.
Clip Recorder Device:
Price: $10
Pros: Offers a fast and effective way to improvise and record ideas.
Cons: Some setup involved, and certain rules must be followed (Definitely watch the tutorial!)
More Max for Live Goodness at Bit Voltage
It's definitely worth stopping by Bit Voltage to add functionality to your Ableton Live setup using Max for Live. Aside from the things I've mentioned in this article, they've got a lot of very nice free devices, as well as a Max for Live video series which will teach you how to make your own devices from scratch.