Soniccouture has been creating unique virtual instruments and sample libraries of rare instruments since 2005. They are currently my favorite virtual instrument production company. They employ a forward thinking attitude and approach to merging hard to find acoustic instruments with the accessibility of digital sampling technology. I've personally used their Xtended Piano Library for my Hammer Inventions (Hammerinventions.com) project and also own the Array Mbira, Pan Drums and Balinese Gamelan collections. So, as you can see, I am a big fan. All the instruments sound fantastic and add so much warmth and color to my productions.
Soniccouture has just released its stunning new virtual instrument and sample library, Geosonics ($149). This instrument places the sound of Planet Earth at your fingertips! It's a collection of swamp, wind, wire, ice and water ambiences from the most inhabitable parts of our planet. Working together with award-winning field recordist, Chris Watson, Soniccouture have created another one-of-a-kind audiophile experience. Geosonics has over 4 GB of Original Watson recordings and an extensive preset library by leading sound designers Ian Boddy, Biomechanoid, Martin Walker and Andy Wheddon. More than 400 pad & soundscape presets in all.
Sampling Planet Earth
When I first saw the sound categories of Geosonics I thought, why wires? At first this seemed like an odd choice to me until I dug into the information videos about this unique sound source. Chris Watson's earlier wire recordings in the Australian outback are the reason Soniccouture approached him about doing the more extensive Geosonics project. Most of the ice and water samples were recorded in the Arctic Circle, at the North Pole and around glaciers. Not the usual hang out spot. In order to record swamp samples, Chris Watson braved the harsh and remote conditions of Venezuela and Madagascar. He used extensive cable runs to avoid sitting the insect infested area of the deep swamp as many hours of audio recordings were made. The wind samples are varied as well, including wind through ices holes, desert dunes, across vast wire runs, in and around hollow trees and more. Watson's experience recording in many environments over the years for award winning documentaries like David Attenborough's 'Life' series were a perfect pre-requisite for bringing these sounds to producers.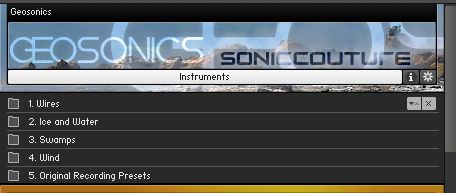 Geosonics Instrument Menu in Kontakt: Sound Categories – Wind, Swamps, Ice & Water And Wires
The original recording presets are contained in one folder while the sound designed presets in each catagory are in separate folders in the Kontakt 5 Geosonics instrument menu. There is a lot to explore in Geosonics. I decided to start with the original recording presets first to hear the amazing source material and then started to experiment with layering sounds in 'focus mode'. It's fun to compare and learn from the sound design presets provided to get ideas as well.
Ice and Water
These samples captured in Iceland, the North Pole and various places around the Arctic Circle feature samples like 'Ice Shards,' 'Under the Ice,' 'Glacier Calving' and 'Slush Ice.' In headphones, the underwater samples recorded with the hydrophone sound absolutely alive. I can picture myself underwater while listening to them.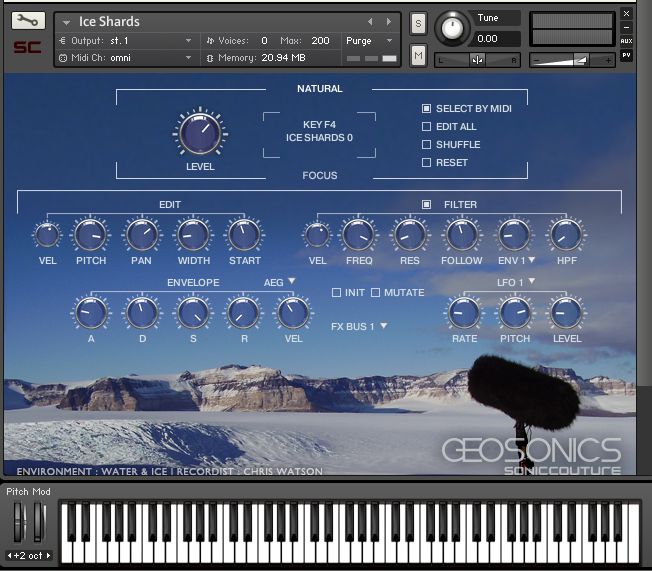 Ice and Water Preset in Geosonics.
Wind
If you ever wanted to know what standing in the middle of the Kalahari Desert would sound like, listen to 'Dune Flats' or 'Dune Hollow.' Occasionally, you'll hear an insect or bird fly by. More wind recordings from grasslands, polar winds, through and around acacia trees and ice holes are also in this category.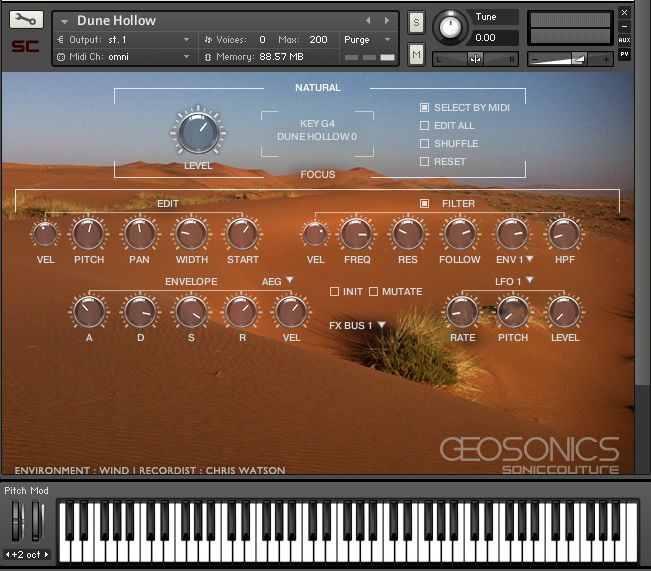 Wind Preset in Geosonics.
Swamps
I love the recordings of swamps in Madagascar and Venezuela. There's a swamp preset for every time of day and an assortment of frog recordings. The Banjo frog sound is incredible, very strong and great source material for making pitched sounds too.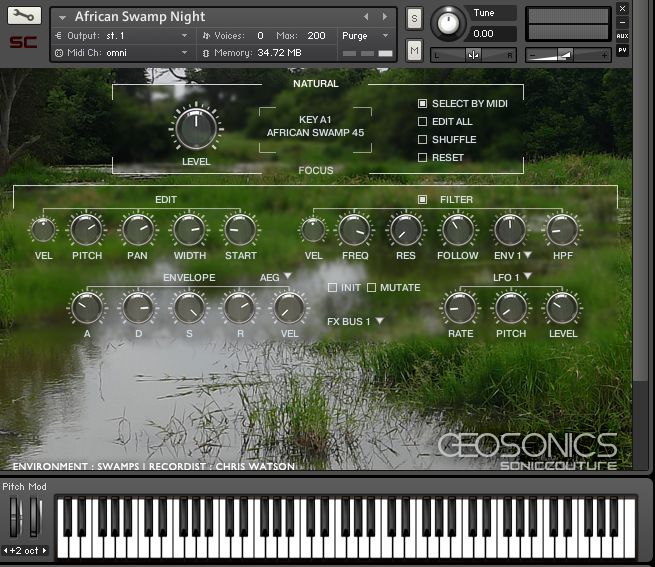 Swamp Preset in Geosonics.
Wires
Chris Watson made these recordings while at the Wired Lab in Australia, an artist run organization offering a place for interdisciplinary arts research projects. The sound of these patches is downright eerie as well as fascinating. There's natural oscillation in some samples that would be great for sound designers. And, the sound of raindrops hitting the wires is amazing.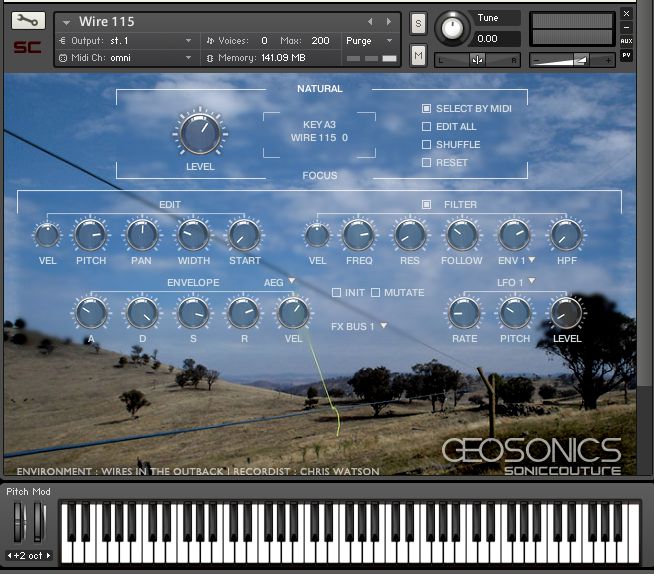 Wire Preset in Geosonics.
Layering, Mangling and Designing within Geosonics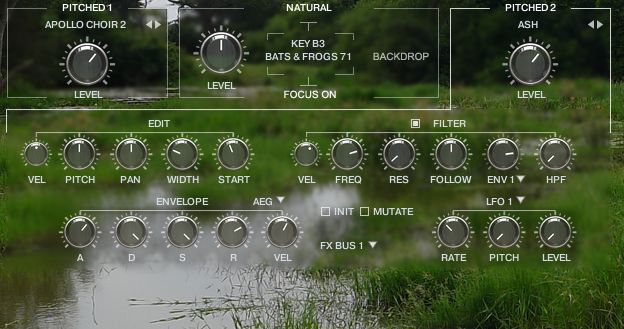 Layering sounds in Focus Mode.
There are two modes in the Geosonics, Natural and Focus. In natural mode, you play the original recording mapped across the keyboard only and add any effects or filtering as desired. Selecting 'Focus' under the patch name unveils two pitched sample sections where you can load in various sawtooth or sine waves, strings, choir or other custom synth patches. By choosing a pitched synth combination, it is possible to have 3 layers of playable material with the touch of one key. The combinations here are endless!
The Jammer

The Jammer section in Geosonics.
The Jammer, which appears in other Soniccouture instruments, is featured in Geosonics as well. It's an arpeggiator that allows you to create generative patterns that can jump octaves and play between a series of notes at a rate you set. You can also set the scale that the jammer will play patterns in. The pattern playback is also shifts depending on your playing velocity. This is not a loop-based setting, but another feature to help create more randomized movement in your patch. I tried the Jammer on one of the Ice Shard samples and get a polyrhythmic, percussive sound that I would definitely use in a track.
Effects and Spaces

The Effects Section.
The effects section of the Geosonics interface is well designed. There is a space section with various impulse response reverbs and two FX Busses each with chorus, delay, phaser, compressor, lofi, drive, space send and input limiting knobs. This gives the user lots of power to design custom effects and also to separate effects chains through the two busses. My favorite part of the space section is the ability to mix convolution IRs of Geosonics recordings with other Geosonics recordings. For example, I can mix the bat and frogs patch with the impulse response of polar wind or one of the wire samples.
Filling the Stereo Field
The original recordings by themselves are thick. I would use caution when mixing these ambiences with custom synthesis layers in Geosonics or other music material to avoid cluttering your mix. Employing a good EQ as well as using good dynamics and panning will help feature these unique backdrops in your music without drowning or being drown by other parts in the mix. The key concept here is sound sculpting. You can certainly create one interesting evolving patch that can stand musically on its own if that's what you are looking to do. Further, there are just as many opportunities to design unique percussion elements using Geosonics too.
Creative Uses
Geosonics is a great tool to use for ambient backgrounds in documentaries or for creating unique film ambiences of all tensions and colors. Altering the recordings in focus mode can also produce interesting music and ambience effects for various video game stages, adding unique tension elements. I would use some of the raw recordings for meditation music, especially when I can create so many variations of the original recordings by mixing up the playback of the samples with the keyboard. The pad sounds, effect combinations and filtering elements of Geosonics are also great for electronic music producers who are always on the lookout for signature sounds for breakdowns, backdrops, sweeps and transitions. The extensive, useable sound design patches developed by the Sonicouture team provide further inspiration for creating your own textures with the original nature recordings. I'm confident we will be hearing Geosonics in many contexts in the years to come.